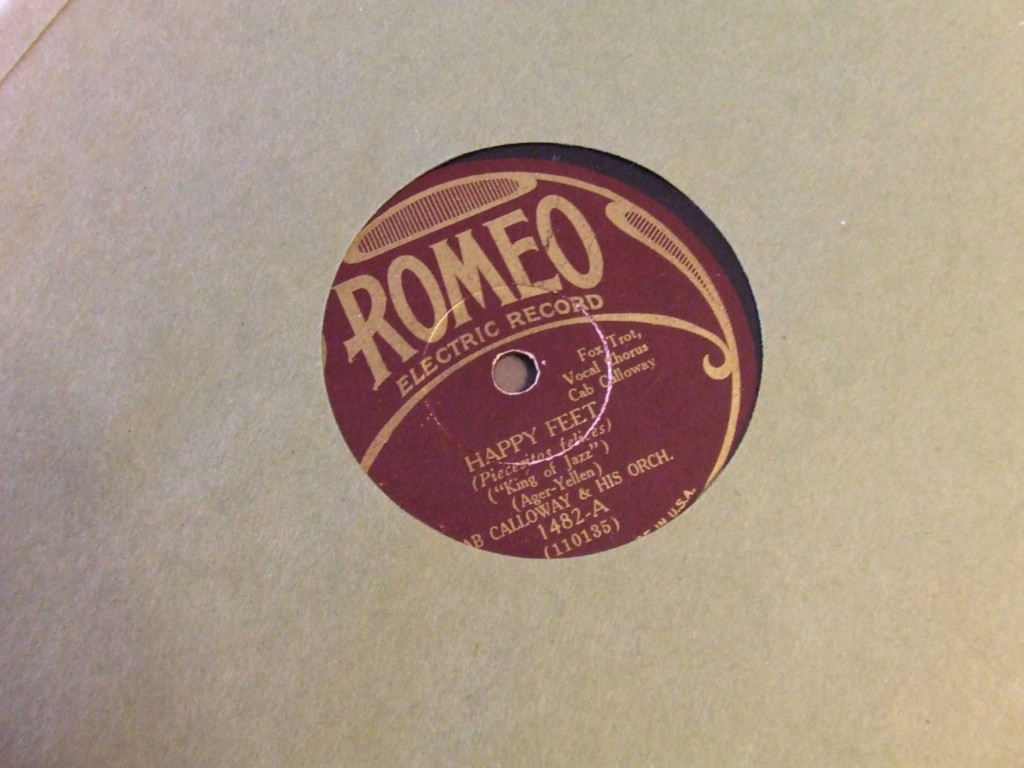 Enregistrement de 2 chansons par Cab Calloway and his Orchestra :
Sweet Jenny Lee*
Happy Feet*
Etaient présents à l'enregistrement à New York :
Cab Calloway (vocal*, dir), Roger Q. Dickenson, Lammar Wright, Reuben Reeves (trompette), E. B. De Priest Wheeler, Harry White (trombone), William Thornton Blue (clarinette, saxophone alto) Andrew Brown (clarinette basse, atlo saxophone, baryton), Walter Foots Thomas (clarinette, tenor saxophone, flute), Earres Prince (piano), Morris White (banjo), Jimmy Smith (tuba, contrebasse), Leroy Maxey (batterie).
Deuxième session d'enregistrement pour Cab Calloway et son orchestre. Après une première date en juillet 1930 pour le label Brunswick, le jeune chef reprend le chemin du studio pour le compte de Banner (la "sous-marque" de Brunswik plus particulièrement destinée au public noir. Les galettes sont d'ailleurs de bien moins bonne qualité que chez Brunswick. Etonnant, non ?). D'ailleurs, Daniel Nevers, dans le passionnant livret de Masters Of Jazz, explique que "les sessions se déroulent dans les studios de l'American Recording Corporation (ARC), nouvelle compagnie fondée sur les vestiges d'anciennes firmes concurrentes des années 20. Le matériel utilisé, quelque peu obsolète et sans véritable maintenance, n'était pas toujurs de première qualité."
Au programme, deux morceaux à la mode, mais que Cab va littéralement s'approprier avec sa capacité unique à faire vibrer les pavillons des phonographes !
Sweet Jenny Lee
sonne terriblement comme une chanson d'Al Jolson, sans grande personnalité. C'est la voix de Cab qui fait déjà la différence ! Ecoutez-le faire ses glissandos ! Pas étonnant qu'il ait été remarqué aussi vite par la presse et le public !
Happy Feet
possède déjà un tempo bien plus enjoué sur lequel les ex-Missourians font de belles prouesses. La basse est assurée par le tuba de Jimmy SMITH et c'est le banjo de Morris WHITE qui fait un superbe travail de rythmique. La clarinette de William Thornton BLUE est tout simplement excitante au diable ! A ne pas manquer !