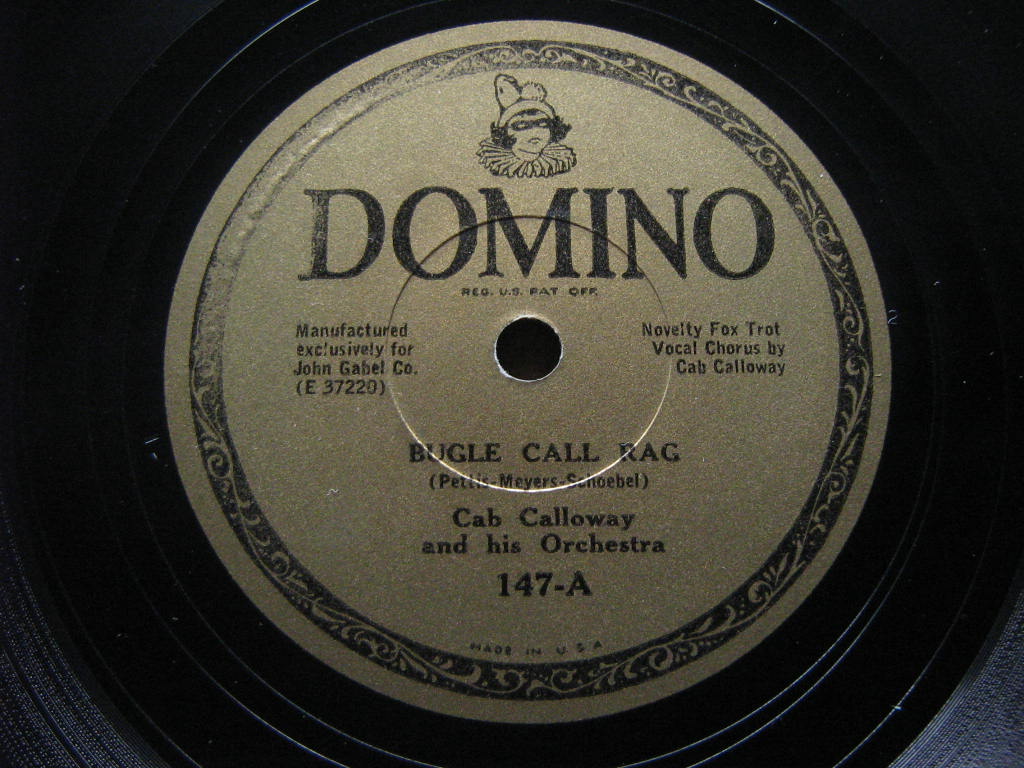 Enregistrement de 2 chansons par Cab Calloway and his Orchestra :
Bugle Call Rag*
You Rascal, You*
Etaient présents à l'enregistrement à New York :
Cab Calloway (vocal*, dir), Lammar Wright, Reuben Reeves, Ed Swayzee (trompette), E. B. De Priest Wheeler, Harry White (trombone), Arville Harris (clarinette, alto saxophone), Andrew Brown (clarinette basse, atlo saxophone, baryton), Walter Foots Thomas (clarinette, tenor saxophone, flute), Bennie Payne (piano), Morris White (banjo), Jimmy Smith (tuba, contrebasse), Leroy Maxey (batterie).
Après une nouvelle session en juillet, Cab et son orchestre reprennent le chemin des studios pur deux morceaux, deux petits bijoux !
Bugle Call Rag
est déjà un standard à l'époque (Louis Armstrong, encore lui, en a gravé les versions d'anthologie). Il faut bien avouer que la version de Cab est tout à fait à la hauteur : rythmique, tutti, saxophone (Andrew Brown) et trompette (Reeves dans l'intro puis Swayzee et enfin Reeves*)... tout fonctionne ! Mais ce sont surtout les vocalises et les exhortations de Cab qui retiennent l'attention : une exubérance extraordinaire et un scat déjà bien maîtrisé ! A ne pas rater.
You Rascal, You
est également un standard, repris des centaines de fois par les jazzmen (sans oublier le fameux duo Gainsbourg-Mitchell calqué sur celui d'Armstrong-Jordan). Le superbe solo d'Arville Harris à la clarinette vient en parfait complément des vocals de Cab. Un autre morceau d'anthologie.
*Indications de Daniel Nevers dans la collection Masters of Jazz, volume 2.