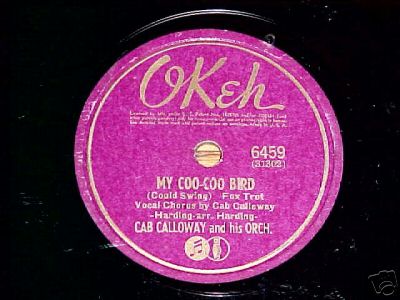 Enregistrement de 4 chansons par Cab Calloway and his Orchestra :
Blues In The Night (My Mama Done Tol' Me)*
Mrs. Finnigan*
My Coo-Coo Bird (Could Swing)*
Says Who? Says You, Says I!*
Etaient présents à l'enregistrement à New York :
Cab Calloway (vocal*, dir), Jonah Jones, Dizzy Gillepsie, Lammar Wright (trompette), Tyree Glenn, Quentin Jackson, Keg Johnson (trombone), Jerry Blake - alias Jacinto Chabani (clarinette, alto saxophone), Hilton Jefferson (alto saxophone), Andrew Brown (alto saxophone, baryton), Chu Berry, Walter Foots Thomas (tenor saxophone), Bennie Payne (piano), Danny Barker (guitare), Milton Hinton (contrebasse), Cozy Cole (batterie). Arrangements : Buster Harding.
Palmer Brothers : vocal sur
Blues In The Night.
Voici une session historique puisqu'il s'agit de l'
ultime séance d'enregistrement de Chu BERRY dans l'orchestre de Cab
, quelques semaines avant qu'il meure des suites de ses blessures consécutives à un accident de voiture le 31 octobre 1941.
Blues In The Night
, composé par le tandem Mercer-Arlen, connaît ici une excellente interprétation (peut-être as encore à la hauteur de celle de Jimmy Lunceford) dans laquelle les
Palmer Brothers
(qu'on n'allait plus tarder à appeler les
Cabaliers
) font un excellent soutien au chant précis de Cab. C'est simple : on a l'impression de parler parfaitement anglais, tellement on comprend chacune de ses syllabes !
Mrs. Finnigan
n'a pas d'autre intérêt que d'être ne histoire de commérage, ce dont Don Redman (l'un des compositeurs) était très friand, paraît-il !
My Coo-Coo Bird (Could Swing)
: avouons-le, cette histoire de coucou qui swingue rebuterait Ray Ventura ! Néanmoins, les arrangements sont "propres" et l'ensemble swingue bien. Ecoutez bien le solo de saxophone ténor : c'est l'ultime de Chu Berry. Beaucoup le considèrent d'ailleurs peu à la hauteur de ses canons habituels.
Says Who?
laisse la part belle aux saxophones et, comme souvent dans les enregistrements de cette époque, l'entrée vocale de Cab s'effectue exactement à la moitié du morceau (1'14).