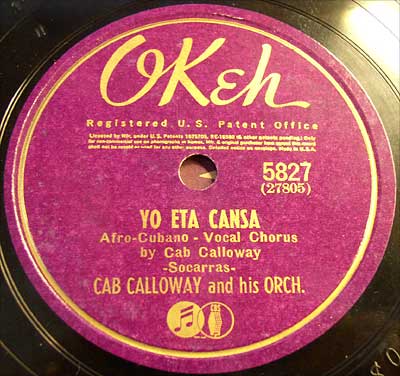 Enregistrement de 5 chansons par Cab Calloway and his Orchestra :
Papa's In Bed With His Britches On*
Silly Old Moon*
Boo-Wah Boo-Wah*
Sunset*
Yo Eta Cansa*
Etaient présents à l'enregistrement à Chicago :
Cab Calloway (vocal*, dir), Mario Bauza, Dizzy Gillespie, Lammar Wright (trompette), Tyree Glenn (trombone, vibraphone), Keg Johnson, Quentin Jackson (trombone), Jerry Blake (clarinette, alto saxophone), Hilton Jefferson (alto saxophone), Andrew Brown (clarinette, alto saxophone), Chu Berry, Walter Thomas (tenor saxophone), Bennie Payne (piano), Danny Barker (guitare), Milton Hinton (contrebasse), Cozy Cole (batterie).
Dans cette prodigieuse période qu'est l'année 1940 pour l'orchestre de Cab Calloway, cette session du 5 août fait un peu office de parent pauvre. Alors que le 27 juin on a eu droit à quelques merveilleux solos (Chu Berry surtout sur Ghost Of A Chance) et que le 28 août prochain donnera Cupid's Nightmare (de Gillespie), cette session ne donne pas naissance à des morceaux inoubliables... Les mauvaises langues diront que c'est parce que l'on entend Cab sur toutes les pistes...
Papa's In Bed With His Britches
On donne déjà l'impression par son titre que l'on ne va pas écouter un chef-d'oeuvre. Le fait de garder son pantalon au lit n'a en effet jamais été un signe de génie. Quelques mesures de solo bien courtes et puis c'est tout.
Silly Old Moon
est un morceau très lent qui permet sans doute d'entendre un des rares solos de trombone dans l'orchestre de Cab.
Boo-Wah Boo-Wah
montre l'ambiance que voulait donner Cab sur scène avec tout l'orchestre reprenant les "Boo-Wah" telles les trompettes bouchées. C'est pourtant bel et bien un solo de Chu Berry que l'on entend. Un solo un peu laborieux à la trompette donne pourtant l'occasion d'écouter quelques nuances chromatiques qui sonnent bien comme celles de Dizzy... Ici, les arrangements sont de Buster Harding.
Sunset
est à nouveau un morceau très lent sur lequel trompette et saxophone ténor viennent souligner la mélodie. Un vrai blues dans lequel Cab n'entre en scène qu'à partir du milieu.
Yo Eta Cansa
sacrifie une fois encore à la mode cubaine. Sans doute également l'influence de Mario Bauza, trompettiste cubain qui avait travaillé avec Gillespie dans l'orchestre de Chick Webb et qui fit entrer le jeune prodige dans celui de Cab.