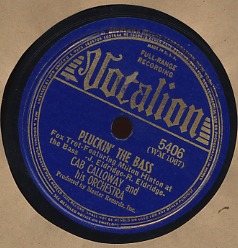 Enregistrement de 4 chansons par Cab Calloway and his Orchestra :
For The Last Time I Cried Over You*
Tweet-Tweet-Tweet*
Pluckin' The Bass
I Ain't Gettin' Nowhere Fast*
Etaient présents à l'enregistrement à New York :
Cab Calloway (vocal*, dir), Mario Bauza, Dizzy Gillespie, Lammar Wright, Doc Cheatham (trompette), Claude Jones, Keg Johnson, De Priest Wheeler (trombone), Chauncey Haughton, Andrew Brown (clarinette, alto saxophone), Chu Berry, Walter Thomas (tenor saxophone), Bennie Payne (piano), Morrice White (guitare), Milton Hinton (contrebasse), Cozy Cole (batterie).
Voici la toute première session d'enregistrement pour le jeune Dizzy Gillespie qui vient de rentrer dans l'orchestre. Dressez l'oreille et vous pourrez l'entendre entamer un solo ici ou là dans chacune des chansons.
For The Last Time
est une chansonnette romantique sans grand intérêt, surtout si on la compare à la formidablement swingante Tweet-Tweet-Tweet. Vocalement et musicalement, tout est très au point. D'ailleurs pour la première fois on entend Cab appeler ses solistes :
"Take it Jones"
(pour Claude Jones au trombone),
"Take it Chu"
(pour Chu Berry au sax ténor),
"Take it Diz"
(pour qui vous savez) et enfin
"Take it band"
pour tout l'orchestre. A réécouter pour le redécouvrir !
Pluckin' The Bass
qui, s'il est consacré à mettre en valeur le talent du contrebassiste Milt Hinton, sert de locomotive à deux superbes solos : Dizzy et Chu. Ici pourtant Milt Hinton alterne
plucking
et
slapping
pour un morceau de bravoure au tempo époustouflant composé par Roy et Joe Heldridge.
De quoi faire oublier
I Ain't Gettin' Nowhere Fast
qui mérite pourtant d'être écouté avec attention. On retrouve la même verve swingante que dans
Tweet Tweet Tweet
. Cette fois-ci, les arrangements sont de Chappie Willett.