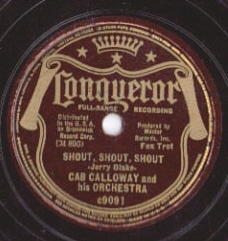 Enregistrement de 7 chansons par Cab Calloway and his Orchestra :
Miss Hallelujah Brown*
The Conga-Conga*
The Boogie-Woogie*
There's A Sunny Side To Everything*
Shout, Shout, Shout*
Mister Paganini, Swing For Minnie*
Jive (Page One Of The Hepster's Dictionary)*
Etaient présents à l'enregistrement à New York :
Cab Calloway (vocal*, dir), Shad Collins, Irving Randolph, Lammar Wright, Doc Cheatham (trompette), Claude Jones, Keg Johnson, De Priest Wheeler (trombone), Chauncey Haughton, Andrew Brown (clarinette, alto saxophone), Chu Berry, Walter Thomas (tenor saxophone), Bennie Payne (piano), Danny Barker (guitare), Milton Hinton (contrebasse), Leroy Maxey (batterie).
Quelle session ! Pas moins de 7 morceaux enregistrés en une seule journée (et seules les premières prises on été gravées !) alors que les rythmes sont différents d'un morceau à l'autre. A croire d'ailleurs que l'on se cherche en passant du Conga au Boogie...
L'ami Cab est en pleine forme et ses vocalises nombreuses.
L'orchestre chante avec lui sur
Miss Hallelujah Brown
mais a peu de place pour s'exprimer.
The Congo-Conga
est un de ces morceaux typiques qui sacrifient à la mode du moment. A vous d'imaginer Cab et quelques danseuses sur scène, se trémoussant avec jabots et maracas à profusion (le meilleur congo restant pour moi celui du film
Hellzapoppin
'). Un beau solo de clarinette suivi d'une reprise par Chu Berry puis certainement par la trompette de Shad Collins complètent le tableau. Dansez maintenant !
Et si les ryhtmes cubains ne vous plaisent pas, rabattez-vous donc sur
The Boogie-Woogie
. Rien de délirant comme boogie, l'approche est ici plus "pédagogique" : Cab explique comment faire. Pour débutants seulement !
Passons rapidement sur
Sunny Side
pour écouter un peu plus
Shout
. Les saxophones sont une fois de plus à l'honneur et font un unisson du plus bel effet. Evidemment Chu Berry prend le solo : superbe ! Même un long solo de clarinette ne parvient pas à le faire oublier.
Mister Paganini, Swing For Minnie
est encore une suite amusante de l'histoire de Minnie, entichée de Toscanini. Alors, pour la faire revenir au bercail, Smoky Joe demande à Paganini de swinguer !
Jive (page One Of The Hepster Dictionary)
est peut-être à l'origine du vrai dictionnaire que Cab écrivit (sic) sur l'argot des musiciens (nous consacrerons une ou plusieurs notes détaillées sur le sujet) et qui connut un tirage spectaculaire à plus d'un million d'exemplaires. Quoi qu'il en soit, Chu reprend encore la parole et met en valeur le travail des saxophonistes.