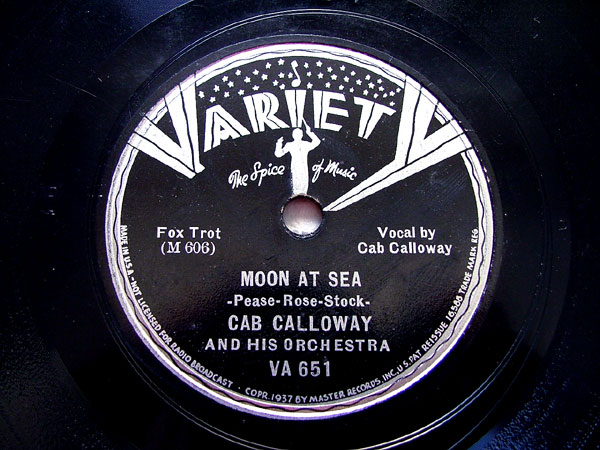 Enregistrement de 3 chansons par Cab Calloway and his Orchestra :
Moon At Sea*
I'm Always In The Mood For You*
She's Tall, She's Tan, She's Terrific*
Etaient présents à l'enregistrement à New York :
Cab Calloway (vocal*, dir), Doc Cheatham, Irving Randolph, Lammar Wright (trompette), Claude Jones, Keg Johnson, De Priest Wheeler (trombone), Garvin Bushell, Andrew Brown (clarinette, alto saxophone), Chu Berry, Walter Thomas (tenor saxophone), Bennie Payne (piano), Morris White (guitare), Milton Hinton (contrebasse), Leroy Maxey (batterie).
Voici la première session à laquelle Chu Berry a participé dans l'orchestre de Cab Calloway (en remplacement de Ben Webster parti chez Duke Ellington). Nous consacrerons une ou plusieurs notes au sujet de ce saxophoniste qui a marqué les esprits et les oreilles de ses contemporains et qui a eu la malchance de mourir dans un accident de voiture en 1941. Il influença grandement Coleman Hawkins qui voyait en lui le meilleur de tous (et surtout un de ses principaux concurrents !).
Moon At Sea
d'ailleurs ne brille pas par son rythme, ni sa musique... Tout cela patauge lamentablement. Un vrai mauvais enregistrement de Cab !
I'm Always In The Mood For You
est une de ces chansons romantiques sur lesquelles Cab faisait montre de ses talents vocaux. Quelques notes de trompettes (peut-être Lammar Wright, mais pas Doc Cheatham - dont on fêtait le retour dans l'orchestre - et qui ne prenait que rarement des solos à cause de sa position de première trompette) et enfin le premier solo de quelques mesures de Chu Berry. "
T'en veux du Chew en v'là"
pourrait-on dire : un vrai beau solo bien moelleux.
She's Tall, She's Tan, She's Terrific
est l'enregistrement d'un des morceaux chantés pendant la dernière revue du Cotton Club. Traitant des chorus girls de la troupe, elle laisse quand même un peu de place une nouvelle fois à quelques chorus de trompette et de saxophone ténor.
En fait, Chu Berry va prendre très rapidement le pouvoir au pupitre. Cab le voulait absolument et en fit un de ses chouchous (jeu de mots regrettable !) et quasiment toutes les sessions mettront en avant ses prouesses.