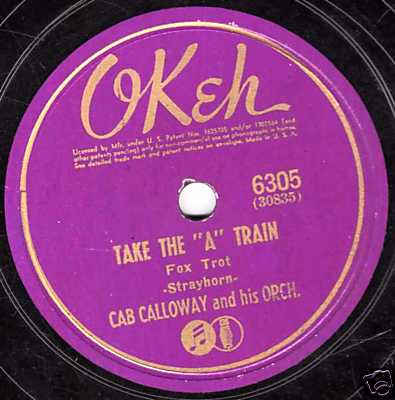 Enregistrement de 4 chansons par Cab Calloway and his Orchestra :
Take The 'A' Train
Chattanooga Choo Choo*
My Gal*
St. James Infirmary*
Etaient présents à l'enregistrement à New York :
Cab Calloway (vocal*, dir), Jonah Jones, Dizzy Gillepsie, Lammar Wright (trompette), Quentin Jackson, Keg Johnson (trombone), Jerry Blake - alias Jacinto Chabani (clarinette, alto saxophone), Hilton Jefferson (alto saxophone), Andrew Brown (alto saxophone, baryton), Chu Berry, Walter Foots Thomas (tenor saxophone), Bennie Payne (piano), Danny Barker (guitare), Milton Hinton (contrebasse), Cozy Cole (batterie). Arrangements : Andy Gibson.
A l'inverse de la dernière session (5 mars 1941) où tous les morceaux enregistrés avaient été co-signés ou écrits par Cab, la séance d'aujourd'hui nous fait découvrir les capacités d'interprétation et d'arrangements de l'orchestre.
Take The 'A' Train,
même s'il est nettement inférieur à la version de Duke reste pourtant très honorable.
Chatanooga Choo Choo
, habituellement associé à Glenn Miller, est quant à lui moins réussi que le plus populaire
My Gal
est une lente balade comme Cab en chantait souvent pour permettre aux couples de s'enlacer. On y appréciera le talent vocal de Cab dans ces rythmes lents.
Saint James Infirmary
sera enregistré aujourd'hui et quelques jours plus tard dans une version raccourcie. Standard dont Cab s'est emparé,
St James Infirmary
lui permet de montrer l'étendue de sa tessiture et sa puissance. Cette version comme la suivante seront accompagnée par un choeur. Je n'ai toujours pas compris pourquoi ils remirent les partitions sur les pupitres avec le même arrangement seulement quelques jours plus tard.
Et comme d'habitude, on entend Cab se reculer du micro de manière à ne pas exploser les oreilles des preneurs de son (qui n'étaient pas ses amis !).