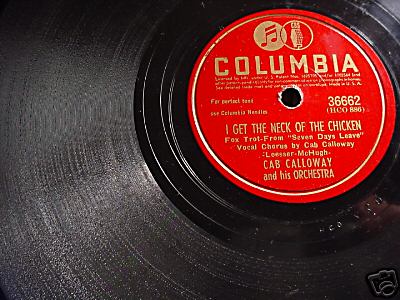 Enregistrement de 4 chansons par Cab Calloway and his Orchestra :
Let's Go, Joe*
Ogeechee River Lullaby*+
I Get The Neck Of The Chicken*
Chant of The Jungle
Etaient présents à l'enregistrement à Hollywood :
Cab Calloway (vocal*, dir), Russell Smith, Jonah Jones, Shad Collins, Lammar Wright (trompette), Tyree Glenn (trombone, vibraphone), Keg Johnson, Quentin Jackson (trombone), Irving Brown (clarinette, alto sax), Hilton Jefferson (alto saxophone), Andrew Brown (alto sax, baryton), Walter Thomas, Al Gibson (tenor saxophone), Bennie Payne (piano), Danny Barker (guitare), Milton Hinton (contrebasse), Cozy Cole (batterie), The Cabaliers (vocal+). Arrangements : Buster Harding.
Voici la dernière session de Cab et son orchestre avant la fameuse grève des musiciens qui empêcha tout enregistrement pendant près de 2 ans. Et c'est bien dommage, car pour Cab comme pour bien d'autres orchestres, ce fut sans doute l'une de ses meilleures périodes.
Let's Go Joe
comme
Ogeeche River Lullaby
ont été écrit par Calloway en collaboration avec ses musiciens. Le premier est particulièrement entraînant et résonne déjà comme le Honey Dripper qu'il enregistrera un peu plus tard. Le second est inspiré par le Sud des Etats-Unis (
Geechie
indiquant quelqu'un en provenance du Sud et particulièrement de Charlestown).
Il permet d'entendre
les Palmer Brothers - appelés ici les Cabaliers
. Ce groupe vocal arriva en décembre 1941 dans l'orchestre finit par accompagner Cab un bon moment. Nous leur consacrerons d'ailleurs une note prochainement.
I Get The Neck Of The Chicken
est sur un tempo bien soutenu par la section rythmique particulièrement efficace et un ensemble de saxophones très unis. On bénéficie en plus d'une prise de son sans doute meilleure que d'habitude, peut-être parce que l'on est à Hollywood.
En plus, ce titre sera présent dans la musique du film
"Seven Days Leave"
avec Victor Mature (Tim Whelan, 1942).
Le dernier morceau de la session est un instrumental,
Chant of The Jungle
, qui fut rejeté par la Columbia. Heureusement, il est parvenu jusqu'à nous et nous permet encore d'entendre un orchestre fonctionnant vraiment parfaitement à l'unisson.