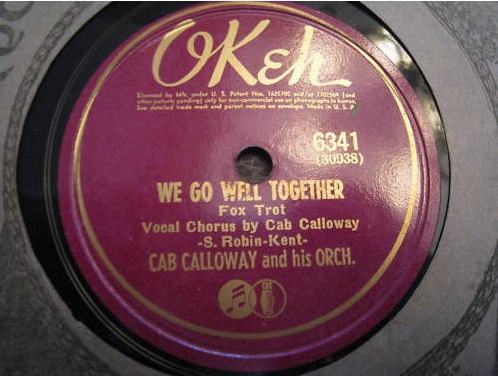 Enregistrement de 5 chansons par Cab Calloway and his Orchestra :
St. James Infirmary*
We Go Well Together*
Hey, Doc!*
I See A Million People (But All I Can See Is You)*
Conchita (Cares Nothing About Love)*
Etaient présents à l'enregistrement à New York :
Cab Calloway (vocal*, dir), Jonah Jones, Dizzy Gillepsie, Lammar Wright (trompette), Tyree Glenn, Quentin Jackson, Keg Johnson (trombone), Jerry Blake - alias Jacinto Chabani (clarinette, alto saxophone), Hilton Jefferson (alto saxophone), Andrew Brown (alto saxophone, baryton), Chu Berry, Walter Foots Thomas (tenor saxophone), Bennie Payne (piano), Danny Barker (guitare), Milton Hinton (contrebasse), Cozy Cole (batterie). Arrangements : Andy Gibson, Buster Harding, Buck Ram.
Tyree Glenn : vocal on
Hey, Doc!
Palmer Brothers : vocal on
I See A Million People
Quelques jours seulement après la session du 3 juillet 1941, Cab et son orchestre enregistrent à nouveau
Saint James Infirmary
, avec le même arrangement, dans une version un peu plus courte. A vous de trouver l'intérêt de cette nouvelle version. Peut-être est-ce un clin d'oeil à l'un de ses premiers succès enregistrés en 1930...
We Go Well Together
a beau ne pas avoir été écrit par Cab, on y retrouve tous les ingrédients de son parcours discographique, avec des références à Minnie The Moocher, Smokey Joe et consort. Sans intérêt particulier.
Hey, Doc !
profite de l'arrivée de
Tyree Glenn
dans l'orchestre et de son plaisir à être sur scène. Lui et Cab font un duo léger qu'ils reproduiront maintes fois, notamment devant les soundies enregistrés en 1942, tels que
The Skunk Song
.
Les
Palmer Brothers
rejoignent Cab sur
I See A Million People
pour un blues qui connaîtra bien d'autres interprètes.
La demande pour des rythmes cubains était toujours forte et c'est pourquoi Calloway a carrément coécrit
Conchita
, ode à la pétulence des femmes cubaines. Tout en finesse...