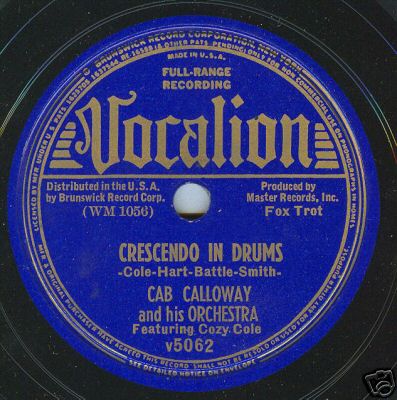 Enregistrement de 4 chansons par Cab Calloway and his Orchestra :
Trylon Swing
Utt-Da-Zay (The Taylor Song)*
Crescendo In Drums
(Hep-Hep!) The Jumpin' Jive*

Etaient présents à l'enregistrement à New York :
Cab Calloway (vocal*, dir), Mario Bauza, Irving Randolph, Lammar Wright, Doc Cheatham (trompette), Claude Jones, Keg Johnson, De Priest Wheeler (trombone), Chauncey Haughton, Andrew Brown (clarinette, alto saxophone), Chu Berry, Walter Thomas (tenor saxophone), Bennie Payne (piano), Morris White (guitare), Julio Andino (contrebasse), Cozy Cole (batterie).

L'influence de Chu Berry se ferait-elle déjà entendre ? Avec Trylon Swing, premier morceau de cette session, nous avons droit à un superbe ensemble. Les arrangements mettent bien en avant les qualités de chaque section.

Utt-Da-zay, en revanche, reprend complètement le style déclamatoire et scat de Cab

On se reprend avec Crescendo In Drums qui permet de mettre Cozy Cole en vedette, même si Gunther Schuller reconnaît que son solo est décevant. On appréciera en contrepartie le superbe chorus de Chu Berry.

Mais c'est pour le dernier morceau de cette session qu'il faut vous lever devant votre ordinateur ! Ce n'est rien moins que The Jumpin' Jive, formidable chanson jouant de l'argot, faisant la belle part au scat de Cab et aux choeurs de musiciens qui répètent "hep hep" tout le long du morceau. N'allez pas me dire que ça ne swingue pas ! C'en est à l'état pur !
Et au milieu de tout cela, de courts solos de Chu Berry au saxophone et de Claude Jones au trombone.

Important information: the bassist on this session is NOT Milt Hinton, as he stated in his book "Playin' The Changes" (p. 81):
"In all the years I worked for Cab, I was out a total of two days. It was in 1939 when I went home to Chicago for my grandmother's funeral. We were at the Cotton Club and a Latin relief band was there with us. The bass player from the group subbed for me, playing the shows and the dance music. But he also did the record session that which had been scheduled for the day I left. And as fate would have it, the tune they recorded was "Jumpin' Jive", one of Cab's best."
Thanks to a jazz connaisseur, the bassist is identified now. It's Julio ANDINO (1914-1983). This Puerto Rican born bassist played with Albert SOCARRAS, Chick WEBB, MACHITO (where he was with trumpet Mario BAUZA who also played in Cab's band), Joe LOCO, Tito RODRIGUEZ, etc. He even had his own formation in the Fifties.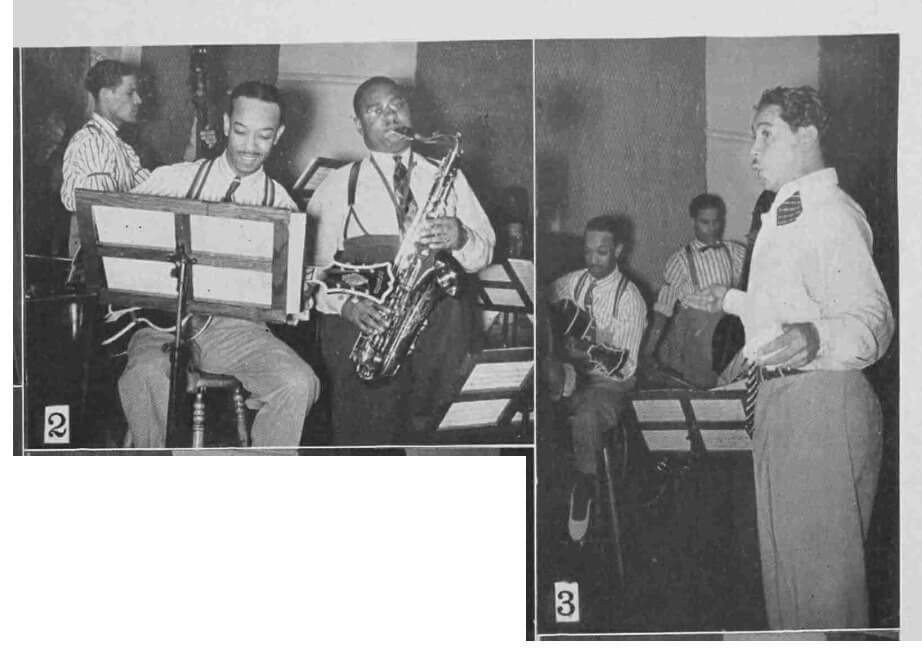 Those photos of the sessions appeared in Metronome, n°55, in August 1939.
You can now recognize Julio ANDINO (bass), Danny BARKER (guitar), Chu BERRY (tenor sax)
with Cab Calloway leading the band.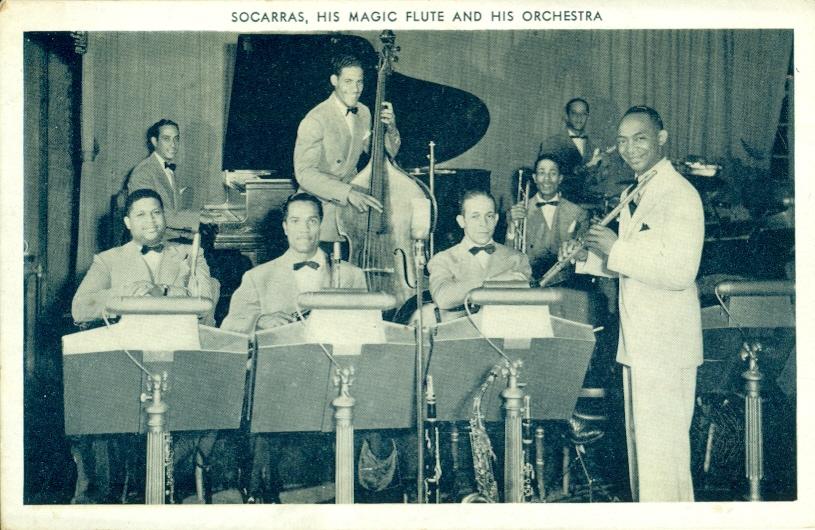 Albert SOCARRAS orchestra, with Julio ANDINO on bass