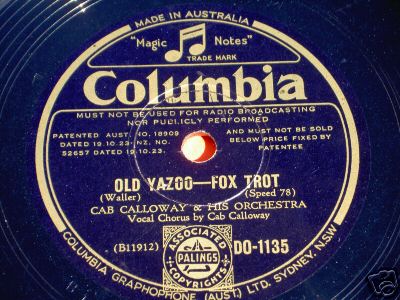 Enregistrement de 6 chansons par Cab Calloway and his Orchestra :
Dinah*
How Come You Do Me Like You*
Old Yazoo*
Angeline*
I'm Now Prepared To Tell The World It's You*
Swanee Lullaby*
Etaient présents à l'enregistrement à New York :
Cab Calloway (vocal*, dir), Edwin Swayzee, Lammar Wright, Doc Cheatham (trompette), De Priest Wheeler, Harry White (trombone), Arville Harris (clarinette, alto saxophone), Andrew Brown (clarinette basse, atlo saxophone, baryton), Walter Thomas (clarinette, tenor saxophone, flute), Bennie Payne (piano), Morris White (guitare), Al Morgan (contrebasse), Leroy Maxey (batterie).
Pas moins de six morceaux enregistrés en une journée ! Et vous allez voir que le mois de juin 1932 a été particulièrement chargé pour Cab et son orchestre : ils retourneront en studios le 7, le 9 et le 22 !
Les historiens du jazz (et les économistes jazzophiles) auront noté qu'en pleine crise économique, Cab Calloway - pourtant débutant - enregistra un nombre de face astronomique (seul Duke ELLINGTON en fit presque autant).
Toute cette année 1932 va consister à mettre en valeur les talents vocaux de Cab. Il faut dire qu'en plus des retransmissions radio en direct du Cotton Club trois fois par semaine, l'heure est au succès : il va tourner avec
Bing CROSBY
dans
The Big Broadcast
et se verra transformé en personnage de cartoon dans un
Betty BOOP
. Mais de tout cela nous avons parlé ou en reparlerons plus tard...
"En v'là du scat en vl'à"
, c'est u peu comme ça que l'on devrait appeler cette session ! Car même s'il n'est pas l'inventeur du scat (
Louis ARMSTRONG
en serait plus proche... mais nous laisserons à Philippe BAUDOIN le soin d'apporter ses précisions), Cab est de tous les scatteurs celui qui a le mieux et plus profitablement profité du filon.
Dans ce cas, même s'il y a peu de place pour les soli des instrumentistes, on appréciera la force du soutien de l'orchestre, notamment dans
How Come You Do Me Like You Do
.
Les 4 derniers morceaux sont dûs à la plume de
Fats WALLER
, très à la mode à cette époque et dont Cab n'a pas fini d'interpréter les délicieuses rengaines.