Salute to Glenn Miller
Organized while Glenn Miller is still missing and not yet declared dead, this broadcat tribute brought together many stars of the moment:
Paula Kelly, Gil Lamb, Perry Como, The Harmonica Rascals, Count Basie and His Orchestra, Maxine Johnson, Sammy Kaye, Cab Calloway, Pearl Bailey, Benny Goodman and His Orchestra, Louis Prima and His Orchestra, The Modernaires, Fred Waring and His Chorus, Allan Jones, Guy Lombardo, Brian Aherne, Bill Bojangles Robinson, Kate Smith, Four Chicks and Chuck, Milton Berle, Joe Besser, Marion Hutton, Johnny Johnston, Ed Sullivan, William B. Williams (introduction), Joseph Bolton (introduction ), Martin Block (TM), Charlie Spivak and His Orchestra, Tex Beneke, Jo Stafford, Shep Fields, Dean Murphy (comic), Gene Krupa ...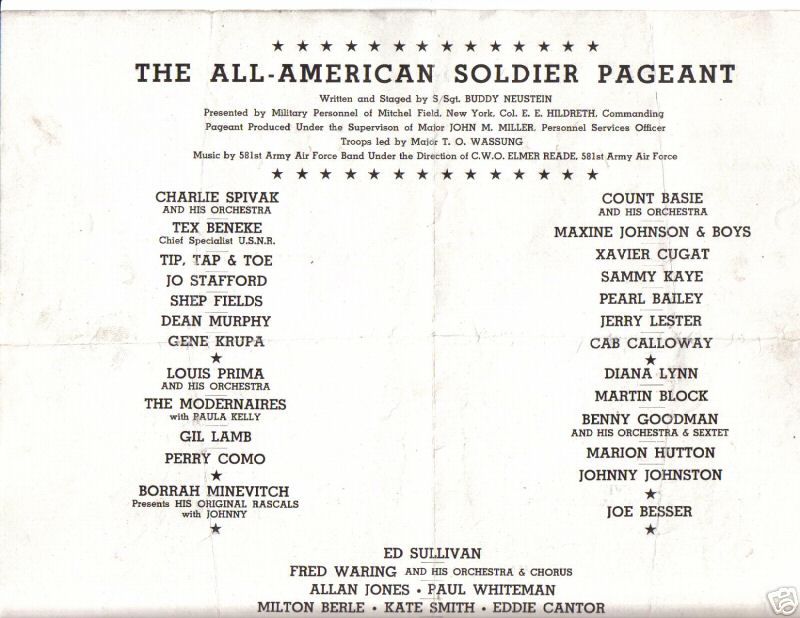 During 4 hours, all these stars will share the Parmount Theatre stage, hence Glenn Miller's popularity.
Cab Calloway's appearance is during the third hour. He is introduced by Count Basie and the latter's orchestra accompanies him during a medley where Bennie Payne is at the piano: Minnie The Moocher, Kicking the Gong Around, St. James Infirmary, The Jumpin 'Jive.
Then Cab presents his young protégée Pearl Bailey who sings a hilarious "Duration Blues ... What follows is a brief but fun conversation between Cab and Count in jive language.
Still, it is surprising that in 1945 Cab sings some of his old tunes, with the exception of Jumpin 'Jive (which dates from 1939 still ...).
---
---
You can easily find the 4 hour long broadcast of that evening: Great Old Time Radio