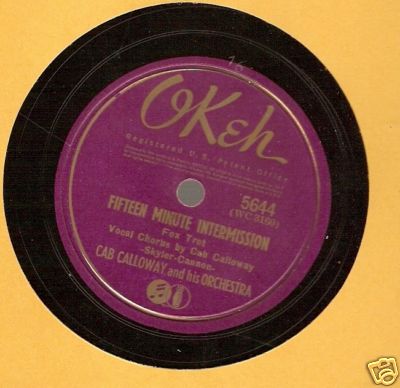 Enregistrement de 5 chansons par Cab Calloway and his Orchestra :
Fifteen Minutes Intermission
Rhapsody In Rumba*
Come On With The "Come On"*
A Ghost Of A Chance
Bye Bye Blues
Etaient présents à l'enregistrement à Chicago :
Cab Calloway (vocal*, dir), Mario Bauza, Dizzy Gillespie, Lammar Wright (trompette), Tyree Glenn (trombone, vibraphone), Keg Johnson, Quentin Jackson (trombone), Jerry Blake (clarinette, alto saxophone), Hilton Jefferson (alto saxophone), Andrew Brown (clarinette, alto saxophone), Chu Berry, Walter Thomas (tenor saxophone), Bennie Payne (piano), Danny Barker (guitare), Milton Hinton (contrebasse), Cozy Cole (batterie).
Lorsque l'on aborde ces sessions, il faut peser ses mots. Tous les critiques les considèrent parmi les meilleures. Moi, j'ai parfois quelques nuances à apporter à leur enthousiasme...
Tous les morceaux de cette session laissent entendre à un moment ou un autre le "chouchou" du moment (OK, le jeu de mots est minable) :
Leon 'Chu' BERRY
, saxophoniste ténor qui imposa à Cab des plages de solos plus importantes dans la plupart des morceaux, enregistrés ou joués en public.
Fifteen Minute Intermission
permettait à Cab néanmoins de chanter avec l'orchestre, mettant son rôle de manager en avant. Le morceau fut souvent rejoué et devait donner l'occasion aux musiciens de jouer plus ou moins le jeu à leur pupitre (surtout avec un intenable Gillespie dans les rangs !).
Rhapsody In Rumba
est un des 100 et quelques morceaux écrits par Cab. L'effet "rhapsody" est relativement discret, presque autant que la rumba...
Come On With The "Come On"
permet à plusieurs solistes de se faire plaisir, à commencer par Cab qui nous fait du grand scat comme il n'en faisait plus depuis 1932 ! Ensuite, c'est au tour de la vedette, Chu Berry d'entamer un superbe solo au tempo endiablé. Vraiment splendide ! Trompette, clarinette, trombone entament ensuite leurs chorus, suivi d'un beau riff à la batterie.
A Ghost Of A Chance
est considéré par beaucoup comme un morceau exemplaire du talent de Chu Berry. Pourtant,
Gunter SCHULLER
- entre autres - considère son solo trop copié sur celui de
Coleman HAWKINS
dans le récent
Body And Soul.
Par ailleurs, on remarquera que Berry est plus à l'aise dans les tempos rapides. Ici, les oreilles exigeantes lui reprocheront sans doute un peu de froideur dans son jeu.
Bye Bye Blues
n'a rien d'un blues et est au contraire un morceau au tempo rapide que beaucoup d'entre vous reconnaîtront sans doute. Quoi qu'il en soit, Chu Berry a beau être excellent dans son solo, c'est bel et bien
Dizzy GILLESPIE
qui lui vole la vedette ici !