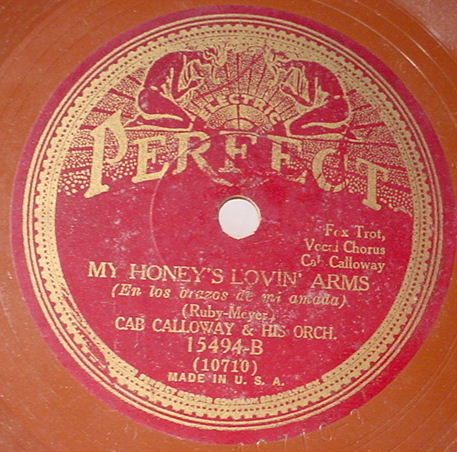 Enregistrement de 2 chansons par Cab Calloway and his Orchestra :
My Honey's Lovin' Arms*
The Nightmare*
Etaient présents à l'enregistrement à New York :
Cab Calloway (vocal*, dir), Roger Q. Dickenson, Lammar Wright, Reuben Reeves (trompette), E. B. De Priest Wheeler, Harry White (trombone), Arville Harris (clarinette, alto saxophone), Andrew Brown (clarinette basse, atlo saxophone, baryton), Walter Foots Thomas (clarinette, tenor saxophone, flute), Earres Prince (piano, arrangements), Morris White (banjo, guitare), Jimmy Smith (tuba, contrebasse), Leroy Maxey (batterie, arrangements).
A peine une semaine après avoir enregistré, Cab et son orchestre retrouvent les chemins des studios. Ils enregistrent cette fois pour le label Banner deux morceaux chantés.
My Honey's Loving Arms
donne l'occasion d'entre Cab chanter "en duo" avec une clarinette (dans la session du 11 juin dernier, c'était avec un sax ténor), sans doute
Arville HARRIS
. Une novelty song typique du moment.
The Nightmare
est sans doute plus intéressant pour l'ambiance créée par les arrangements. En revanche, côté mélodie, cela sent le morceau du Sud adapté à la sauce locale... Parmi les différents solos, on notera plus particulièrement celui, assez rare, d'
Andrew BROWN
à la clarinette basse.