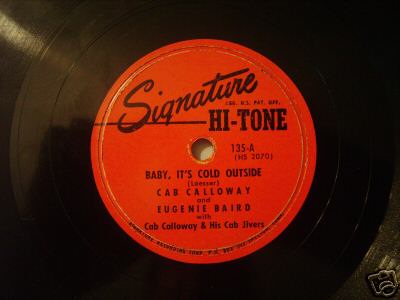 Enregistrement de 2 chansons par Cab Calloway and his Orchestra :
Baby It's Cold Outside*
The Huckle-Buck*
Etaient présents à l'enregistrement à New York :
Cab Calloway (vocal*, dir), Jonah Jones (trompette), Keg Johnson (trombone), Bernie Peacock (saxophone alto), Sam 'The Man' Taylor (tenor saxophone), Dave Rivera (piano), Milton Hinton (contrebasse), Panama Francis (batterie) +
Eugenie Baird
(vocal).
Voilà un classique des duos, que reprendront Louis Jordan et même Leon Redbone récemment :
Baby It's Cold Outside
est un régal pour son jeu entre le loup et la biche naïve. Eugenie Baird, élégante chanteuse de cabaret, enregistra un album entier d'hommage à Duke Ellington.
The Huckle-Buck
, est une ressucée de
The Duck Trot
, enregistrée en 1946 (une sorte de proto-
Danse des Canards
) : on y perçoit la tentative de lancer une danse autour d'une chanson pour essayer de faire un succès. Malheureusement, ni les danseurs ni les jazzophiles ne furent au rendez-vous.
Et c'est d'ailleurs bien dommage puisque Cab est encore entouré pour cette session en sextet de quelques musiciens parmi les plus fidèles.
Note : Gilles Pétard, producteur de la série
Chronogical Classics
, n'est jamais parvenu à remettre la main sur 2 autres enregistrements réalisés pour le label Signature (#15243) :
Got The World On A String
et
Why Can't You Behave.