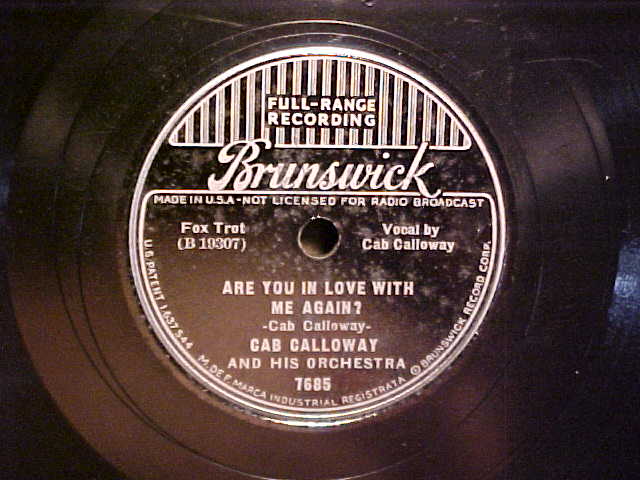 Enregistrement de 4 chansons :
Love Is The Reason*
When you're Smiling*
Jess's Natu'lly Lazy*
Are You In Love With Me Again?*
Etaient présents à l'enregistrement à New York :
Cab Calloway (direction, vocal*), Lammar Wright, Shad Collins, Irving Randolph (trompette), De Priest Wheeler, Keg Johnson, Claude Jones (trombone), Garvin Bushell, Andrew Brown (clarinette, alto saxophone), Ben Webster, Walter Thomas (clarinette, saxophone ténor), Bennie Payne (piano), Morris White (guitare), Milton Hinton (contrebasse), Leroy Maxey (batterie).
Cab a décidément le vent en poupe à cette époque : après avoir enregistré quelques mois plus tôt pour le film
Singing Kid
avec Al Jolson, voici quasiment un "nouvel" orchestre de Cab ! Que des "petits" nouveaux dans cette formation qui enregistre pour la première fois ensemble :
Pour les trompettes : Shad Collins et Irving Randolph
Pour les trombones : Keg Johnson
Pour les saxophones : Garvin Bushell, Ben Webster
A la contrebasse : Milton Hinton.
Comme vous le voyez, rien que du beau monde ! Et qui va commencer à opérer un tournant de plus en plus "jazzy" à l'orchestre. Nouveaux types d'arrangements, mises en place de solos un peu plus longs, meilleure section rythmique, etc.
When You're Smiling
donne pourtant lieu à une des "approches" vocales de Cab les plus désastreuses, à mon humble avis que seule égalera la version enregistrée pour le film de Woody Allen,
Maudite Aphrodite
(1995).