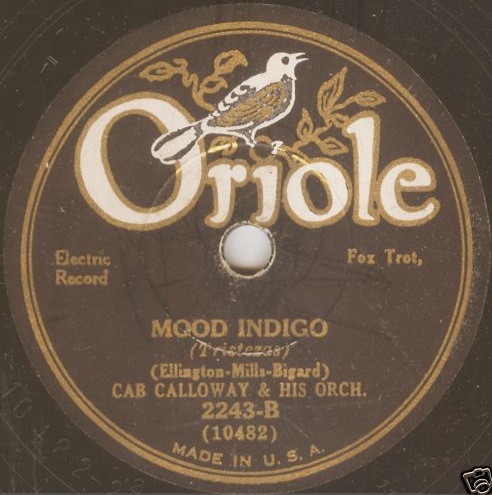 Enregistrement de 3 chansons par Cab Calloway and his Orchestra :
Mood Indigo
Farewell Blues*
I'm Crazy 'Bout My Baby*
Etaient présents à l'enregistrement à New York :
Cab Calloway (vocal*, dir), Roger Q. Dickenson, Lammar Wright, Reuben Reeves (trompette), E. B. De Priest Wheeler, Harry White (trombone), Arville Harris (clarinette, alto saxophone), Andrew Brown (clarinette basse, atlo saxophone, baryton), Walter Foots Thomas (clarinette, tenor saxophone, flute), Earres Prince (piano, arrangements), Morris White (banjo, guitare), Jimmy Smith (tuba, contrebasse), Leroy Maxey (batterie, arrangements).
A peine 3 jours après avoir enregistré
Minnie The Moocher
et d'autres titres, Cab et son orchestre encore composé de l'ex-Missourians, retourne en studio.
L'influence du Cotton Club est ici présente puisque l'orchestre enregistre un morceau de Duke Ellington,
Mood Indigo
. Ce sera l'occasion d'entendre l'orchestre seul, sans un mot de Cab. Je vous laisse comparer avec les versions du Duke...
Farewell Blues
est un vieux standard de l'époque.
On ne peut pas en dire autant de
"I'm Crazy 'Bout My Baby"
, création toute récente pour une des revues du Cotton Club (Randy Newman enregistrera une chanson du même titre pour la BOF de "
Meet The Fockers"
en 2005).