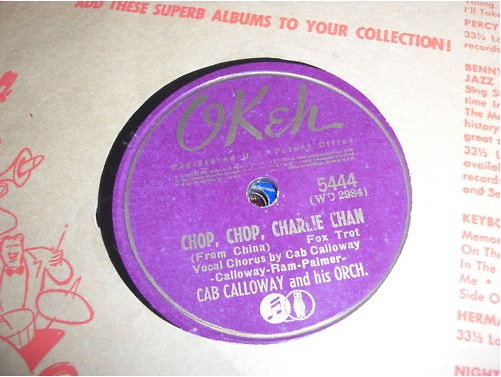 Enregistrement de 4 chansons par Cab Calloway and his Orchestra :
Pickin' The Cabbage
Chop, Chop, Charlie Chan (from China)*
Paradiddle
Boog It*
Etaient présents à l'enregistrement à Chicago :
Cab Calloway (vocal*, dir), Mario Bauza, Dizzy Gillespie, Lammar Wright (trompette), Tyree Glenn (trombone, vibraphone), Keg Johnson, Quentin Jackson (trombone), Jerry Blake (clarinette, alto saxophone), Hilton Jefferson (alto saxophone), Andrew Brown (clarinette, alto saxophone), Chu Berry, Walter Thomas (tenor saxophone), Bennie Payne (piano), Danny Barker (guitare), Milton Hinton (contrebasse), Cozy Cole (batterie).
Du swing, du swing, du swing... Nous entrons dans les sessions les plus adulées des critiques. Et il faut dire qu'il y a du beau monde au pupitre ! Des stars reconnues ou en devenir et une qualité d'arrangement exceptionnelle. Il faut dire que c'est l'époque où Cab passe des "novelty songs" au jazz pur. Ecoutez la différence d'avec les enregistrements précédents. Ne serait-ce qu'au niveau de la batterie, l'arrivée de
Cozy Cole
apporte un caractère tout nouveau à la section rythmique qui va tourner pendant quelques années :
Danny Barker
à la guitare,
Milton Hinton
à la contrebasse,
Bennie Payne
indéfectible pianiste et
Cozy Cole
(qui en 1938 a remplacé Leroy Maxey jugé trop "old style").
Pickin' The Cabbage
est l'occasion d'entendre le swing parfait de l'orchestre où les trompettes tiennent un rôle vedette : Mario Bauza (qui ne tardera pas à partir) et
Dizzy Gillespie
(qui est arrivé il y a quelques mois) se mettent en première ligne. C'est d'ailleurs la première composition et arrangement de Dizzy Gillespie à avoir été enregistré.
Gunther Schuller
** ne lui reconnaît pas toutes les qualités que les autres lui accordent, notant que le solo de Gillespie est encore très influencé par Eldridge, lui reprochant même quelques approximations harmoniques.
Chop, Chop
est une de ces chansons à stéréotypes racistes que l'on n'oserait plus chanter aujourd'hui (si ce n'est Randy Newman en 1971 avec
Yellow Man
). Ce sont là des "chinoiseries" de Cab qui, justement, reprochait à Dizzy Gillespie ses notes d'apprenti boppeur, et qualifiait ses tentatives de
"musique chinoise".
Paradiddle
est un morceau arrangé par Dizzy Gillespie (d'aucuns y voient les prémices exposés du be bop) qui est l'occasion d'introniser le nouveau batteur de l'orchestre, Cozy Cole. il y fait un très long solo de batterie (enregistrement rarissime pour l'époque). "Paradiddle" est une
figure de style
connue pour les batteurs. Là aussi, Schuller reproche à Gillespie son manque de créativité et à Cozy Cole son manque d'imagination pour sortir de sa figure afin de coller plus à la composition. Si vous avez un avis à ajouter sur le sujet, n'hésitez pas !
Boog It
permet à Cab de reprendre la parole (combien de fois ai-je lu qu'il ne laissait jamais ses musiciens s'exprimer alors que les morceaux précédents démontrent l'exact opposé !). Vous avez dit Boogie ? Allez, dansez maintenant !
**"The Swing Era, 1930-1945", Gunther Schuller (plusieurs notes seront consacrées à cet indispensable ouvrage de référence).