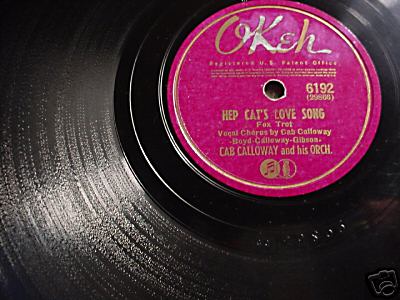 Enregistrement de 4 chansons par Cab Calloway and his Orchestra :
Hep Cat's Love Song*
Jonah Joins The Cab
Geechie Joe*
Special Delivery
Etaient présents à l'enregistrement à New York :
Cab Calloway (vocal*, dir), Jonah Jones, Dizzy Gillepsie, Lammar Wright (trompette), Quentin Jackson, Keg Johnson (trombone), Jerry Blake - alias Jacinto Chabani (clarinette, alto saxophone), Hilton Jefferson (alto saxophone), Andrew Brown (alto saxophone, baryton), Chu Berry, Walter Foots Thomas (tenor saxophone), Bennie Payne (piano), Danny Barker (guitare), Milton Hinton (contrebasse), Cozy Cole (batterie). Arrangements : Andy Gibson.
Cette session est remarquable à plus d'un titre : ce ne sont en effet que des oeuvres composées ou co-écrites par Cab Calloway qui sont enregistrées ce jour-là. Au cours de sa carrière il a d'ailleurs contribué à près d'une centaine de morceaux (mais, nous ferons une note spécifique sur ce sujet).
Jonah Joins The Cab
donne la vedette au nouvel arrivé de la section trompettes de l'orchestre. Mario Bauza, s'étant déclaré épuisé par le rythme de travail, avait quitté l'orchestre quelques semaines plus tôt. Jonah Jones, qui était la coqueluche du moment fut engagé rapidement. Ce morceau est une preuve de plus de l'importance qu'accordait Cab à ses musiciens.
Geechie Joe
est un superbe morceau qui sera repris dans Stormy Weather, permettant à Cab de faire un de ses plus beaux numéros.
Special Delivery
est un instrumental aux arrangements subtils et qui permet d'entendre la virtuosité élégante de Chu Berry.