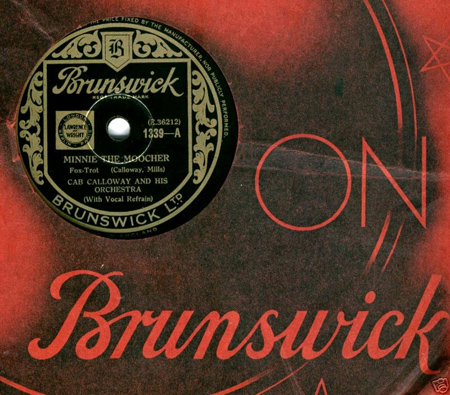 Enregistrement de 4 chansons par Cab Calloway and his Orchestra :
Dixie Vagabond*
So Sweet*
Minnie The Moocher*
Doin' The Rumba*
Etaient présents à l'enregistrement à New York :
Cab Calloway (vocal*, dir), Roger Q. Dickenson**, Lammar Wright, Reuben Reeves (trompette), E. B. De Priest Wheeler, Harry White (trombone), Arville Harris (clarinette, alto saxophone), Andrew Brown (clarinette basse, atlo saxophone, baryton), Walter Foots Thomas (clarinette, tenor saxophone, flute), Earres Prince (piano, arrangements), Morris White (banjo, guitare), Jimmy Smith (tuba, contrebasse), Leroy Maxey (batterie, arrangements).
**Solo sur
Minnie The Moocher
.
Voilà une session historique puisque c'est la première version de
"Minnie The Moocher"
, fraîchement créée au Cotton Club. Cab est à la tête de son orchestre encore composé de l'ex-Missourians.
Dixie Vagabond
s'écoute aussi vite qu'il s'oublie, comme
So Sweet d'ailleurs
. A noter, ils ont été enregistrés pour le label Banner. Ce sont pour chaque morceau les prises 3 qui ont été retenues.
Doin' The Rumba
fait écho à la mode du moment qui voyait dans les airs sud-américains les successeurs du jazz. La rumba est à la mode ? Qu'à cela ne tienne : sous l'impulsion de son manager Irving Mills et certainement des mafieux à la tête du Cotton Club, Cab Calloway enregistre une rumba !
Ce que l'on retiendra effectivement de cette session, c'est bel et bien
"Minnie The Moocher"
. Seul Daniel Nevers à la fine oreille a perçu dans ses notes de l'édtion
Masters Of Jazz
une hésitation à
"whale"
(
"She had a heart as big as a whale"
). Bégaiement ? Erreur ? Selon Nevers, il s'agirait d'un montage imparfait entre deux prises différentes. Dressez l'oreille pour découvrir un de nombreux secrets de Minnie !