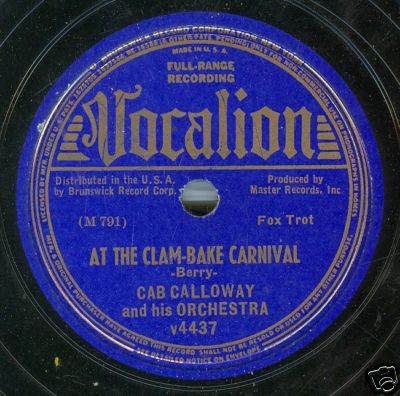 Enregistrement de 6 chansons par Cab Calloway and his Orchestra :
Azure*
Skrontch
We're Breakin' Up A Lovely Affair
Peck-A-Doodle-Do*
At The Clambake Carnival
Hoy-Hoy
Etaient présents à l'enregistrement à New York :
Cab Calloway (vocal*, dir), Shad Collins, Irving Randolph, Lammar Wright (trompette), Claude Jones, Keg Johnson, De Priest Wheeler (trombone), Chauncey Haughton, Andrew Brown (clarinette, alto saxophone), Chu Berry, Walter Thomas (tenor saxophone), Bennie Payne** (piano), Danny Barker (guitare), Milton Hinton (contrebasse), Leroy Maxey (batterie).
**Vibraphone sur
At the Clambake Carnival
.
Si vous constatez comme moi une multiplication des sessions d'enregistrement au mois de mars, c'est tout simplement parce qu'en fait il s'agissait d'un "mois creux" pour l'orchestre de Cab entre deux revues du Cotton Club. C'était le mois des répétitions pour celle à venir. On avait donc plus de temps pour enregistrer. D'ailleurs cette session fut particulièrement productive avec pas moins de 6 morceaux enregistrés en une journée. Et que des premières prises !
A noter :
Azure
est une reprise d'un morceau de Duke Ellington.
Sur les autres morceaux de cette session, nus profitons des solos de différents instrumentistes, à commencer par Chu Berry, saxophone ténor, notamment sur
At The Clambake Festival
.