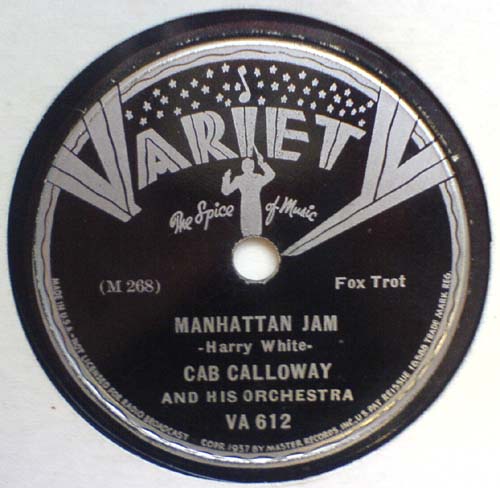 Enregistrement de 2 chansons par Cab Calloway and his Orchestra :
Wake Up And Live*
Manhattan Jam
Etaient présents à l'enregistrement à New York :
Cab Calloway (vocal*, dir), Shad Collins, Irving Randolph, Lammar Wright (trompette), Claude Jones, Keg Johnson, De Priest Wheeler (trombone), Garvin Bushell, Andrew Brown (clarinette, alto saxophone), Ben Webster, Walter Thomas (tenor saxophone), Bennie Payne (piano), Morris White (guitare), Milton Hinton (contrebasse), Leroy Maxey (batterie).
On appréciera ici le rythme soutenu de Manhattam Jam avec un superbe solo d'Andrew Brown à la clarinette. De quoi faire la nique à Benny Goodman et à d'autres. Ce morceau est l'occasion d'entendre à quel point la section rythmique de l'orchestre est d'une exceptionnelle qualité (notamment Milton Hinton sur ce morceau). C'est du 100 % pur swing !