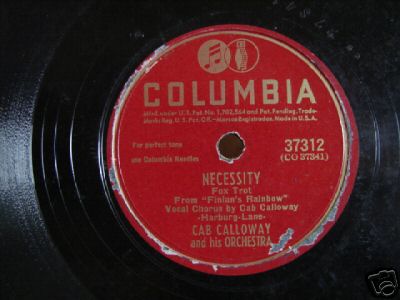 Enregistrement de 4 chansons par Cab Calloway and his Orchestra :
Hi-de-Ho Man (That's Me)*
Necessity*
Oh Grandpa*
Don't Falter At The Alter*
Etaient présents à l'enregistrement à New York :
Cab Calloway (vocal*, dir), Lammar Wright, Jonah Jones, Johnny Letman, Paul Webster (trompette), James Buxton, Earl Hardy, Keg Johnson, Quentin Jackson (trombone), Hilton Jefferson, Rudy Powell, Charles Frazier (alto saxophone, baryton), Al Gibson, Sam Taylor
(tenor saxophone), Dave Rivera (piano), John Smith(guitare), Milton Hinton (contrebasse), Panama Francis (batterie).
Nous sommes déjà dans la période où Cab a bien du mal à suivre la mode avec son orchestre encore trop grand ! Et cela se ressent dans cette session qu'on aura vite oubliée, malgré la présence de grands instrumentistes et musiciens fidèles. L'orchestre tel que nous l'écoutons ici sera dissout au début de l'année suivante. Tout le monde s'accroche, mais n'a plus vraiment l'air d'y croire. La pauvreté des compositions en est une des preuves. Cab a l'air de s'échiner à faire swinguer les gars... mais le public (et nous aussi d'ailleurs) ne suit plus.
A noter :
"Dont Falter The Alter"
fut rejeté par la maison de disque Columbia.