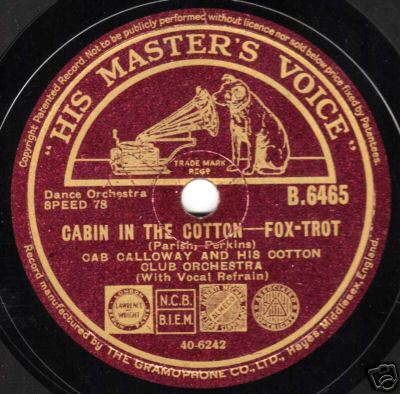 Enregistrement de 2 chansons par Cab Calloway and his Orchestra :
The Scat Song*
Cabin In The Cotton*
Etaient présents à l'enregistrement à Chicago :
Cab Calloway (vocal*, dir), Edwin Swayzee, Lammar Wright, reuben Reeves (trompette), De Priest Wheeler, Harry White (trombone), Arville Harris (clarinette, alto saxophone), Andrew Brown (clarinette basse, atlo saxophone, baryton), Walter Thomas (clarinette, tenor saxophone, flute), Bennie Payne (piano, celesta), Morris White (guitare), Jimmy Smith (contrebasse), Leroy Maxey (batterie).
Enregistrés peu après que leur première année de résidence soit terminée au Cotton Club, ces deux titres sont particulièrement représentatifs du talent de showman de Cab Calloway et du sens du rythme de son orchestre.
"Scat Song"
fait la part belle aux improvisations de Cab et sera réenregistrée à plusieurs reprises.
"Cabin In The Cotton"
reprend un des titres joués par l'orchestre pendant la dernière revue du Cotton Club. On est encore dans la vision stéréotypé des noirs du Sud. De quoi effrayer le petit bourgeois blanc dans les chaumières...