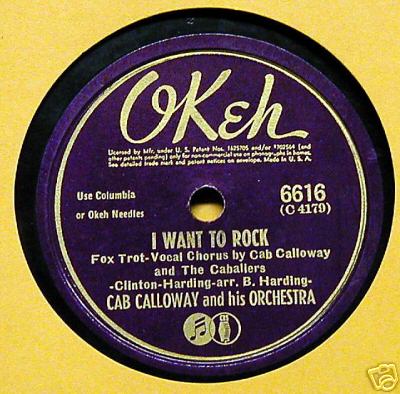 Enregistrement de 5 chansons par Cab Calloway and his Orchestra :
I Want To Rock*
I'll Be Around*
Tain't No Good*
Minnie the Moocher*
What's Buzzin', Cousin?*
Etaient présents à l'enregistrement à Chicago :
Cab Calloway (vocal*, dir), Russell Smith, Jonah Jones, Shad Collins, Lammar Wright (trompette), Tyree Glenn (trombone, vibraphone), Keg Johnson, Quentin Jackson (trombone), Jerry Blake (clarinette, alto sax), Hilton Jefferson (alto saxophone), Andrew Brown (alto sax, baryton), Walter Thomas, Ted McRae (tenor saxophone), Benny Payne (piano), Danny Barker (guitare), Milton Hinton (contrebasse), Cozy Cole (batterie), The Cabaliers (vocal). Arrangements : Buster Harding.
"I'll Be Around",
d'Alec Wilder, est ici enregistré pour la première fois. Cette mélopée bien sirupeuse sera reprise par Cab jusqu'à la fin de sa carrière. Pendant près de 50 ans, elle sera l'occasion de montrer quel chanteur de charme il était.
"What's Buzzin' Cousin" est un titre vite oubliable et qui n'a d'ailleurs pas été retenu par les producteurs de la Columbia qui ne le gravèrent pas en 78 Tours.
A noter : la version de "Minnie The Moocher" de cette session, est considérée comme l'une des meilleures de Calloway.