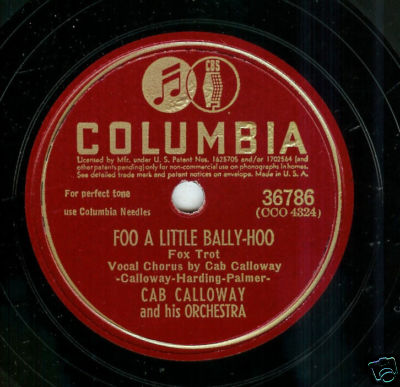 Enregistrement de 2 chansons par Cab Calloway and his Orchestra :
Let's Take The Long Way Home*
Foo A Little Ballyhoo*
Etaient présents à l'enregistrement à Chicago :
Cab Calloway (vocal*, dir), Russel Smith, Jonah Jones, Paul Webster, Shad Collins, Roger Jones (trompette), Tyree Glenn, Fred Robinson, Keg Johnson, Quentin Jackson (trombone), Hilton Jefferson, Al Gibson (alto saxophone), Skinny Brown, Ike Quebec (tenor saxophone), Greely Walton (baryton), Dave Rivera (piano), Danny Barker (guitare), Milton Hinton (contrebasse), J.C. Heard (batterie).
Après la grève des musiciens, c'est bon de reprendre du service. Le personnel de l'orchestre est particulièrement chamboulé, mais cela ne l'empêche pas de swinguer sur ces deux morceaux dont le célèbre "Foo A little Bally Hoo", très représentatif du style "scat" de Cab Calloway. Cela d'ailleurs aux dépends des musiciens dont on regrettera l'absence de solos conséquents. Mais que voulez-vous, il fallait s'appuyer sur la vedette pour se faire entendre et Cab a sacrément de la voix ! (et c'est lui le chef !).