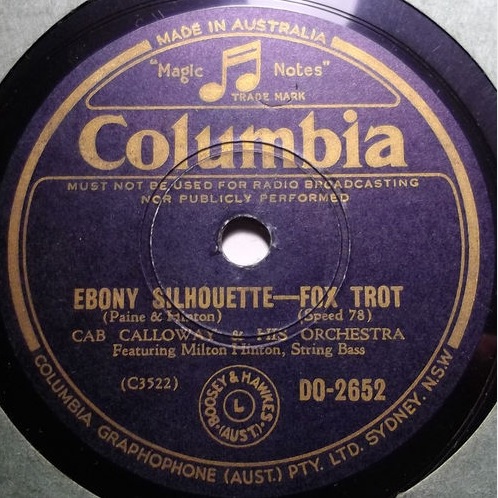 Enregistrement de 5 chansons par Cab Calloway and his Orchestra :
Run, Little Rabbit*
Willow Weep For Me
You Are The One In My Heart*
Are You All Reet*
Ebony Silhouette
Etaient présents à l'enregistrement à Chicago :
Cab Calloway (vocal*, dir), Mario Bauza, Dizzy Gillespie, Lammar Wright (trompette), Quentin Jackson, Keg Johnson (trombone), Jerry Blake - alias Jacinto Chabani (clarinette, alto saxophone), Hilton Jefferson (alto saxophone), Andrew Brown (alto saxophone, baryton), Chu Berry, Walter Foots Thomas (tenor saxophone), Bennie Payne (piano), Danny Barker (guitare), Milton Hinton (contrebasse), Cozy Cole (batterie). Arrangements : Andy Gibson et Benny Carter.
Session d'enregistrements commerciaux, la séance du 16 janvier 1941 est remarquable d'une part par la qualité de l'orchestre qui joue (on est dans la période considérée comme la meilleure par les spécialistes) et d'autre part par le morceau
"Willow Weep For Me"
. En effet, c'est au saxophone alto Hilton Jefferson qu'est revenu le solo. D'aucuns le jugèrent trop mielleux (mais le titre de la chanson était tout de même très "mellow") mais le disque se vendit si bien que pendant longtemps Jefferson fut associé à ce morceau.