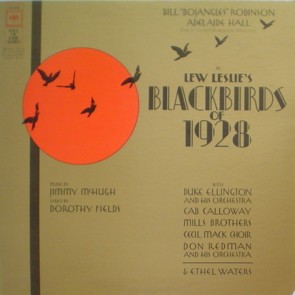 Enregistrement d'1 chanson par Cab Calloway et l'orchestre de Don REDMAN :
Etaient présents à l'enregistrement à New York : Don Redman And His Orchestra.
Don Redman (alto sax, vocal arrangement, direction), Shirley Clay, Langston Curl, Sidney de Paris (trompette), Claude Jones, Fred Robinson, Benny Morton (trombone), Edward Inge, Rupert Cole (clarinette, alto sax), Robert Carroll (ténor sax), Horace Henderson (piano, arrangement), Talcot Reeves (banjo, guitar), Bob Ysaguirre (sous-bassophone, contrebasse), Manzie Johnson (batterie, vibraphone), Cab Calloway et Mills Brothers (vocals).
Un seul titre enregistré durant cette session, mais il s'agit là d'une exception intéressante. Tout d'abord parce qu'elle est en compagnie de l'orchestre de Don Redman, un des meilleurs de l'époque.
Jack KAPP, qui était le « recording director » du label Brunswick avait décidé de réenregistrer une sélection des titres qui avaient fait le succès de la comédie musicale Blackbirds of 1928 (avec Adelaide Hall et Bill 'Bojangles' Robinson. Un « album » de quatre 78 T sortit à début 1932 et connut un succès immédiat. Sur sa lancée, il fit de même avec Show Boat qui était alors à l'affiche (le succès de l'album de 78 T qui sortit dura jusqu'en 1946 !).
Bref, Kapp avait senti le vent venir et décida alors de réenregistrer les Blackbirds avec plus d'ambition, en assemblant cette fois un florilège des artistes noirs du moment. Jack Kapp invita alors :
Les membres de la version originale de 1928 : Adelaide hall et Bill Robinson ;
Ceux qui avaient joué dans la suite, Blackbirds of 1930 : Ethel Waterset le chœur Cecil Mack ;
Des artistes sous contrat avec Brunswick : Duke Ellington, le Mills Brothers, Don Redman et… Cab Calloway.
L'enregistrement se déroula sur une période de deux mois. Il en résulta un album de six 78 tours qui contenait au moins une version de chacune des chansons des Blackbirds, dont le célèbre I Can't Give You Anything But Love.
Les 21, 22 et 23 décembre avaient déjà eu lieu les enregistrements avec l'orchestre de Duke Ellington. Le 29, ce fut au tour de celui de Don REDMAN.
Doin' The New Low-Down fut d'abord enregistré en instrumental, avec des claquettes de Bill ROBINSON. Le « maire » de Harlem allait devenir quelques années après le partenaire à l'écran de Shirley Temple, mais surtout le compagnon de scène de Cab Calloway au Cotton Club de Manhattan (sans oublier Stormy Weather en 1943). C'est même peut-être la première rencontre artistique entre Cab et Bill Robinson. Sa version en compagnie de Don Redman est plus courte de quelques secondes que celle de Cab et des Mills Brothers.
Dans sa version chantée, Doin' The New Low-Down est particulièrement intéressante puisqu'elle met en regard deux types de chant diamétralement opposés et tellement complémentaires : celui très aérien et endiablé de Cab et celui très posé et harmonieux des Mills Brothers, quartet vocal qui se passait habituellement des instruments, puisqu'il les imitait. Le tout forme 3 minutes 6 secondes de chanson joyeuse et alerte, une véritable invitation à la danse.

Notons que Cab Calloway n'enregistra pas d'autre disque avant septembre 1933, sur un nouveau label, Victor. Il serait intéressant de comprendre ce vide discographique, étant donné le succès colossal que remportait Cab : revue du Cotton Club, première tournée dans le Sud des USA, émissions de radio… Brunswick entretenait sans doute l'intérêt du public pour Cab, tout en écoulant les nombreux titres déjà en vente !
Merci à Chrétien LAEMMEL pour les informations sur
Blackbirds.