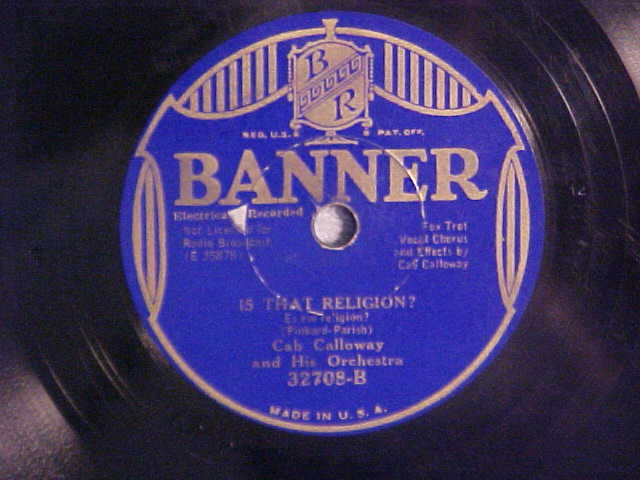 Enregistrement de 4 chansons par Cab Calloway and his Orchestra :
Is That Religion?*
Some Of These Days*
Nobody's Sweatheart*
Saint James Infirmary*
Etaient présents à l'enregistrement à New York :
Cab Calloway (vocal*, dir), Roger Q. Dickenson, Lammar Wright, Reuben Reeves (trompette), E. B. De Priest Wheeler, Harry White (trombone), William Thornton Blue (clarinette, saxophone alto) Andrew Brown (clarinette basse, atlo saxophone, baryton), Walter Foots Thomas (clarinette, tenor saxophone, flute), Earres Prince (piano), Morris White (banjo), Jimmy Smith (tuba, contrebasse), Leroy Maxey (batterie).
Une sacrée séance que celle-ci : comme l'écrit Daniel Nevers dans le passionnant livret du volume 1 de Masters of Jazz : « Ici, ce qui importe, c'est que d'emblée, immédiatement, dès la première mesure, quelque chose de rigoureusement nouveau s'installe, non pas insidieusement mais, au contraire, dans une sorte d'expressionnisme des plus virulents, des plus féroces. […] Tout un code de la bonne conduite qui s'effondre. » Ces quatre morceaux enregistrés lors de la troisième session de Cab Calloway depuis ses débuts est effectivement plus que prometteuse. Pour citer encore Daniel Nevers, « Cab arrache, décape, crève le micro, le haut-parleur de la T.S.F., le pavillon du phonographe… Rien ne sera plus jamais tout à fait comme avant. » Daniel Nevers a décidément tout compris de Cab. Il ne nous reste plus qu'à (ré)écouter cette joyeuse folie communicative.
Is That Religion? permet d'entendre un leader et son orchestre en plein délire, une sorte de moquerie des gospels bien-pensants du moment. En bon MC, Cab emporte l'enthousiasme de ses musiciens et de ses choristes. Mais quand je dis « choristes », encore faut-il écouter la bonne version du titre. Il existe en effet 2 enregistrements datés de la même journée : un avec un chœur, un autre sans. Le volume 2 de l'édition Masters Of Jazz indique qu'il s'agirait d'une « cire d'essai destinée à mettre au point la balance entre l'orchestre et le chanteur, avant l'adjonction d'autres voix. » Daniel Nevers évoque même la possibilité d'un re-recording : d'abord l'orchestre et le chanteur, puis le chœur. À mon humble avis, ce n'est pas ce qui s'est passé cette fois, étant donné que les deux versions ne sont pas dans la même tonalité !

Some Of These Days est un standard que s'approprie complètement Cab Calloway : tempo, vocal, solo de trompette de Lammar Wright et prodigieux unissons des saxophones… Tout est parfaitement en place et s'enchaîne avec une grande virtuosité. A croire qu'en quelques mois, l'orchestre a pris une dimension exceptionnelle, à l'égale d'Ellington. Le livret de l'édition Masters of Jazz indique même avec précision les différents solos que je vous invite à réécouter avec délectation. L'arrangement est de Walter Foots Thomas, saxophoniste qui était déjà dans les Missourians avant l'arrivée de Cab et qui restera avec lui jusqu'à ce qu'il arrête sa carrière scénique pour devenir agent d'artistes. Ecoutez bien ce titre : c'est l'un des plus rapides jamais enregistrés par un orchestre de jazz à l'époque !
Nobody's Sweatheart… Ce n'est pas encore du Minnie The Moocher, mais ça sent le Cab qui commence à furieusement maîtriser les parties vocales. Adossé à un orchestre d'excellente tenue, il peut tout se permettre ! Il est prêt à scatter mais semble se retenir pour laisser les sax reprendre le thème. La trompette précise de Reuben Reeves prend le relais pour laisser le clarinettiste Thornton Blue délivrer l'ultime solo endiablé.
Saint James Infirmary deviendra un classique pour Cab qui en jouera (et surjouera) dessus. Sur cette dramatique histoire de junkie décédée à l'hôpital, Cab réussit une performance vocale de tout premier ordre. Une dimension religieuse et intense rendue par ses trémolos et ses variations sur la portée.
P.S. : Et c'est mon anniversaire aujourd'hui !