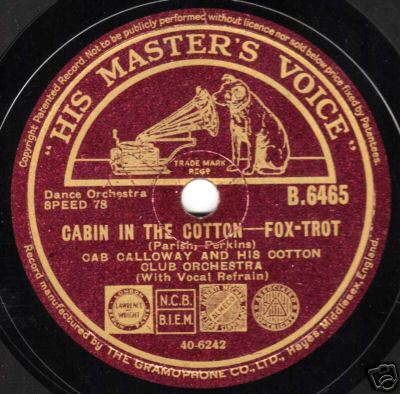 Enregistrement de 4 chansons par Cab Calloway And His Cotton Club Orchestra :
Minnie The Moocher*
The Scat Song*
Kickin' The Gong Around*
There's A Cabin in The Cotton**
Etaient présents à l'enregistrement à New York :
Cab Calloway (vocal*, dir), Edwin Swayzee, Lammar Wright, Doc Cheatham (trompette), De Priest Wheeler, Harry White (trombone), Eddie Barefield (clarinette, alto saxophone, baryton), Arville Harris (clarinette, alto saxophone), Andrew Brown (clarinette basse, alto saxophone, baryton), Walter Thomas (clarinette, tenor saxophone, flute), Bennie Payne (piano, celesta, vocal sur**), Morris White (guitare), Al Morgan (contrebasse), Leroy Maxey (batterie).
Voilà une session assez bizarre, faite de remakes de titres enregistrés un, voire deux ans plus tôt. Le fait de passer sur le label Victor (créé par Irving MILLS) a dû changer la donne sur beaucoup de chose. Et surtout de remettre en vente quelques titres qui marchaient particulièrement bien, remis au goût du jour.

Minnie The Moocher est réinterprêtée ici sur un tempo plus lent qui permet de mieux apprécier certains aspects de la chanson, notamment au niveau des « hi de ho » qui sont plus « répétables ». Un vibraphone (Bennie Payne) vient quelque peu troubler le début de la chanson. On notera ( et appréciera) l'excellente qualité de l'enregistrement qui nous permet de nettement mieux entendre la section rythmique (ah, la guitare de Morris White) comme les remarques des musiciens de l'orchestre.

The Scat Song bénéficie lui aussi d'une belle version particulièrement bien captée. Les amateurs de scat apprécieront la clarté des vocalises de Cab, soutenues par un orchestre excellent. On entend encore Cab s'éloigner du microphone pour éviter la saturation. Quel souffle ! On a même droit à un court solo de Bennie Payne…

Kickin' The Gong Around avait été enregistrée pour la première fois en 1931. Dans cette nouvelle version, agrémentée du célesta de Bennie Payne, nous bénéficions d'un son excellent et de musiciens qui jouent vraiment le jeu avec les appels-réponses de Cab. Toute cette histoire de drogue (le titre de la chanson signifie en argot « prendre de l'opium ») nous fait entendre quelques chinoiseries de rigueur… mais ce vocabulaire et tout cet exotisme n'étaient là que pour impressionner le public. Je ne veux pas particulièrement réhabiliter Morris White, mais sa guitare – en soutien à Cab sur la fin du titre – est vraiment efficace.

There's A Cabin In The Cotton nous permet d'entendre une rareté : un duo vocal entre Cab et Bennie Payne, le pianiste de l'orchestre reprenant en écho trémolant (sic) les paroles mélodramatiques et au pittoresque sudiste larmoyant. Je vous ai déjà parlé de ce titre dans le portrait de Bennie Payne (vous pouvez d'ailleurs écouter ce morceau en bas de cette note). En dehors de cet anecdotique duo, rien à retenir de ce morceau fait pour plonger l'auditoire dans l'ambiance si exotique du Sud.