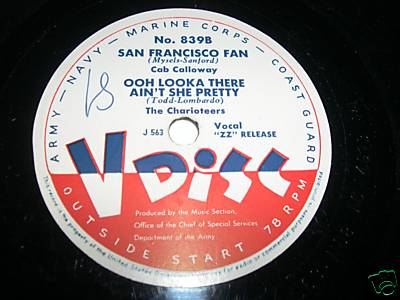 Enregistrement de 4 chansons par Cab Calloway and his Orchestra :
Two Blocks Down, Turn To The Left*
San Francisco Fan*
The Calloway Boogie*
Everybody Eats When They Come To My House*
Etaient présents à l'enregistrement à New York :
Cab Calloway (vocal*, dir), Lammar Wright, Jonah Jones, Johnny Letman, Paul Webster (trompette), James Buxton, Earl Hardy, Keg Johnson, Quentin Jackson (trombone), Hilton Jefferson, Rudy Powell, Charles Frazier (alto saxophone, baryton), Al Gibson, Sam Taylor
(tenor saxophone), Dave Rivera (piano), John Smith (guitare), Milton Hinton (contrebasse), Panama Francis (batterie).
Une session durant laquelle Cab retrouve une grande formation. Et ça se sent ! Il émane une vraie joie de cette session, un vrai plaisir de Cab à chaner encore en compagnie d'un big band. Et il y a encore de grands noms : des plus fidèles comme Lammar Wright, Quentin Jackson, Milt Hinton aux pointures plus récentes comme Jonah Jones, Panama Francis, Sam Taylor…
Après, il faudra attendre quelques années avant de retrouver de tels ensembles. Ne boudons pas notre plaisir et écoutons attentivement cette session riche et brillante.
Two Blocks Down, Turn To The Left (On The Right-Hand Side Of The Street) est un titre qui fait partie des succès de Calloway après-guerre. Les arrangements sont élégants et supportent bien les vocals de Cab. On est un peu « rue Gamma » mais l'ensemble est vraiment agréable. Un court solo de clarinette (Jefferson ou Powell ?) avant que Cab ne reprenne son mélange chant-paroles, initiateur de ce que l'on appellerait plus tard le rap.
San Francisco Fan résonne encore dans nos têtes (en tout cas la mienne !) comme une chanson de Joe Jackson dans son album Jumpin' Jive (1980). Un blues superbe et dramatique, digne de St James Infirmary que l'on appréciera d'autant que Cab possède une maîtrise vocale et une énonciation particulièrement claire.
The Calloway Boogie… Ce n'est plus tout à fait du boogie, ça n'est pas encore du Rhythm and Blues, mais qu'est-ce que ça sonne bien ! Il y a encore beaucoup de jive dans les paroles et l'ami Cab est particulièrement à l'aise dans l'exercice. Il réengistrera le morceau pour un Snader (films courts produits pour la télévision) avec une formation plus serrée et une danseuse plus légère.
Everybody Eats When They Come To My House est un maelström de jeux de mots plus ou moins Vermot mais sur un tempo particulièrement entraînant. Et l'on apprécie une fois encore le chant très articulé de Cab. Un morceau que l'on retrouve même dans des albums de compilation de recettes jazz !