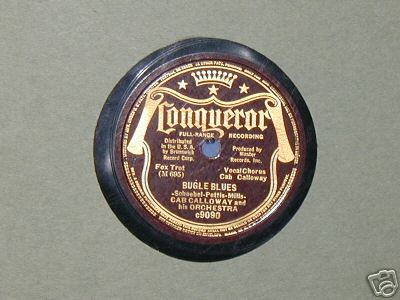 Enregistrement de 6 chansons par Cab Calloway and his Orchestra :
Every Day's A Holiday*
Jubilee*
In An Old English Village*
(Just An) Error In The News*
A Minor Breakdown (Rustle Of Swing)
Bugle Blues
Etaient présents à l'enregistrement à New York :
Cab Calloway (vocal*, dir), Doc Cheatham, Irving Randolph, Lammar Wright (trompette), Claude Jones, Keg Johnson, De Priest Wheeler (trombone), Garvin Bushell, Andrew Brown (clarinette, alto saxophone), Chu Berry, Walter Thomas (tenor saxophone), Bennie Payne (piano), Morris White (guitare), Milton Hinton (contrebasse), Leroy Maxey (batterie).
Six titres enregistrés en une session ! Décidément, on ne chôme pas chez Calloway ! Chacun vous permettra d'entendre quelques beaux solos parmi lesquels Chu Berry tiendra la vedette. Il faut dire que cela ne fait que quelques mois que le brillant saxophoniste ténor est arrivé chez Cab. Et il va petit à petit instiller des chorus des plus en plus longs pour les musiciens. La preuve dans cette séance avec deux instrumentaux enregistrés sur les six titres du jour.
Every Day's A Holiday est une simple chanson d'amour sur un registre classique, dans lequel chacun trouve sa place aisément à tour de rôle : Cab, l'orchestre par sections, la clarinette de Garvin Bushell (?), le saxophone de Chu Berry.

Jubilee sonne résolument comme une chanson de Charles Trénet. Chu Berry y donne un bon solo sur un tempo médium qui lui convient tout à fait, rejoint par la trompette de Lammar Wright (?).
In An Old English Village… allez savoir ce que Cab et son orchestre allaient faire là-bas ! Le thème est (longuement) énoncé durant la moitié du morceau ; ensuite, Cab intervient pour une romance sans aucun intérêt.
(Just An) Error In The News… et si c'était juste une erreur tout court ? La chanson reste néanmoins tout à fait honorable, notamment grâce au talent de Cab. Mais la structure basique (1re moitié par l'orchestre, 2nde par le chanteur) est un peu lassante à la longue. Et il n'y a d'ailleurs aucun solo dans ce titre.
A Minor Breakdown (Rustle Of Swing) Là, on se rattrape ! Pour cet instrumental au rythme enlevé, les arrangements sont excellents et l'orchestre semble prendre un vrai plaisir à le jouer. Solos de trompette (?), sax ténor (Chu Berry, of course), trombone (Keg Johnson ?), clarinette (Bushell ?). Excellente reprise par l'orchestre. Le seul hic, c'est que le titre fut rejeté par Vocalion et ne parut jamais à l'époque.
Bugle Blues continue néanmoins sur cette superbe lancée, dans laquelle le son chaleureux de Chu Berry tient le haut du pavé, suivi de très près par la trompette de Lammar Wright. Solo de clarinette encore, très bien exposé. Le tempo correspond parfaitement à l'orchestre, au point que Cab ne peut s'empêcher de scatter habilement sur la fin du morceau, emportant l'enthousiasme de tous. Ça swingue au-delà de toute espérance !