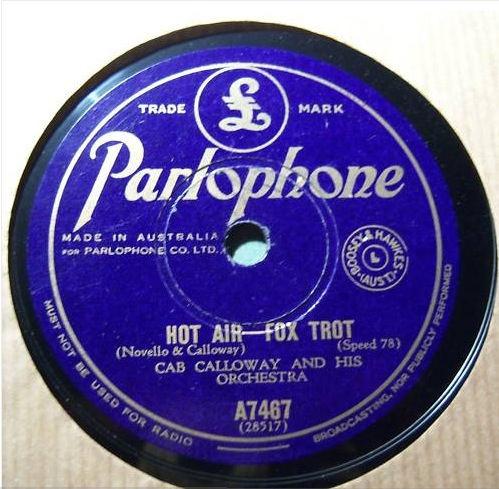 Enregistrement de 6 chansons par Cab Calloway and his Orchestra :
Cupid's Nightmare
Levee Lullaby*
Are You Hep To The Jive?*
Goin' Conga*
Hot Air
Lonesome Nights
Etaient présents à l'enregistrement à Chicago :
Cab Calloway (vocal*, dir), Mario Bauza, Dizzy Gillespie, Lammar Wright (trompette), Tyree Glenn (trombone, vibraphone), Keg Johnson, Quentin Jackson (trombone), Jerry Blake (clarinette, alto saxophone), Hilton Jefferson (alto saxophone), Andrew Brown (clarinette, alto saxophone), Chu Berry, Walter Thomas (tenor saxophone), Bennie Payne (piano), Danny Barker (guitare), Milton Hinton (contrebasse), Cozy Cole (batterie).
Cupid's Nightmare
est une composition instrumentale de Don Redman que Gunther Schuller dans Swing Era qualifie d'ambitieuse. On n'est plus à écouter un fox-trot ou un air de jazz basique : cela va bien plus loin. Une véritable ballade chromatique menée par Dizzy Gillespie en personne. Sans doute enregistré en première place dans la session de manière à calmer le jeune chien fou qu'était Dizzy...
Levee Lullaby
est donc une berceus lancée par un élégant solo de trompette. Une fois de plus, le chant de Cab n'apparaît qu'à la moitié du morceau.
Are You Hep To The Jive?
est devenu un morceau emblématique de Cab, surtout depuis la sortie de la compilation
Sony Legacy
. Les zazous s'y régalent puisqu'il s'agit essentiellement de jive, cet argot dans lequel Cab était un véritable professeur (n'oubliez pas son
Hepster's Dictionary
et
Jive Formation Bureau
qui furent tirées à plus d'un million d'exemplaires et régulièrement réédités à l'époque). Alors,
"are ou all reet?"
Goin' Conga
fait écho à tous les autres morceaux à la cubaine courant à l'époque. Donnant l'occasion sur scène de faire quelques pas de danse avec des chorus girls,
Goin' Conga
ne fait pas partie des titres à retenir dans la carrière de Cab...
Hot Air
est un instrumental coécrit par Cab en personne. Du swing simple et efficace. Mais pas forcément mémorable... On est sur un schéma classique de solos courts : trompette, sax ténor, trombone. La section rythmique est bien menée par un Cozy Cole qui sait apporter sa touche personnelle.
Lonesome Nights
est plus remarquable, notamment pour son arrangement par Benny Carter. Il y a d'ailleurs une ressemblance frappante avec
Body and Soul
. Gunther Schuller considère qu'il s'agit d'un des meilleurs solos de Chu Berry (même si dans le genre, Coleman Hawkins était capable de faire tout aussi bien, voire mieux).