In the first half of the 20th century, postcards were the most efficient method of communication for those short messages that are usually sent today via text, Twitter, SnapChat, Instagram, Facebook and email. Big cities often had two or three or more mail deliveries per day -- you could mail an invitation in the morning, get an answer in the afternoon and entertain your friends that night.
For almost fifty years, postcards only cost one cent to mail. Salesmen requested appointments, consumers made enquiries, families sent news, tourists bragged about their holidays – all by postcard. In addition to the usual scenery, skylines and buildings, the subjects on postcards included celebrities, personal photos, jokes, animals, politics, advertising and even pornography (you've heard of naughty French postcards). Entertainers used postcards for autographs, publicity, and promotions.
Over his 60-plus year career and beyond, Cab Calloway appeared on many different postcards.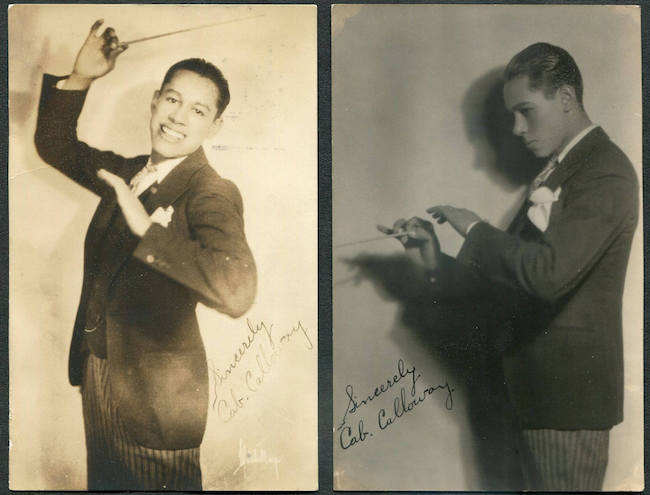 Above is Cab Calloway circa 1929-1930, without his trademark moustache and before the song "Minnie the Moocher" immortalized his "hi-de-ho" call-and-response. Both pictures are probably from the same photo session in Chicago. These cards were mailed to fans who wrote letters to Cab's record label or management offices. The signatures are pre-printed.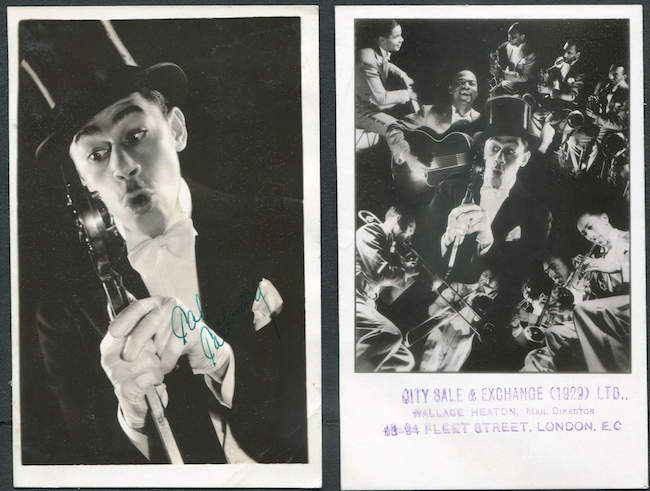 At left, an iconic photograph from 1933, hand signed by Cab. At right, a wonderful photomontage of the band on a postcard used around 1934 promote the latest Cab Calloway Orchestra record releases and advertise Cab's concert appearances.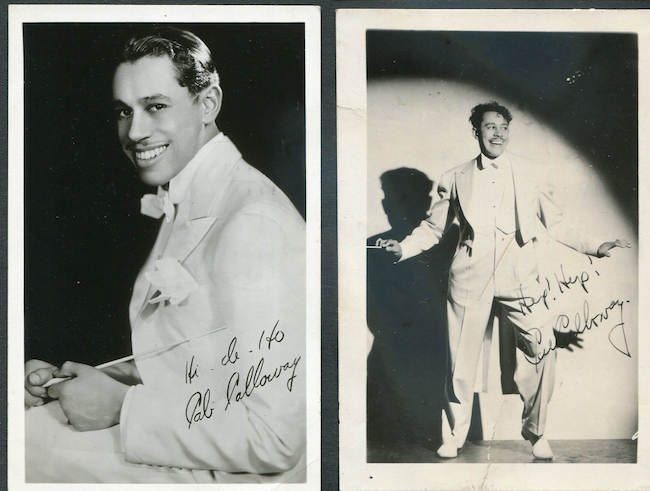 "Hi-de-Ho" (from "Minnie the Moocher" and "Hep! Hep!" (from "The Jumpin' Jive") – Cab Calloway sells his brand of jive in the 30s and 40s; signatures are pre-printed.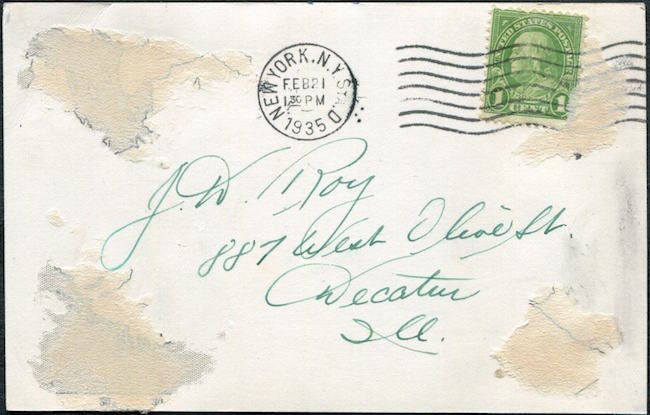 Several cards in my collection from the 1930s and 40s are addressed to fans all in the same handwriting and using the same green ink, probably written by a secretary at Cab Calloway, Inc. in the Brill Building, New York City.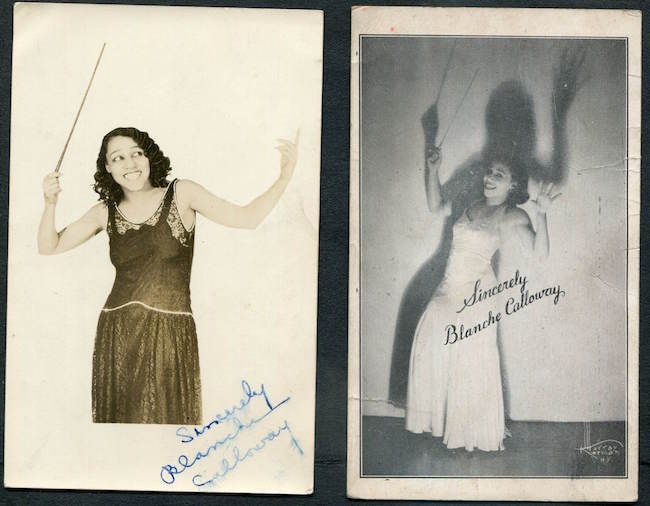 Blanche Calloway (1902-1978) was Cab's older sister who preceded him in show business. Blanche led her own orchestra from 1931-1938 and was later successful as a radio DJ and music programmer, and selling her own line of cosmetics. Blanche signed (and smudged) the card at left. The signature on the card at right is pre-printed, photo by Murray Korman.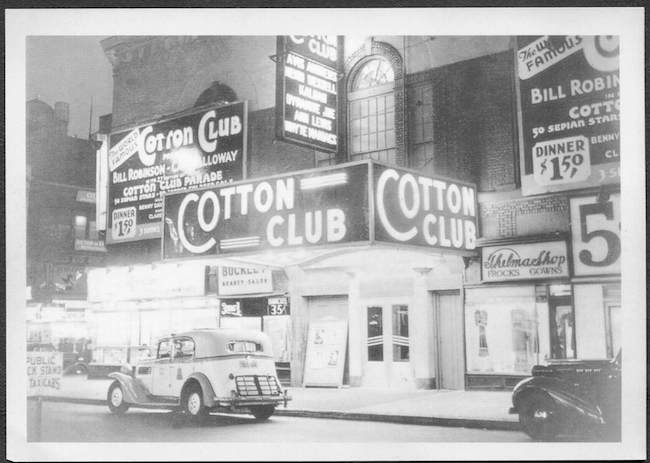 Cab famously appeared often at the Cotton Club in Harlem from 1931 to 1935 and when it moved to Broadway 1935 to 1940. This card is a modern private printing of a 1936 photograph (of the mid-town site).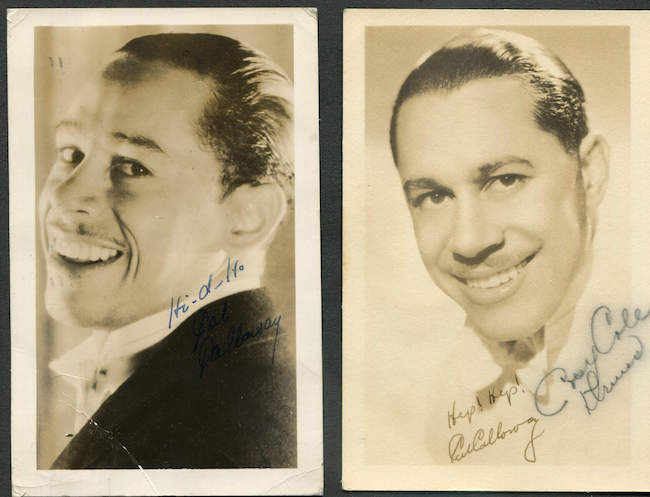 Above: that's Cab's actual signature on the card at left. On the card at right circa 1939, Cab's signature is pre-printed but it was later autographed in pencil by Cozy Cole, the orchestra's drummer.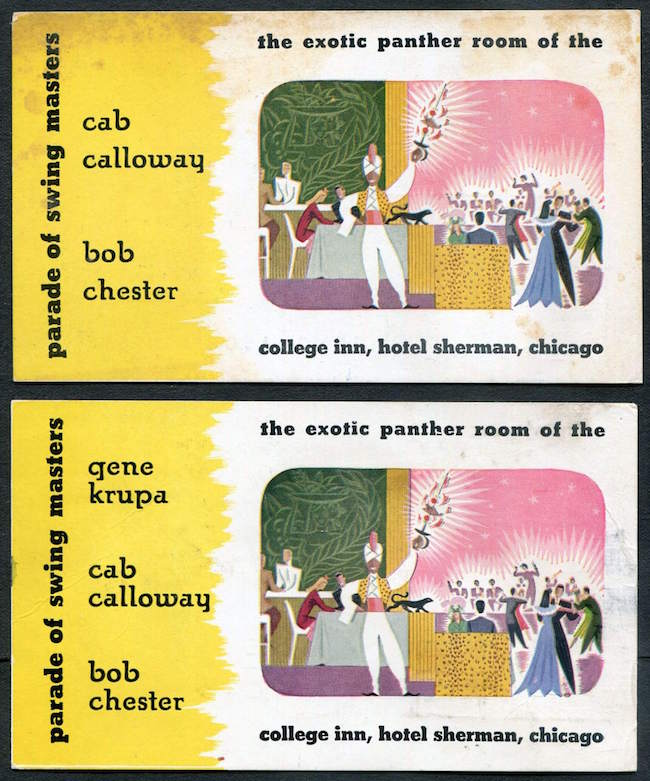 These are two variations of promotional postcards for Cab's early 1940s long-term appearances at the "exotic Panther Room" in the Hotel Sherman, Chicago.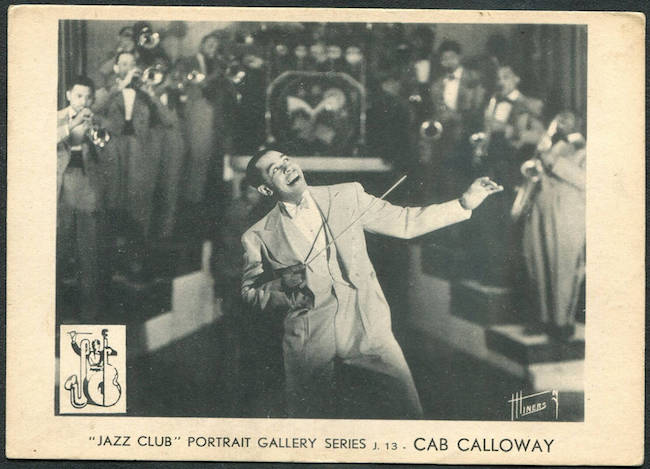 Beginning in the late 30s, The Jazz Club Portrait Gallery Series presented postcards with jazz bands and musicians of the day, published by Edward Nels, Belgium.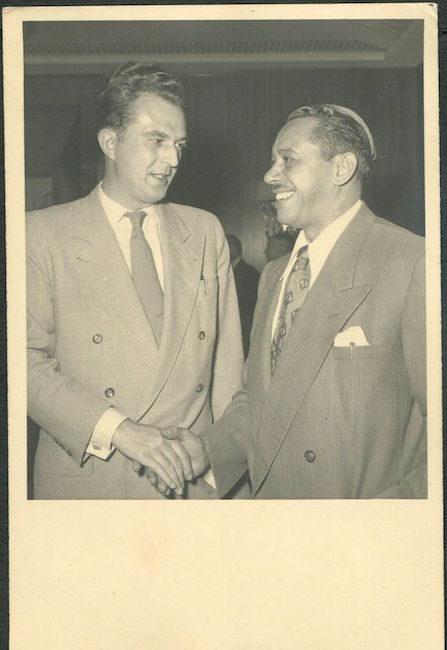 It was cheap and easy to have personal snapshots printed on postcard stock to send to friends and family (they're called Real Photo Postcards or RPPC's). While Cab's delighted acquaintance is unidentified in this unique photo, it's dated the 16th September 1952 while Cab was touring with "Porgy and Bess" in Europe.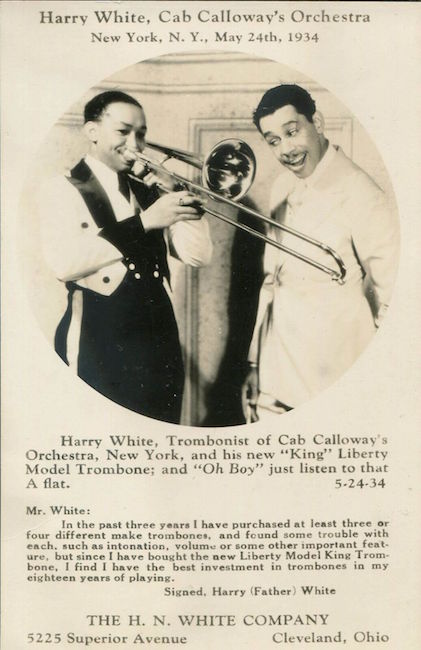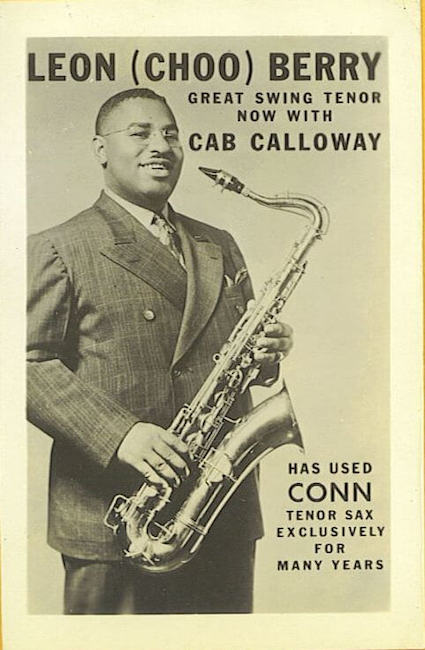 At left, Harry White, the Cab Calloway Orchestra's trombonist, borrowed Cab's image in 1934 to promote his trombone of choice, the King Liberty Model from the H.N. White Company (no relation to Harry). At right, Leon 'Chu' Berry, Cab's star saxophone player, shills for manufacturer C. G. Conn Ltd. about 1939-1940.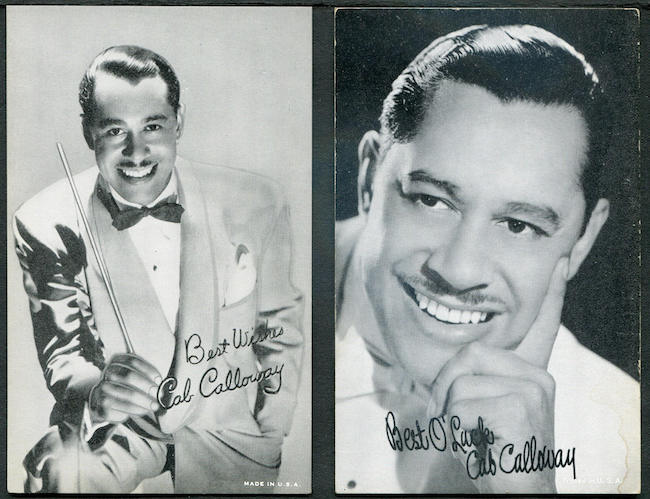 These two items are not postcards, but rather Arcade Cards. Printed on thicker stock and blank on the back, they were manufactured as prizes in penny arcade machines in the mid 20th century. Millions were produced and they often sold for one cent. The signatures are pre-printed and it seems no effort was made to use Cab's actual handwriting.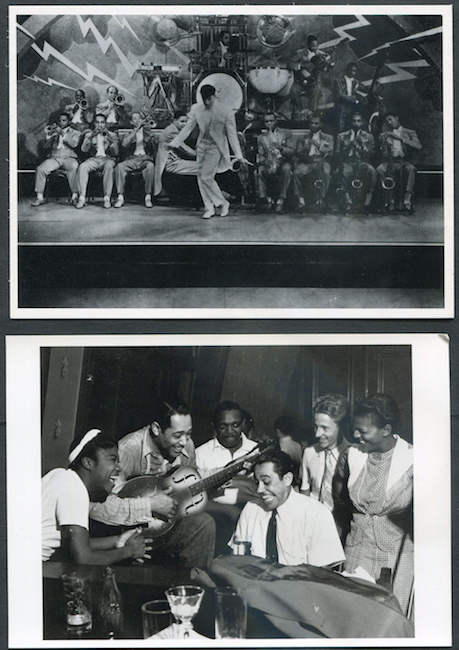 Beginning in the 1970s, and produced through the 1990s, multiple publishers printed nostalgic postcards with iconic, unusual and humorous images from the past. Scenes from classic movies, musicians, sideshow performers, authors, artists, royalty, politicians and other vintage and artistic images were made available on continental-sized postcards and sold for a dollar or two (continental size is just slightly larger than the common tourist postcard). The card on top is a photo from the short film "Cab Calloway's Hi-De-Ho" in 1934; from the Michael Ochs Archives published by Pomegranate Publications. Bottom card is a 1939 photo by Charles Peterson for LIFE magazine, picturing Rosetta Tharpe, Duke Ellington, Rex Stewart, Cab Calloway, an unidentified lucky jazz enthusiast, and Ivie Anderson; published by Fotofolio.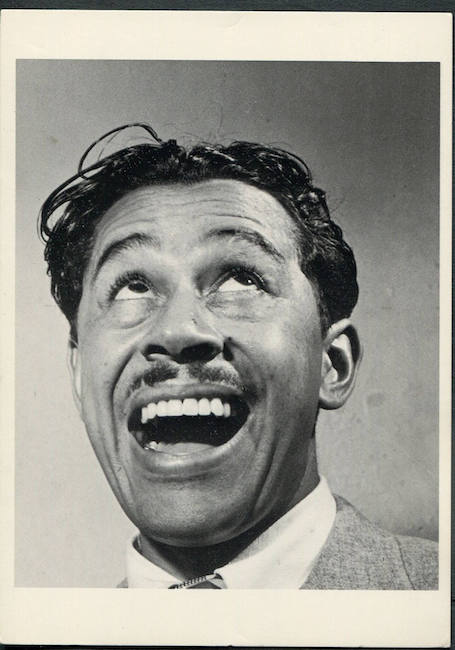 Another 1980s postcard, this is Cab in New York 1947 in a photo by William P. Gottlieb, published by Fotofolio.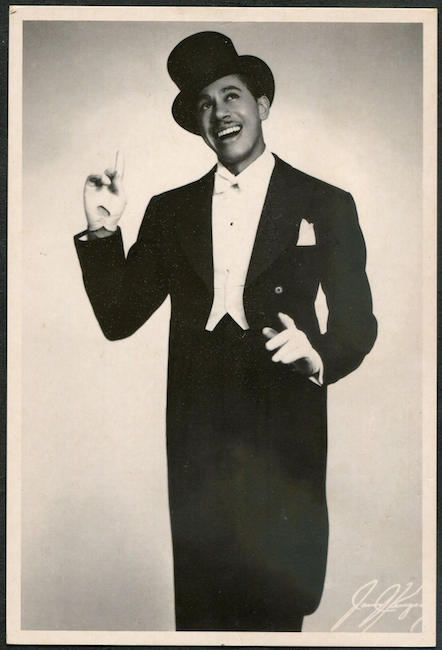 Two photos by James J. Kriegsmann taken between 1934 and 1936, published by Fotofolio and American Postcard Company, respectively. Kriegsmann was the official photographer for the Cotton Club.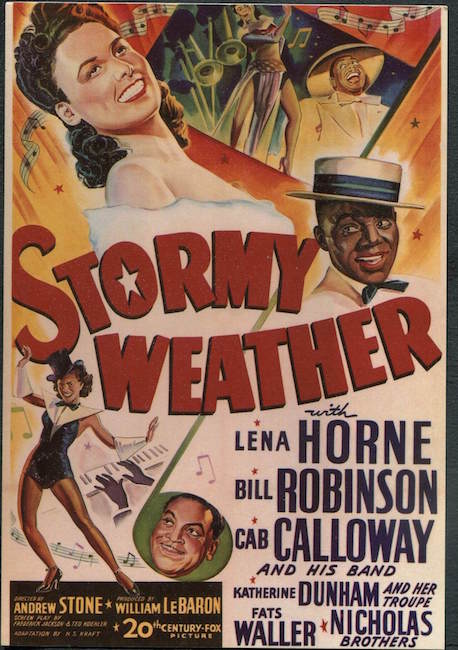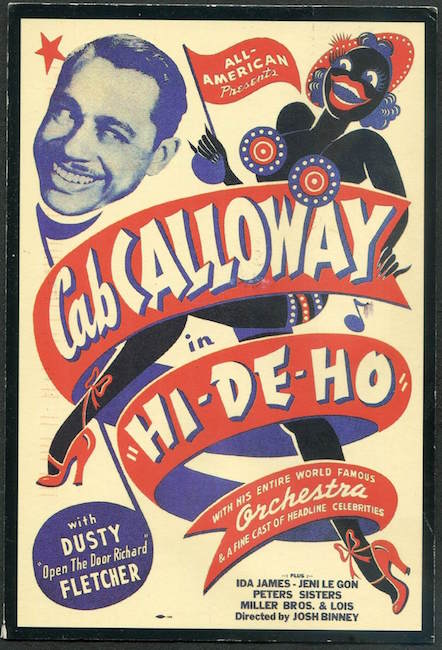 Vintage movie posters provided dynamic graphics for postcards in the 1980s and 90s. These are the posters on cards for Cab's classic features "Stormy Weather" (1943) and "Hi-De-Ho" (1947).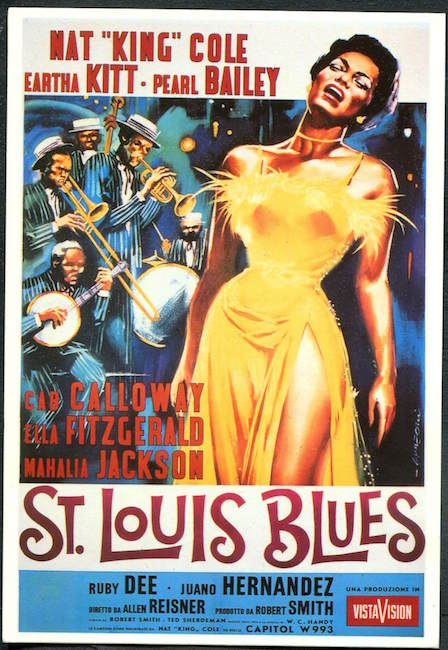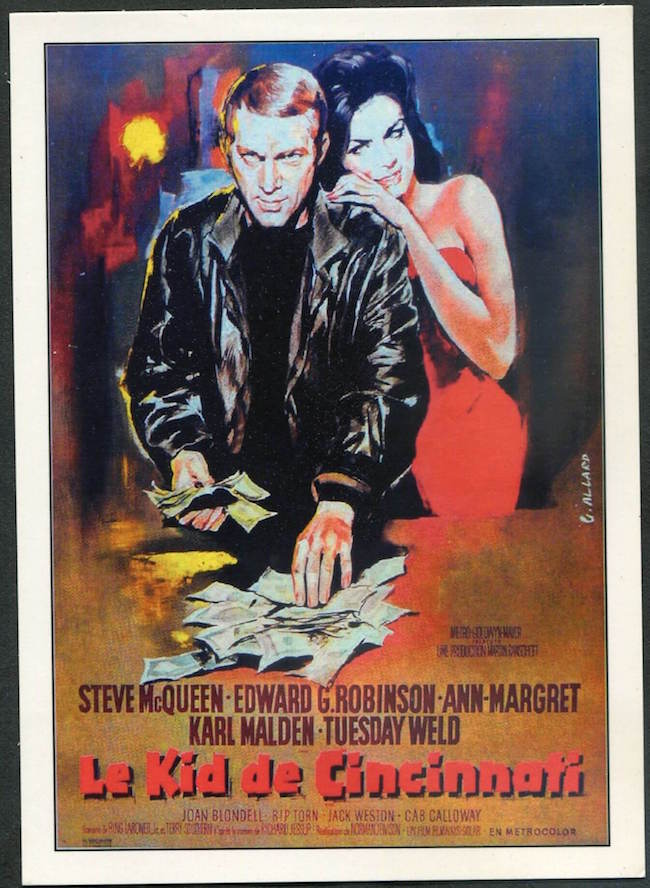 Cab also appeared in non-singing roles in "St. Louis Blues" (1958) and "The Cincinnati Kid" (1965).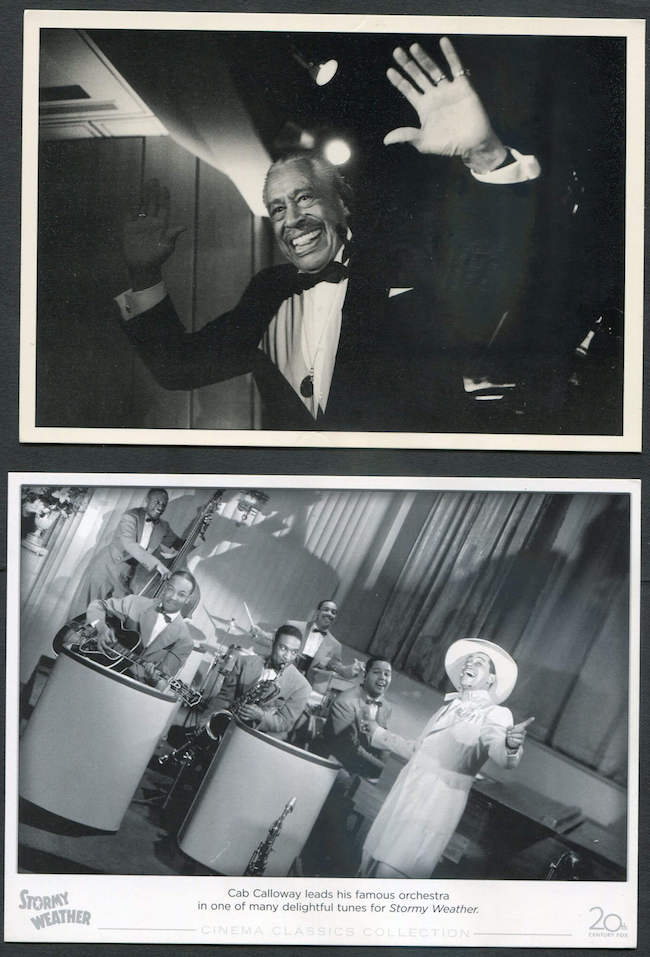 Top, a 1985 photograph by Guy Le Querrec taken at an appearance at Le Meridien in Paris, published by Editions Admira in France. Bottom, a premium included with the 2005 DVD release of the film "Stormy Weather."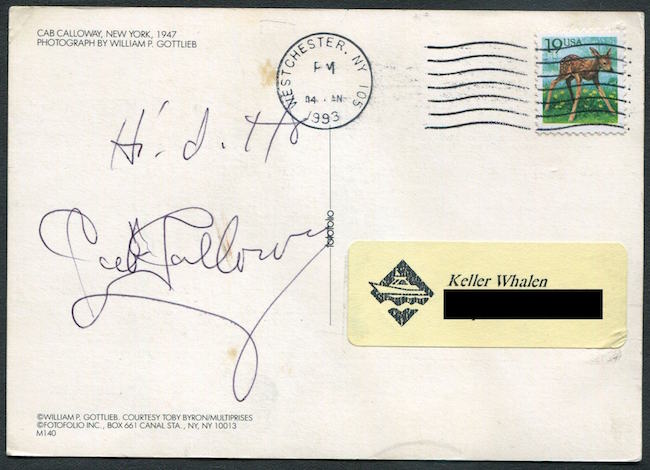 Above: in the early 1990s, I wrote to Cab several times at his White Plains, New York home. He kindly autographed and mailed back the self-addressed stamped postcards that I had included.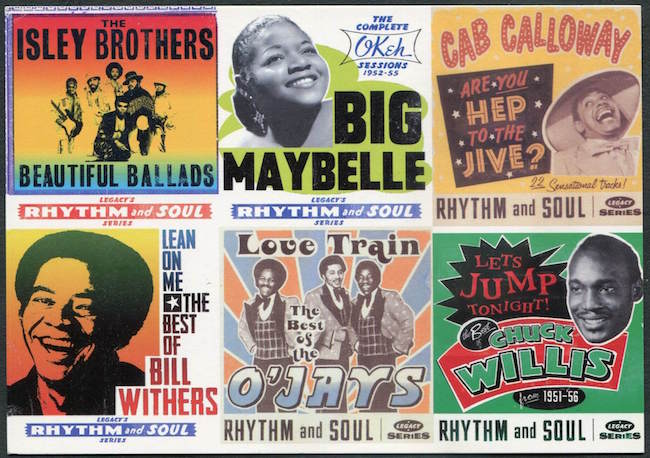 In the early 1990s, just before the Internet took over communication, postcards made a last gasp in the form of Rack Cards. These cards advertised liquor, food, fashion, movies, publications and entertainment with colorful and spectacular graphics. Racks with 20, 50 or 100 different cards were placed on the walls in restaurants, hotels, bars and other establishments and the cards were free for the taking. This card from the Legacy record label, part of Sony, promoted the latest CD compilations from classic R&B artists including Cab Calloway's "Are You Hep to the Jive?" Rack cards can still be found today in some places.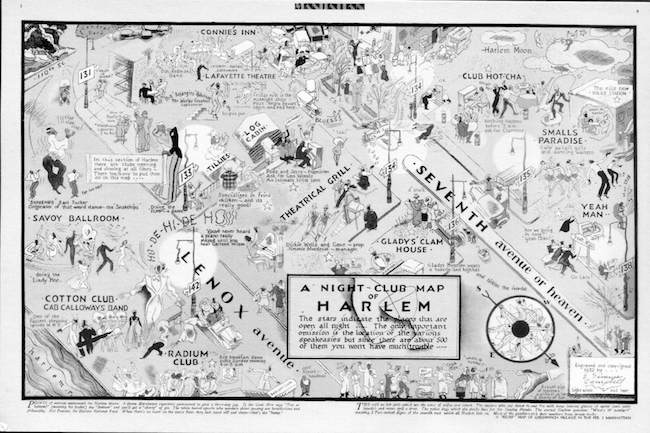 "A Night-Club Map of Harlem" is a privately printed postcard of a 1933 drawing by Cab Calloway's life-long friend, cartoonist E. Simms Campbell. The original sold in 2016 for $100,000 and is currently owned by the Beinecke Rare Book & Manuscript Library at Yale University in New Haven, Connecticut. Cab's caricature is at the lower left, singing "Ho-De-Hi-De-Ho".
- Keller WHALEN
Have you sent a postcard lately?