This show is one of a kind testimony of the way Cab Calloway sang and toured in the late fifties, when times were harder than during the Swing era. And, on a personal matter, this is a TV show I've been privileged to watch at Cab Calloway's house in Westchester along with Cab's daughter, Cecelia. I thought I'd never see it again, but here it is, after a dedicated fan posted it on YouTube.

In Winnipeg to fill the gap between Chicago and Rio!
Some chronology first. The show was recorded and aired on April 16, 1959, while Cab Calloway was playing at the Rancho Don Carlos, a local nightspot famous for its entertaining evenings where many class acts were booked: Louis Armstrong, Rosemary Clooney, Sarah Vaughan, Della Reese, Nat King Cole, Ella Fitzgerald, Bob Hope, Lena Horne, Harry James, Spike Jones, Frankie Laine, The Mills Brothers (two weeks before Cab) and Sam Cooke (right after).
In the Winnipeg press ad, Cab is billed as "The star of Porgy and Bess". In fact, at this time his role as Sportin' Life is far away: he's filling the gap between dates for a tour of his Cotton Club Revue, as we tell you in our full-length article. Right before he was in Chicago at The Mist, and afterwards Cab will fly to Brazil with the entire troupe of the Cotton Club Revue on April 26.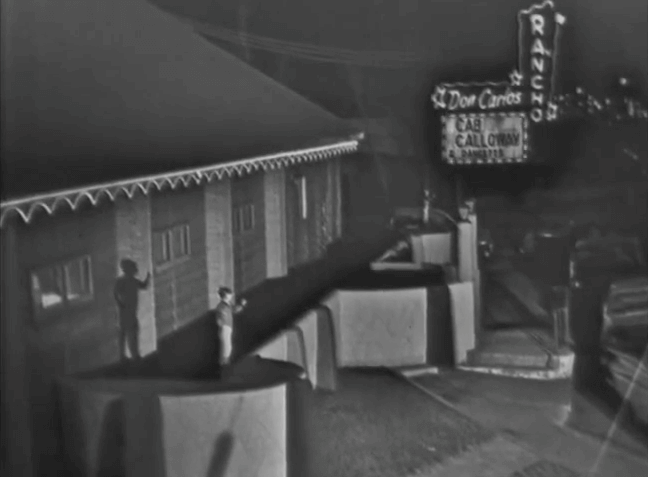 The Rancho Don Carlos: the place to be in Winnipeg
Located at 650 Pembina Highway, the Rancho Don Carlos opened in 1951 and was owned by Charlie Mazzone. In 1945 he had won enough money on a horse to open his first nightclub in Winnipeg. The Rancho Don Carlos was the top club in Winnipeg. Its history is told in this 2015 article.
Cab Calloway had already been to the Don Carlos Casino (the previous venue owned by Mazzone) in 1949 from July 28 to August 3.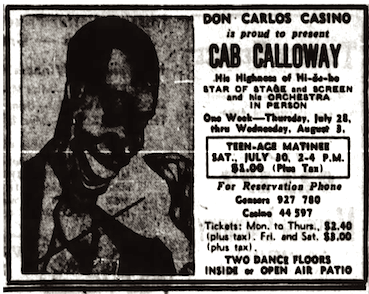 The repertoire that night
Never short for songs, Cab entertains the audience with some classic titles like St James Infirmary but also adds some new material like It's All Right With Me and Taking A Chance on Love.
The Jumpin' Jive (with the Dancettes)
It's All Right With Me
My Funny Valentine
That Old Black Magic
Stormy Weather
Taking A Chance On Love
St James Infirmary
Minnie The Moocher
I'll Be Glad When You're Dead, You Rascal You
Jumpin' At The Woodside (instrumental)

Jimmy Weber (cl and ts), José Ponéira (piano), Jim Cordupel (bass) and Ed Sersen (drums)
The musicians with Cab Calloway: the José Ponéira quartet
Due to Canadian musician's union rules, "at the Rancho, if a singer was booked, they came with music charts, and Charlie had to provide the backing band. Playing with some of the big-name acts meant you had to be able to read quickly and learn fast because you generally had one rehearsal. I don't think the musicians in this city would have developed as quickly without the Rancho. He gave local musicians a chance to play with major artists. Also, musicians got to see and interact with some of the finest musicians on the North American scene. I never ever heard any local musicians say anything bad about Charlie." says musician and jazz historian Owen Clark in a 2015 interview.
All of them are local musicians who used to play regularly at the Rancho. The José Ponéira quartet consists in Jimmy Weber (cl and ts), José Ponéira (piano), Jim Cordupel (bass) and Ed Sersen (drums).
Very unusual line up for Cab with a clarinet, but Jimmy WEBER proves on several tunes that he can play some fine riffs.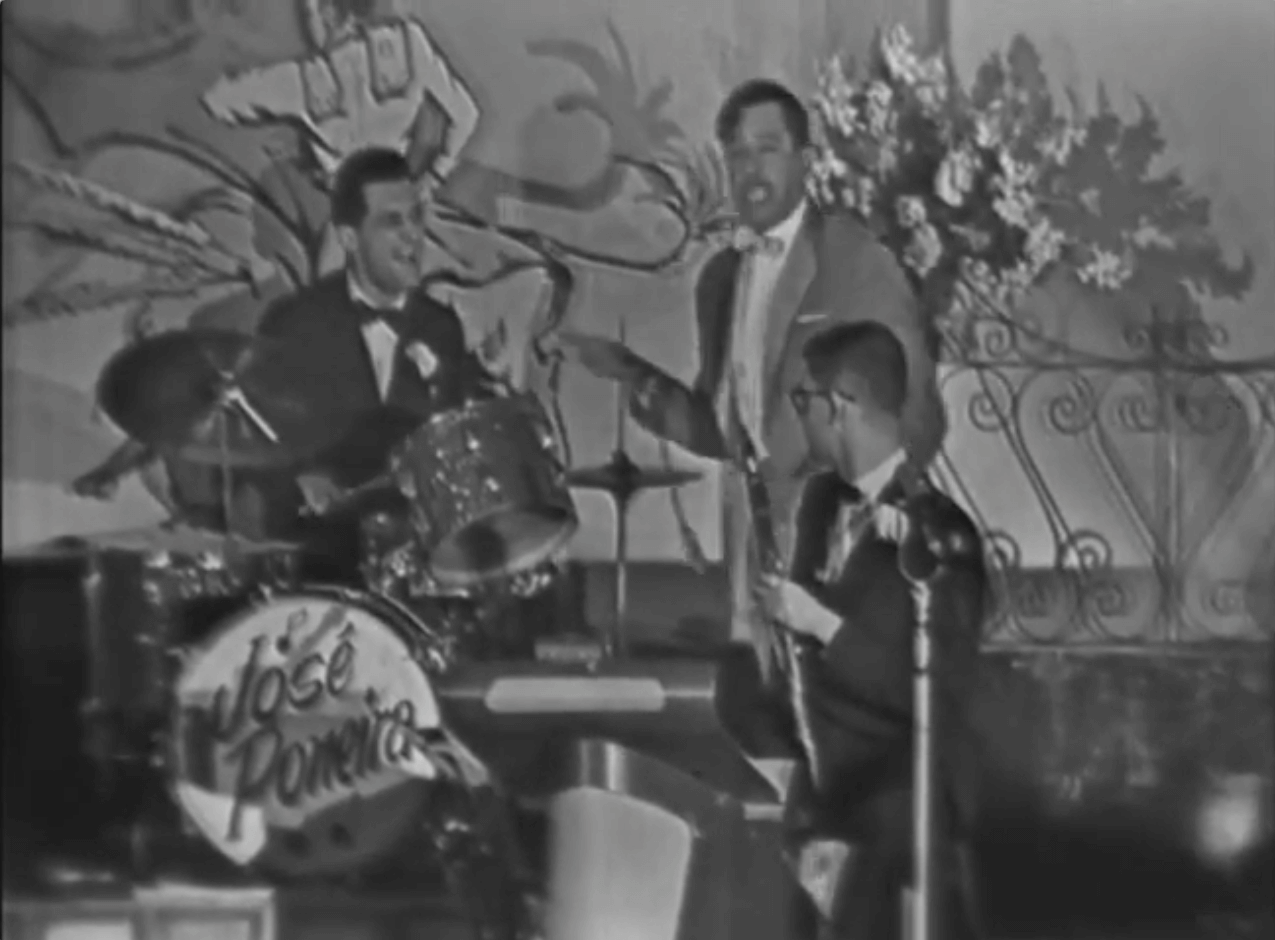 But the best of all is definitely the drummer Ed SERSEN who endures a scat/drum battle on "I'll Be Glad When You're Dead" with Cab and gets great applause by the audience, and consideration by Cab himself! The best part of the show.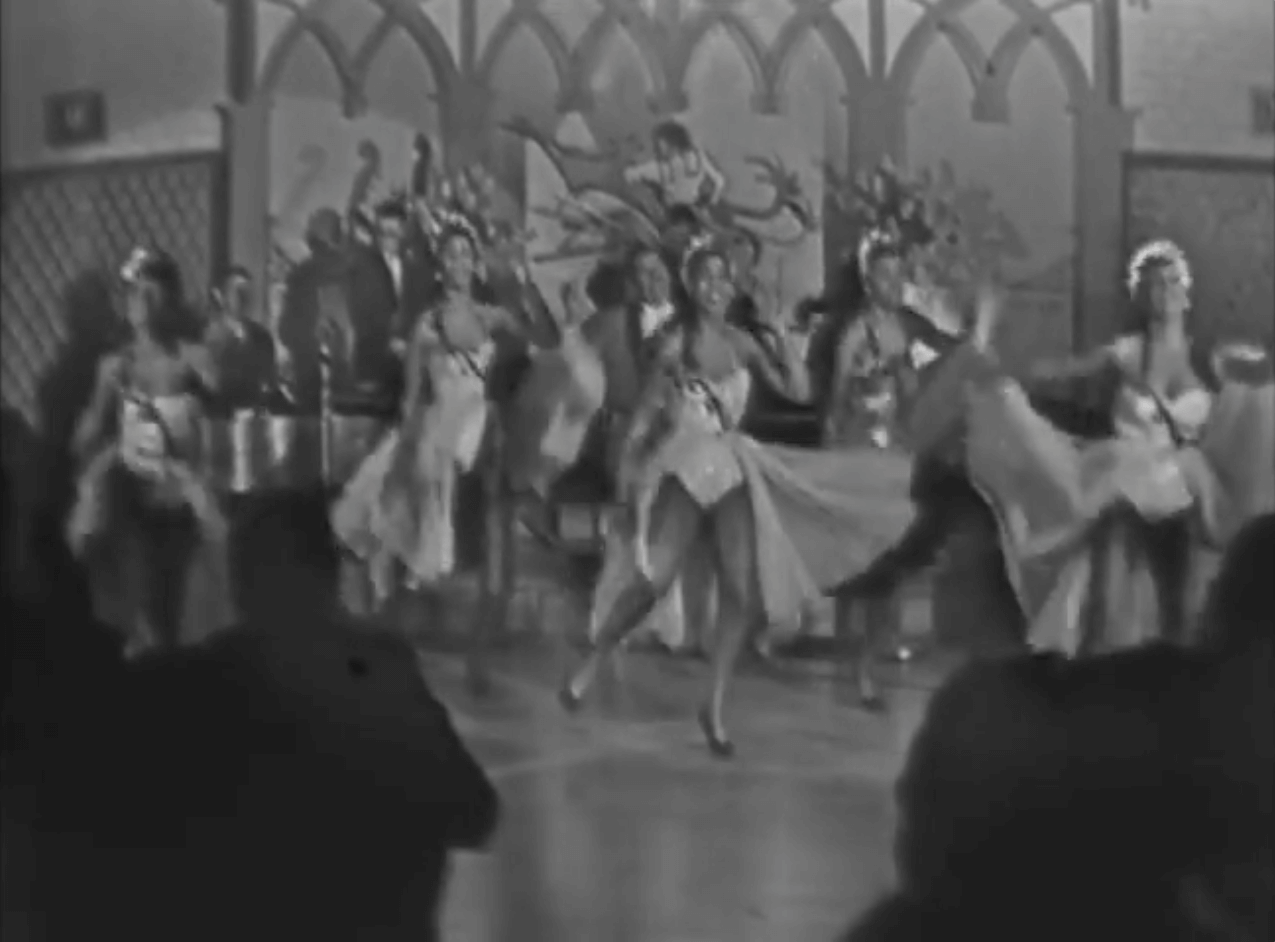 The Dancettes
They only appear on TV in the first and last numbers: The Jumpin' Jive (where Cab yells "Girls" instead of the usual "Boys" for the folks in the orchestra) and Jumpin' At The Woodside for a choreography that doesn't look very complicated…
Who are they? They are 5 and we can guess that they are probably some of the girls from the Cotton Club Revue.
Enjoying the success during the week with Cab between April 10 and 17, the Dancettes are held over for another week backing Sam COOKE. A totally different kind of style…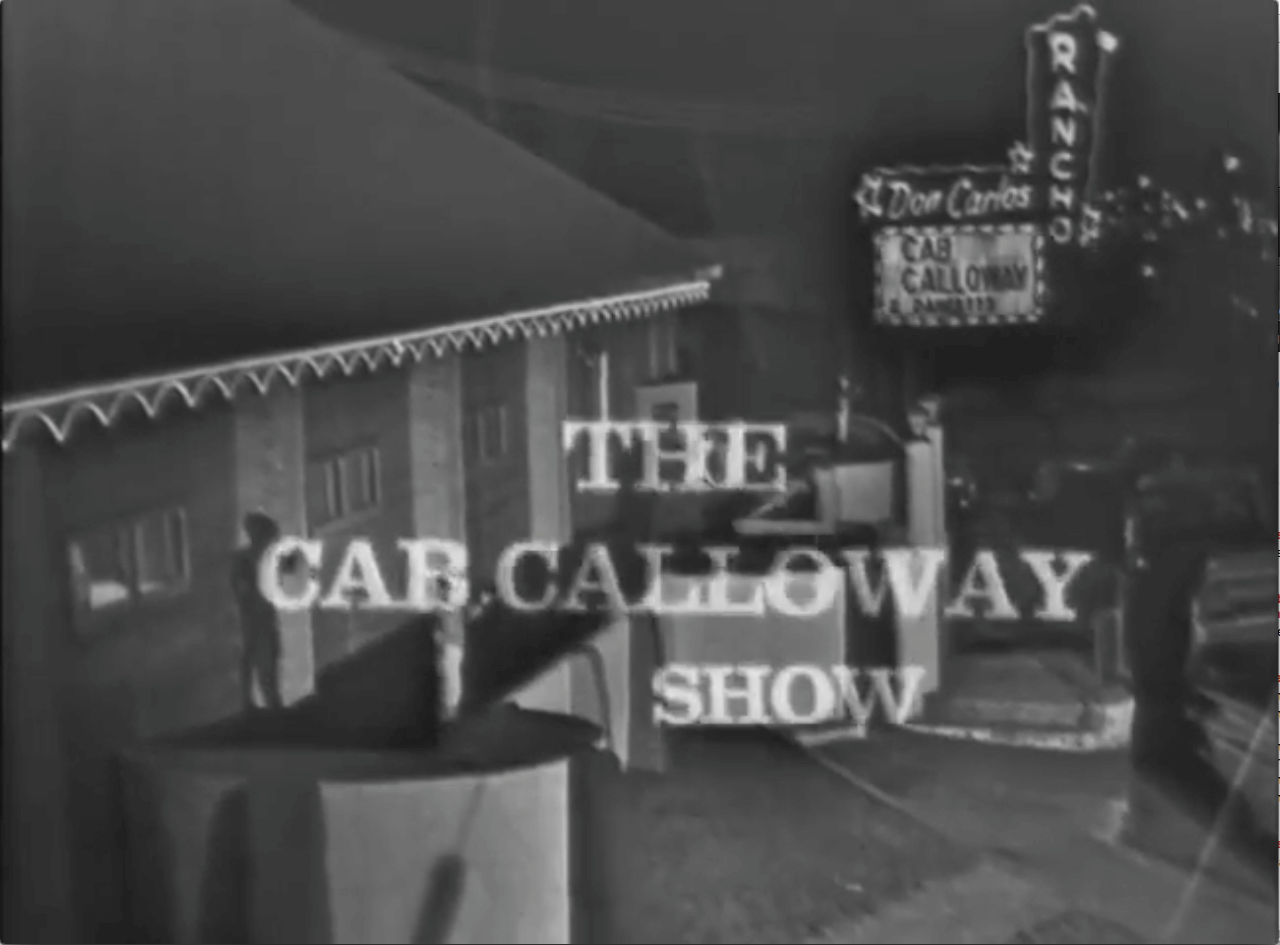 The television show live from a nightclub: a premiere in Winnipeg
On April 16, at 10:15 pm, "The Cab Calloway Show" is televised for the Winnipeg CBWT Channel 3, direct from the Rancho. That's the first time a night club is televised there!
That's probably the second of the three shows Cab does nightly during his commitment there. The program for television is certainly shorter than the usual show he does (40 to 60 minutes) but it's a wonderful set that goes fast and swings, with fun and great connection with the audience, even if it looks a little bit stiff.
You'll notice a table just at the right of the band: two men are turning their back on what's happening and are not at all willing to join the Hi de Ho call and response!
Nevertheless, Cab enthusiastically entertains a very receptive audience that night with great rhythm, dance, scat, humor and delivers an incredible performance.
As the local journalist wrote it "is one of the best acts of the season at the nightspot", headlining his review that "Cab's like a fine wine, he mellows with age." (April 11 Winnipeg Free Press).
A few days after the end of Cab's week there, the Winnipeg Press publishes a picture of Charlie Mazzone received an honorary citizenship. But, surprisingly, Mazzone left the town a short time after...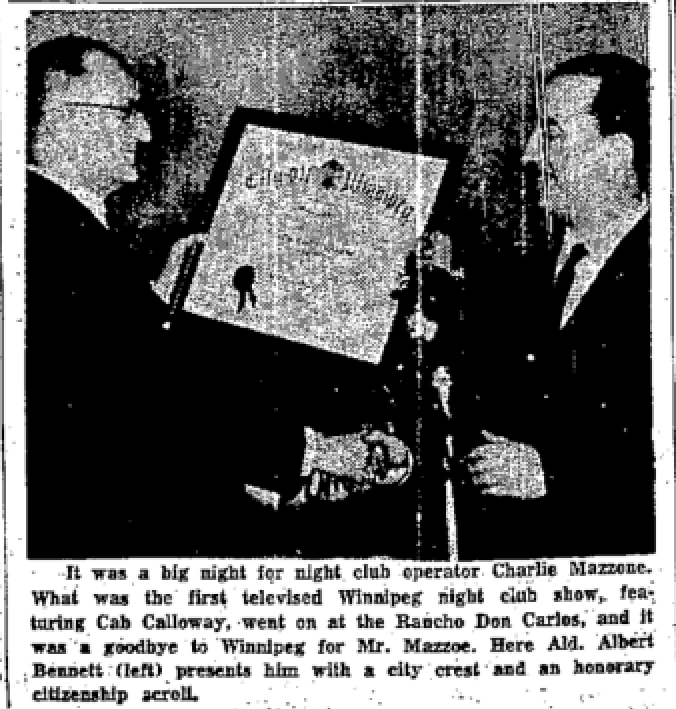 Now, sit down and relax and get ready for 30 minutes of Cab Calloway. I'm pretty sure that this film, like our good old Cab, has mellowed with age!
---
Sources :
• "Swingin' spot brought in big names" by John EINARSON
---
Many thanks to Keller Whalen who provided the vintage press articles,
and his continuous support.