In 1969, a young man from the suburbs of New York City, Harry COHEN, went with his school class to see his first Broadway show, Hello, Dolly! starring Pearl Bailey and Cab Calloway. This is a short interview with Harry from early 2017, by our wonderful friend and supporter Keller WHALEN.
About Hello Dolly
(from MasterWorksBroadway.com)
Flamboyant Broadway producer David Merrick never was at a loss to find the right publicity stunt that would save or prolong the life of his shows. Even though Hello, Dolly! had been hugely successful since it first opened on January 16, 1964, when receipts began to sag at the box office three years later he decided the musical needed a shot in the arm. His answer to the problem – a Black version with no less than Pearl Bailey as Dolly and Cab Calloway as Horace Vandergelder, in this musicalization of Thornton Wilder's The Matchmaker by Jerry Herman. With Emily Yancy as Irene Molloy and Winston DeWitt Hemsley as Barnaby also in the cast, it officially opened to rapturous reviews on November 12, 1967 at the St. James Theatre, where the previous incarnation, starring Betty Grable, had closed three days before. This new version closed on December 27, 1970, bringing the total cumulative Broadway run to 2,844 performances.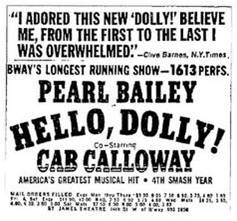 The interview
Tell me about yourself.
63 yr. old SGM; retail manager...interests include books, music, exercise, pets (especially dogs), good coffee, chocolate and my friends.
How often do you attend Broadway shows?
Four or more times a year.
Do you have a favorite Broadway production of all time?
War Horse...and it isn't even a musical.
Hello, Dolly! with Pearl Bailey and Cab Calloway was the first Broadway show that you attended, when was that?
March, 1968.
Had you seen any locally performed musicals or shows or classic movie versions of other musicals up to that time?
Sound of Music, My Fair Lady, Carousel.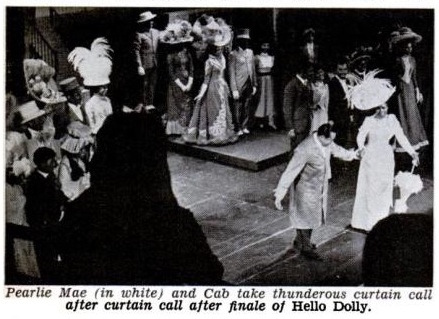 From JET, November 1967
Tell us about the circumstances when you went to see Hello, Dolly!, who you went with, where you lived, what else you did that day if you can remember.
It was a school field trip with my sophomore English class at Stamford (Connecticut) High School. W had the coolest teacher, Suzanne Faker who was in her 20s at the time. We all had a crush on her. We went to NYC by school bus. I vaguely remember cheese sandwiches and orange drink for lunch.
How old were you?
Fifteen.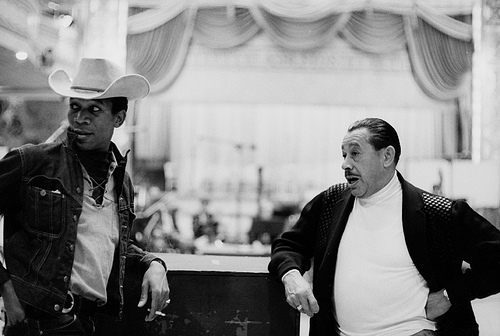 Morgan Freeman in one of his earliest roles; with Cab (source)
Were you familiar with any other Broadway musicals before you saw Dolly, maybe from the soundtrack or the movie versions?
I had the Original Broadway Cast album of My Fair Lady and I Do! I Do! and had seen My Fair Lady the movie, Mary Poppins, The Sound Of Music and Carousel. My mother was a big Broadway fan. I used to take cast albums out of the library and listen with her. Camelot, Paint Your Wagon and Carousel are three that come to mind.
What is your overall memory or impression of this production of Hello, Dolly?
I was excited and overwhelmed. At first, I did not understand what was happening; I was so busy just looking around. Everything seemed flashy and glamorous.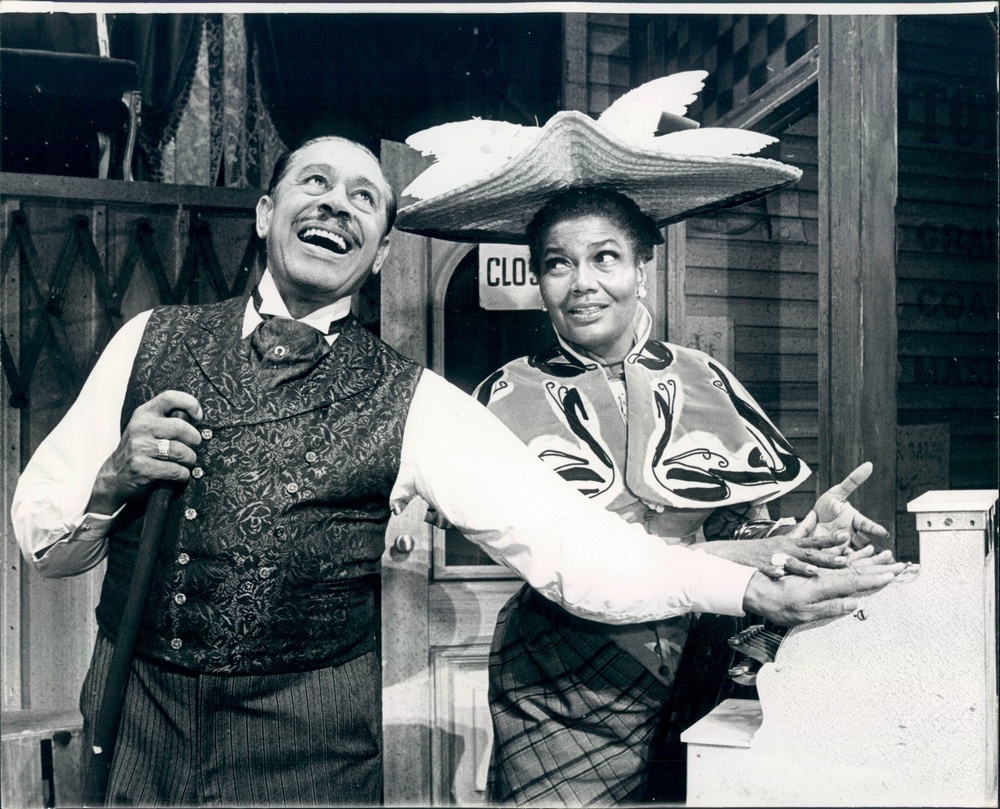 The Hi de Ho Man and Pearlie Mae.
Were you familiar with either Pearl Bailey or Cab Calloway before seeing the show?
I was familiar with Pearl Bailey, but not Cab Calloway.
Tell us about any lingering memories you have of the production numbers.
When the train came on stage during "Put on Your Sunday Clothes," I knew I was home. I still remember that exact instant.
Had you heard Louis Armstrong's version of "Hello Dolly" and were you waiting excitedly for that number to appear in the show?
I knew Louis's version of course, but don't recall waiting for that particular song.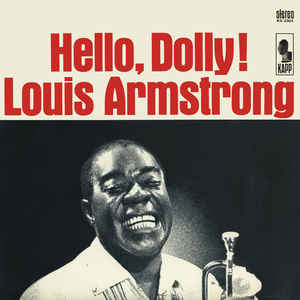 Louis Armstrong's classic version of the title song from Hello, Dolly!
What other songs, scenes or moments from the musical can you remember?
I do remember that both Pearl and Cab seemed to be having as much fun as the audience. I vividly remember the curtain calls, how the cast parted to make a path for Pearl. You could see Pearl's hat before she hit the center of the stage. Everyone started cheering while she took her bows. That was not the end of the show, however. Pearl did about 10 minutes of song and shtick, including "Bill Bailey".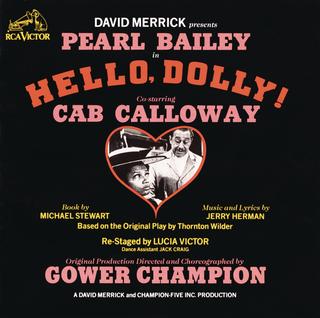 The Original Broadway Cast recording
Tell us your top five favorite Dollys -- even if you haven't seen them all appear in that show, I'm sure you know their work:
Carol Channing

Ginger Rogers

Martha Rave

Betty Grable

Pearl Bailey

Ethel Merman

Phyllis Diller

Dorothy Lamour

Mary Martin

Eve Arden

Anita Dobson

Ann Sothern

Michele Lee

Alice Faye

Edie Adams

Yvonne deCarlo

Molly Picon

Barbra Streisand
Pearl, Ethel, Mary and Yvonne. I bet Molly was great, too. I remember Phyllis getting pretty good reviews, but critics wishing she had not played it straight and had put more Phyllis into it. I have the Carol, Pearl and Mary Original Broadway Cast albums. And Carol is my least favorite...GASP!
What do you think of Bette Midler appearing in the newest revival?
Brilliant! This will be so much fun!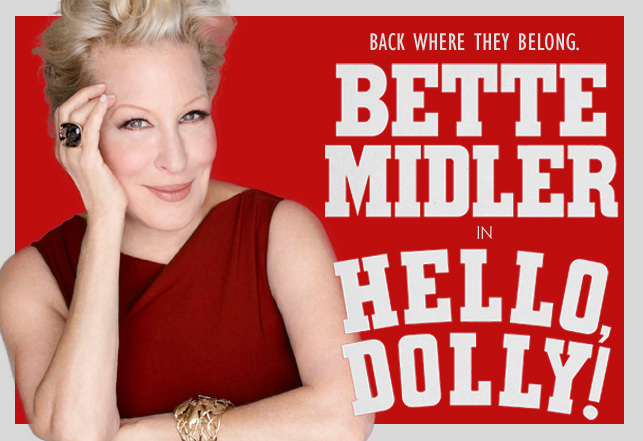 Bette Midler in the latest incarnation of Hello, Dolly! opening now (April 2017)
And who else would you like to see play Dolly in a contemporary production?
Nicki MINAJ. Really, I can't think of anyone else except Bernadette PETERS; and in a 'dream cast' production, if it could be anyone at all at any point in their career? Leslie UGGAMS, one of the most versatile, yet under-appreciated talents in showbiz.
What's the most recent Broadway musical you've seen?
Paint Your Wagon at City Center Encores with Keith Carradine and Justin Guarini. Justin impressed me...a lot!
What outstanding shows have you seen lately?
I saw the Young Vic production of A View From the Bridge last week. It was riveting, devastating...in a good way.
What future scheduled or planned shows are looking especially looking forward to?
I am seeing the revival of Fiddler On the Roof next week, followed by Hamilton in April .
What's your favorite musical?
That is tough! Gypsy, My Fair Lady, Mame, Sweeney Todd, Into the Woods, and Company are the top. My head will explode if I have to pick one. If you were holding a gun to my head, Gypsy would be number one!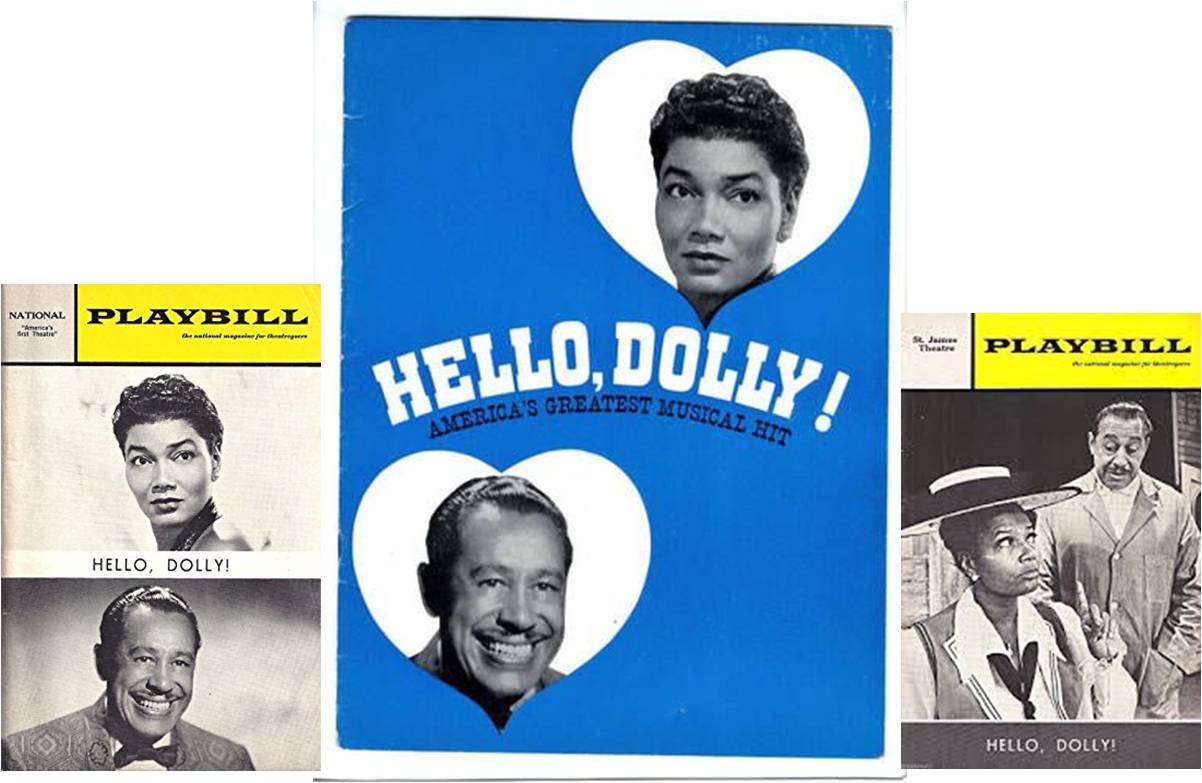 A selection of playbills from the Pearl Bailey/Cab Calloway production (from Keller Whalen's collection)