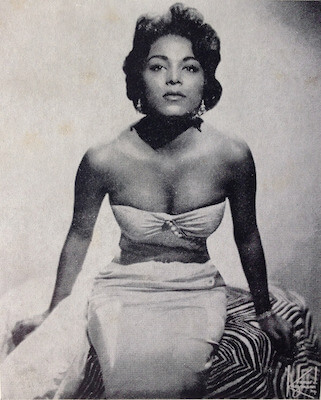 Mauri LEIGHTON
She succeeds Sallie Blair, Diane Lefti and Abbey Lincoln. Noticed as an actress in the movies Carmen Jones, and Anna Lucasta with Esther Williams, Mauri Leighton still sings at the cabaret Elegante in 1957 in Brooklyn. While the 1957 revue is a success in Miami, the critic Walter Winchell believes Leighton deserves the attention of talent scouts. It seems that Cab heard the advice of this old professional and friend. He will cast Mauri!
The Pittsburgh Courier of Feb 8, 1958 tells us that "Mauri Leighton, Benny Davis' find, is a tall, slender songbird – truly tall, tan and terrific. She combines the better qualities of the top thrushes, Lena Horne and Dorothy Dandridge. Miss Leighton is very young, very pretty and sings a song with unique histrionic as well as vocal ability."
She appears in on the Jack Parr TV Show on May 21, 1958 (Cab was there on May 16, just before leaving for Paris!). According to the press, she's « another Lena Horne ». She releases a single in December 1958. She will be murdered with her 20 year old daughter in 1969, both victims of a settlement account linked to her husband Pat Jackson, a Harlem auto salesman, involved in drug traffic.
Mauri Leighton appears on the GONE Album "Cotton Club Revue of 1958" (read our article).
Source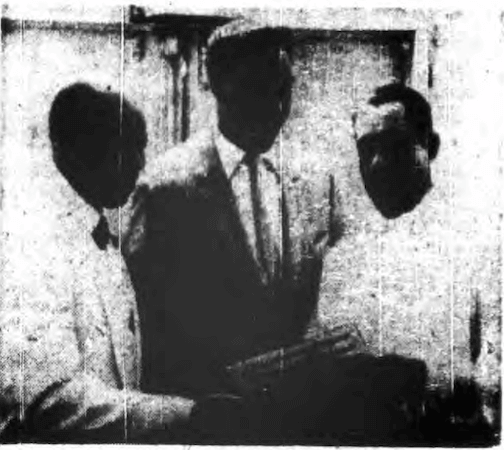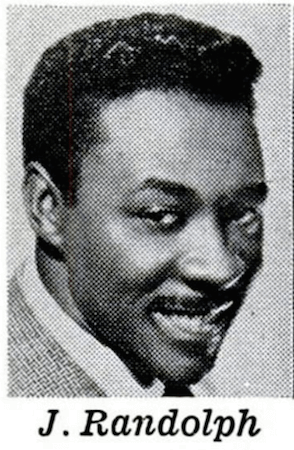 Jimmy RANDOLPH
This good looking baritone from Brooklyn started only a year or two before being inked to appear as featured singer for the 1958 season. He then had appeared on the Steve Allen and Jackie Gleason shows and made his last New York appearance prior to his Miami engagement at the Elegante in Brooklyn. His latest record (Way Beyond the Hills) was issued right before he began in Miami.
In The Pittsburgh Courier of Feb 8, 1958, journalist Gladys M. Johnson explains that Jimmy Randolph is "obviously a trained singer, he belts out the old standards, like 'Old Man River', croons in the manner of Johnny Mathis and then steps out to sing a near operatic version of 'Tenement Symphony'. This latter gives him an opportunity to display an amazing knowledge of several foreign languages."
"Never underestimate the lengths to which a singer will go for a job. Jimmy Randolph, Decca's big voiced baritone, desperately wants the part of Crown in Reuben Mamoulian's coming movie version of 'Porgy and Bess.' Mamoulian interviewed him for the part two months ago, and came to New York to hear Jimmy sing — but Jimmy is in Miami, starring in Cab Calloway's Cotton Club Revue. Jimmy figured out a way to he in both places at the same time. He finished, his last show at the Cotton Club at 3 a.m., grabbed a 7:30 plane which got him to New York at noon. He jumped in a cab, sped to Manhattan, told the cabbie to keep the motor and the meter running. He dashed inside, upstairs, said hello, sang three songs, said good-bye, ran down-stairs, into the cab and back Jo the airport in time to catch the next plant plane. He was in Miami, tired but in person, in time for the first show at 7:30 p.m. P.S.—He still doesn't know if he got the part." (Niagara Falls Gazette, Feb 16, 1958). Well, er… He didn't get the part… except for later in the revival of Porgy and Bess in Vienna in 1970. He was so right to go so fast! He also recorded a funky album in the Eighties.
Note that James Randolph also played in Duke ELLINGTON's 1959 musical revival Jump for Joy in Miami (with Barbara McNAIR, future stage partner of Cab in The Pajama Game).
Listen to his Summertime's rendition.

Norma MILLER and her Dancers
The wonderful Norma Miller is back on duty on the second season (see our article about the 1957 cast).
Pittburgh Courier's journalist Gladys M. Johnson says about them that they are « the fastest stepping line of chorus boys and girls since 'Shuffle Along' ».
Some of the dancers left, others joined. But this powerful line remains the same.
Billed as "The Copper Colored Gals": Marua Costoso , Doris DeMendez, Deleenia Boyd, Joan Peters, Mickie Adams, Ceilia Cooper, Marti Lane, Joan Myers, Shirley Cook, Jocelyn Martiniez, Leona Epae, Marian Rogers
Billed as "The Cotton Club Boys": William Dotson, DeCarlo Murchinson, Clinton Williams, Felix White.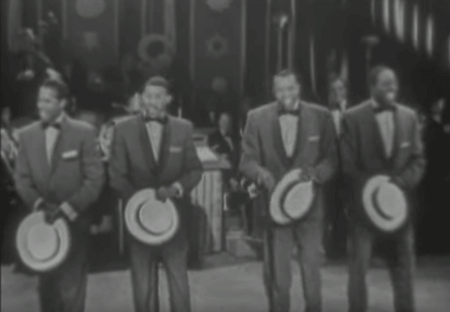 The FOUR STEPS
Dubbed "The Eight Feet of Rhythm," this tap dance group started in the 1920s and was one of the the longest-lasting groups, surviving until the 1960s. They became known for their "Challenge Dance routines" which used no music accompaniment and each one would solo and would try to out do the other while the other dancers would stand back and clap their hands to make a beat.
Prince SPENCER married Jeraldyne ANDERSON (ex-wife of Eddie Rochester ANDERSON) in Miami in January 1958. In 1964, Prince left the Step Brothers to go into the grocery business in Chicago.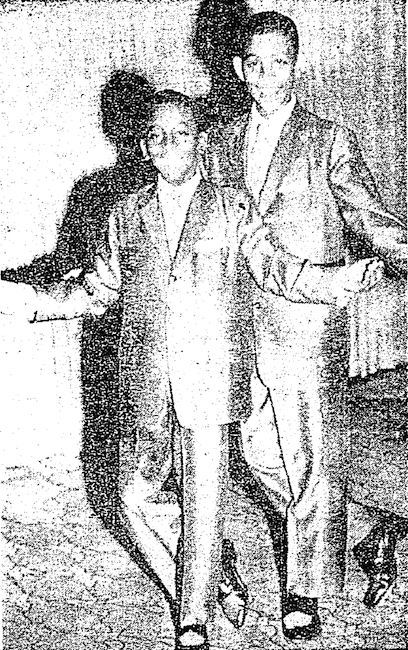 The HINES Kids
Their grandmother was a former Cotton Club understudy dancer ; their father had been a nightclub drummer. Maurice (born in 1943) and Gregory (1946-2009) HINES showed talent very early. Tap dancer Buster BROWN, choreographer Henry LeTANG were their tutors. Soon, the Hines brothers were on the stage of the Harlem Apollo Theater and went professional as soon as 1952. The Girl in Pink Tights was their Broadway debut in 1954. So they soon appeared on the Jackie GLEASON and Ed SULLIVAN TV shows winning national audience.
In Jet Magazine, December 5, 1957, a short notice informs that the Hines Kids will have to take a tutor to help them with their school work.
But their biggest lesson was to be on segregation, as they testified years later in Ebony magazine :
"The Club was in the white section of town, off of Miami Beach, and we had to live in the Carver Hotel in the Black section. We had to get police cards, get fingerprinted, and carry the cards with us. When a cop stopped us and asked what we were doing there, we had to show the cards. I was 11 years old, and growing up in New York, my parents hesitated in telling me what the real deal was." (...) (>> Read the complete quote in our article).
Later after the Cotton Club Revue gig, the Hines Kids became the Hines Brothers then they went on the road with their renamed act "Hines, Hines and Dad". They were big hit at the Sands in Las Vegas, the London Palladium and even the Olympia in Paris, France. And the rest is history !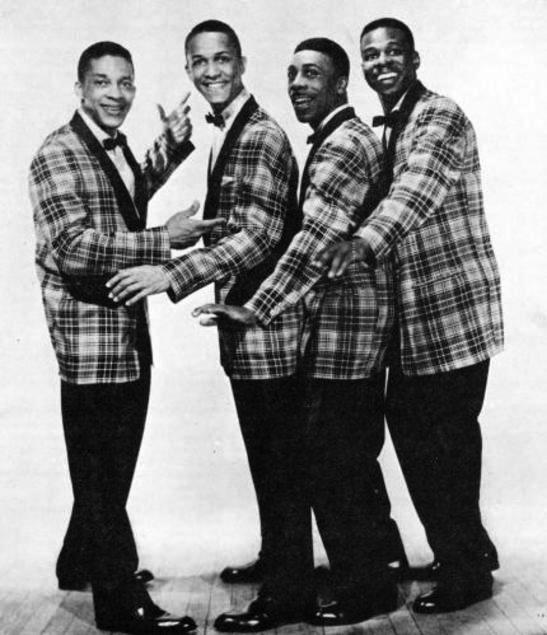 Malcolm DODDS and The TUNEDROPS
Consisting of Malcolm Dodds (Lead), Prentiss Polk (First Tenor), Bill Glover (Baritone) and Danny Simmons (Bass), the Tunedrops was a Brooklyn based doo-wop group. They had a short career, but when they were casted for the Cotton Club Revue, the world held promise for them since they had released their first single. They will only have a couple more, will do studio work then disband. Malcolm Dodds will record as a solo artist. They appear on the GONE Album "Cotton Club Revue of 1958" (read our article).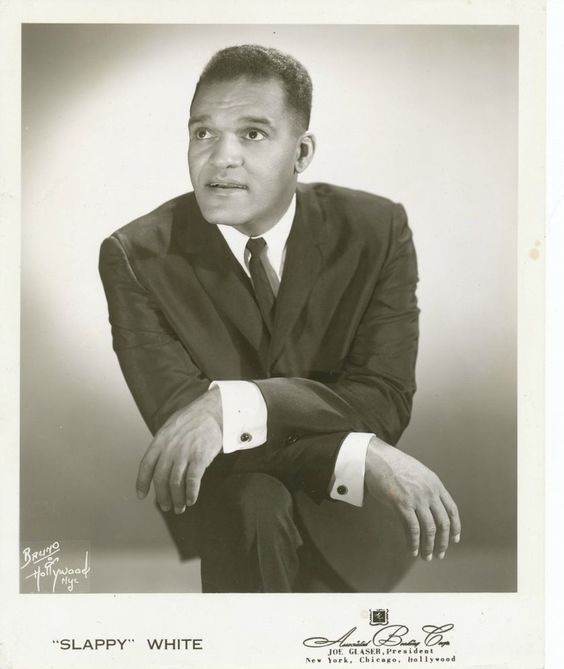 Slappy WHITE
Seems to have reworked his material since last season, with for instance an impersonation of Red Skelton (see our article about the 1957 cast).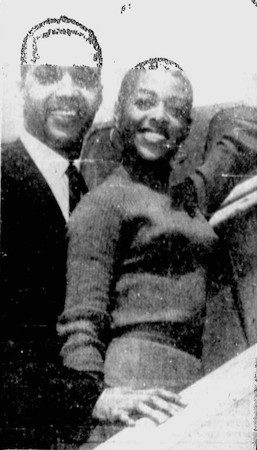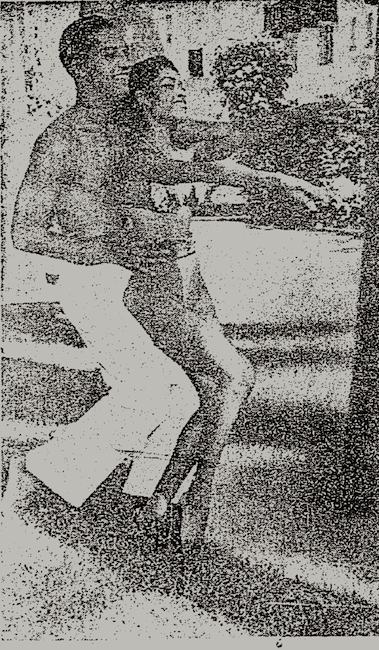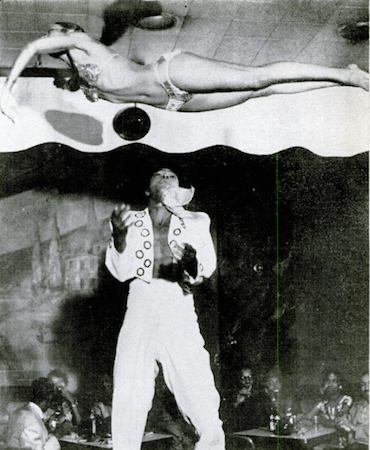 Paul MEERS and LaRAINE
Paul is the son of Paul and Thelma MEERES, famous ballroom team of the early Thirties (Paul Sr. Was known as "the brown Valentino" who had his own cabaret in Nassau). Paul Jr. became a professional dancer, fire-eater, snake charmer, and conga player. With Princess LaRaine Schepard, they "hold down a spot in the show in which they run the gamut of terpsichore from calypso to adagio".
After their run with the Cotton Club revue, the couple was one ot of the highest-priced dancing acts in show business.
In September 1958, LaRaine stopped her career since she was pregnant…
Meeres Jr. died in 1986.