Sally BLAIR
Billed as "Sex with a capital X"... but born in Baltimore as Sara Bolling Hutchins (1935-1992), Sallie Blair drifted into music as a child. She took her stage name while at Douglass High School (as Cab Calloway!), and sang with local bands that encouraged her to change her brunette hair to blonde. In 1952 she was the band singer with the Johnny Otis Band. In July 1953, she left the band in Los Angeles to work as a single.
She was noticed by everyone right after her January 1956 appearance on the TV show "Chance of a Lifetime" where she won first prize. By the fall of 1956, Cab Calloway signed her for his Cotton Club Revue. The show was a hit, notably thanks to the blonde bombshell. She's was indeed a "brown Marilyn Monroe" like Miles Davis said about her, and seduced many many many guys around. Her barefoot dancing, her way of whispering songs and screaming some notes send everyone around into a frenzy! She even dared to kick off her shoes at the London Palladium to dance in front of the royal family in 1958!

She left the revue during the Las Vegas run at the end of May 1957. According to her personal manager, Biddy WOOD, "Sallie Blair thinks it important that the record be set straight... Sallie left Cab Calloway's Cotton Club Revue in Las Vegas of her own volition... In fact, she turned down offers of a healthy increase in salary. More than anything else, Sallie found the treatment of colored artists too objectionable to stay... There are required to take their meals in the cramped quarters of the dressing room, and aren't allowed to eat backstage. Actually, there were many little things directed at tan artists, which she just couldn't tolerate." (in Washington Afro-American, June 4, 1957).
Famous Broadway columnist Walter Winchell helped making her way from coast-to-coast and appearances in South America. Sammy Davis Jr. coached her and gave her advices and mink coats... She had a 3-page story in Life magazine, Esquire, Ebony (cover with Cab!) and several covers in Jet.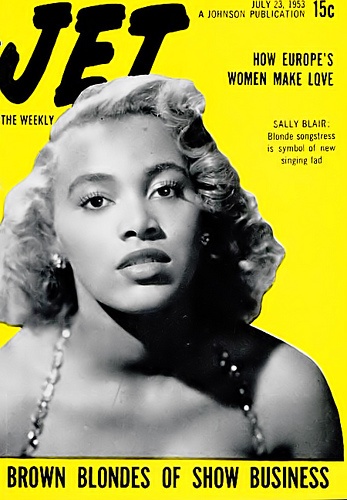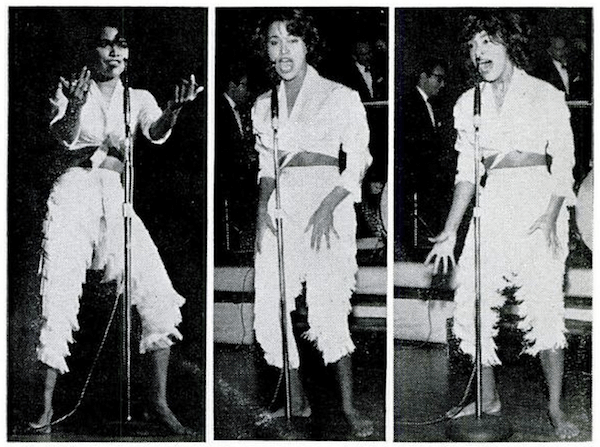 She recorded for Bethleem and had 2 LPs. The first one titled Squeeze Me was a wonderful suggestion that many may have wanted to follow...
(Source:
Fresh Sounds Records
who published her complete discography on a 2-CD boxset in 2015 and numerous newspapers)
---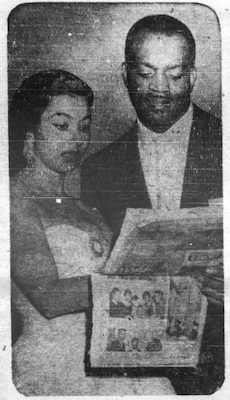 Diane LEFTI
The June 4 article from Washington Afro-American indicates that "Sallie was not replaced by Rose HARDAWAY, as was announced in several New York columns... A new, young kid, Diane LEFTI, was put in the spot."
Indeed, Diana LEFTI actually replaced Sallie Blair in the revue for the end of the Las Vegas run between June's first days and July July 2. In Vegas, Diane was already known as an "attractive blonde with lots of sex appeal" and "an exotic song stylist" in Las Vegas where she sang at the Bal Tabarin with her "Right Hand Men". According to her description, she have perfectly fitted in Sallie's part. Another article from Pittsburgh Courier, July 13, 1957, indicates that she was once Benny CARTER's Mrs. In the same column, apparently Diane "had the Las Vegas costumers making bets as to her racial identity. They are right, she's white." To check this specific point out, I suggest you watch the TV show "Stars of Jazz" #58 of August 12, 1958 where she sings backed by Joe DARENSBOURG.
She recorded 'Deed I Do and I Got It Bad And That Ain't Good in August of that year with Bobby TROUP for a radio show. She remained on the West Coast and I've lost her track after 1962.
---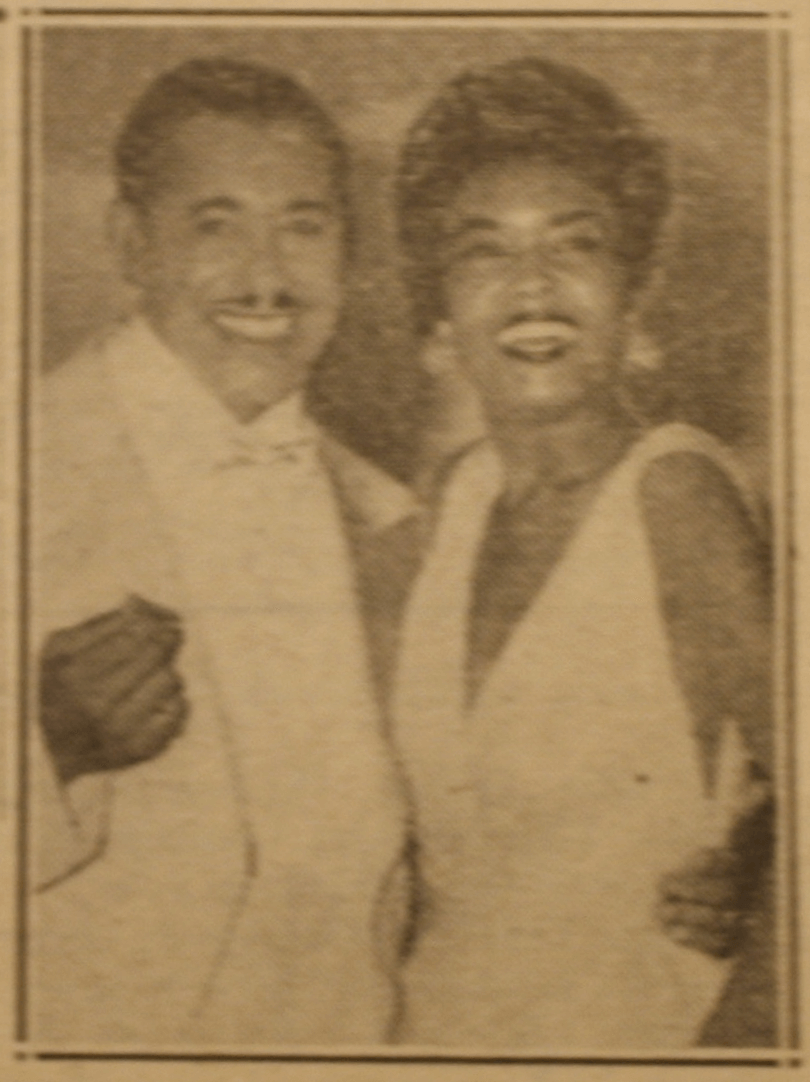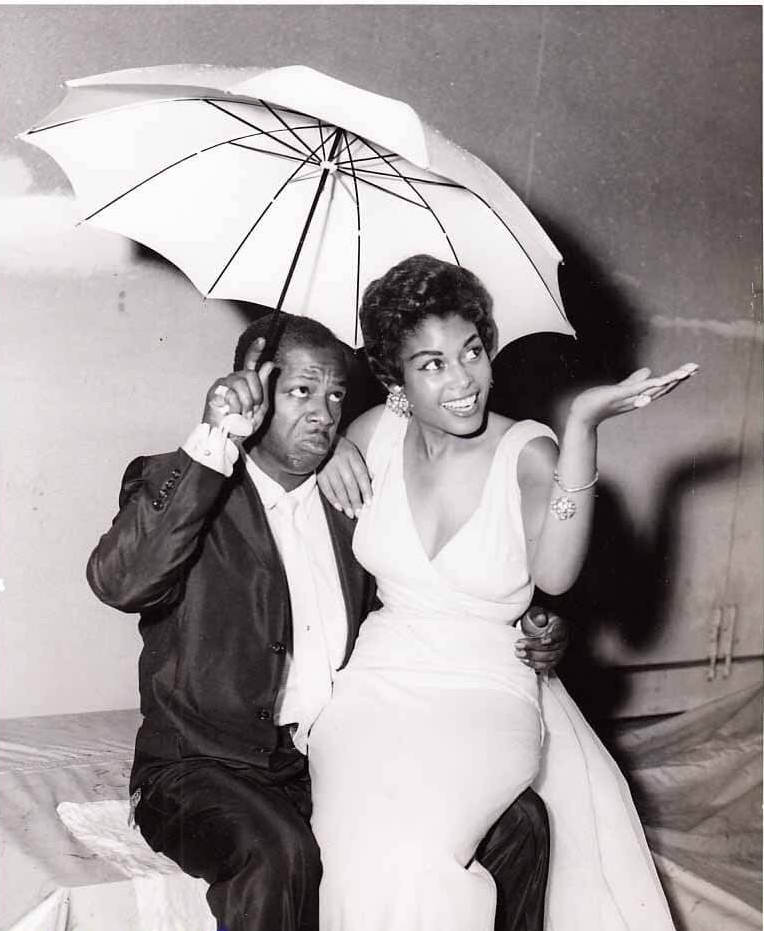 Abbey Lincoln with Cab Calloway and George Kirby
Abbey LINCOLN
A few years before singing "Freedom Now suite" on her husband's album "We Insist!", Abbey LINCOLN (1930-2010) was a night-club singer whose repertoire was more of sex symbol and lounge singer than a dramatic jazz interpreter. In 1956 she appears in the movie The Girl Can't Help It, for which she wears a dress that had been worn by Marilyn Monroe in "Gentleman Prefer Blondes".
Abbey is casted to replace Sallie Blair on her way to personal success for the New York run in July 1957. Unfortunately, even if she seems to appreciate the gig and the troupe, Abbey only gets mixed reviews and lack of luck, most of the outdoor performances happen under the stars... and the rain!
A few weeks after her engagement under the stars, Abbey will record her second album "That's Him" with Sonny Rollins on tenor sax, Kenny Dorham on trumpet, Wynton Kelly on piano, Paul Chambers on bass and Max Roach on drums. The latter will become her husband.
---

George KIRBY
The famous African-American stand-up comedian George KIRBY (1923-1995) started at the Chicago Club DeLisa in the Forties.
During the fifties, he was famous as an impressionist (with many white actors among his repertoire). He also did vocal impressions of such singers as Louis Armstrong, Nat King Cole and even Pearl Bailey, Ella Fitzgerald and Sarah Vaughan. "I hope I make an impression" is Kirby's motto and title of his number during the revue.
---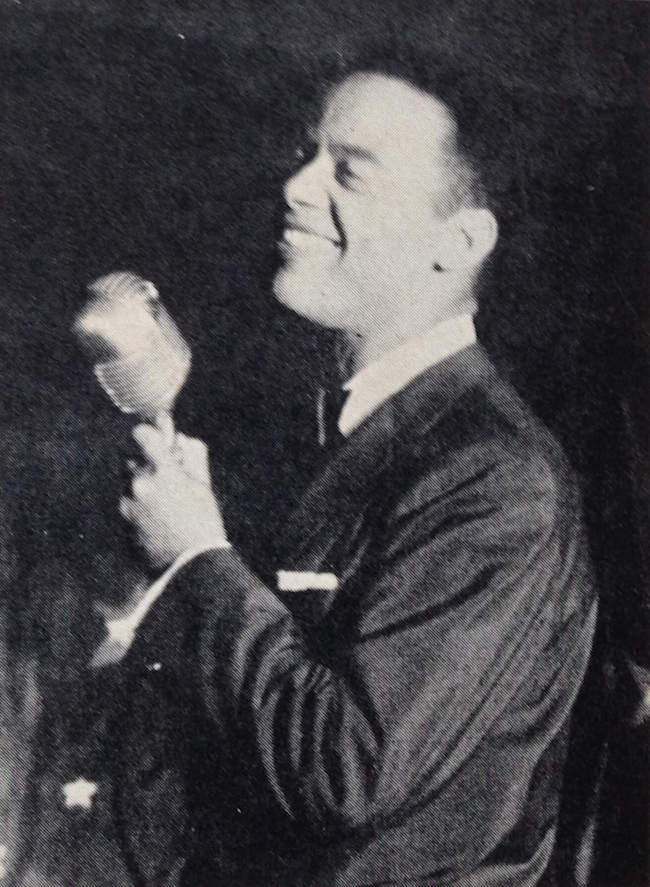 Lonnie SATTIN
Billed as "The vocal volcano", Lonnie sings during the first part of the revue at least 2 songs: "I Believe" and "Stand Up and Fight" from his debut in Philadelphia.
The Cotton Club Revue was a turning point in Lonnie's career. During the 1957 run in New York, Variety writes: "Lonnie Sattin was starting to make a noise prior to being recruited for this display. He's a well-built lad with a vigorous voice who pours out a lot of feeling in his songs, even though he overdrips the schmaltz at times. Aside from doing two too many numbers, there was little point in going overdramatic in "I Believe." Otherwise he measures up well." (Variety, July 7, 1957).
Thanks to his fame after his Cotton Club Revue engagement, Lonnie toured in night clubs and recorded several EPs but never ot the real success he deserved. Plus, the Broadway stage musicals (The Body Beautiful and Kick & Co) in which he played flopped.
(Reference: Dead Wax)
---

Norma MILLER and her dancers
A whole article (a whole website!) should be dedicated to Norma MILLER (96 in 2016 and still active!), known as the "Queen of Swing". She's one of the greats of Lindy hop. She's also the last surviving member of Whitey's Lindy Hoppers.
Norma's career began at the age of 12 at the Savoy Ballroom in Harlem. After winning the Savoy Lindy Hop Contest in the early 1930s, Herbert "Whitey" White asked Norma to join his group, Whitey's Lindy Hoppers, along with Frankie Manning. She then performed on Broadway and several motion pictures such as A Day at the Races (1937) and the famous Hellzapoppin' (1941).
In her book, Norma insists on the fact the the Cotton Club Revue was "to be the first all-black show to play the Beach Comber in Miami Beach" and she tells the racial tensions that surfaced during rehearsal.
She has remained in show business ever since and has continued to appear on television, film and in documentaries.
---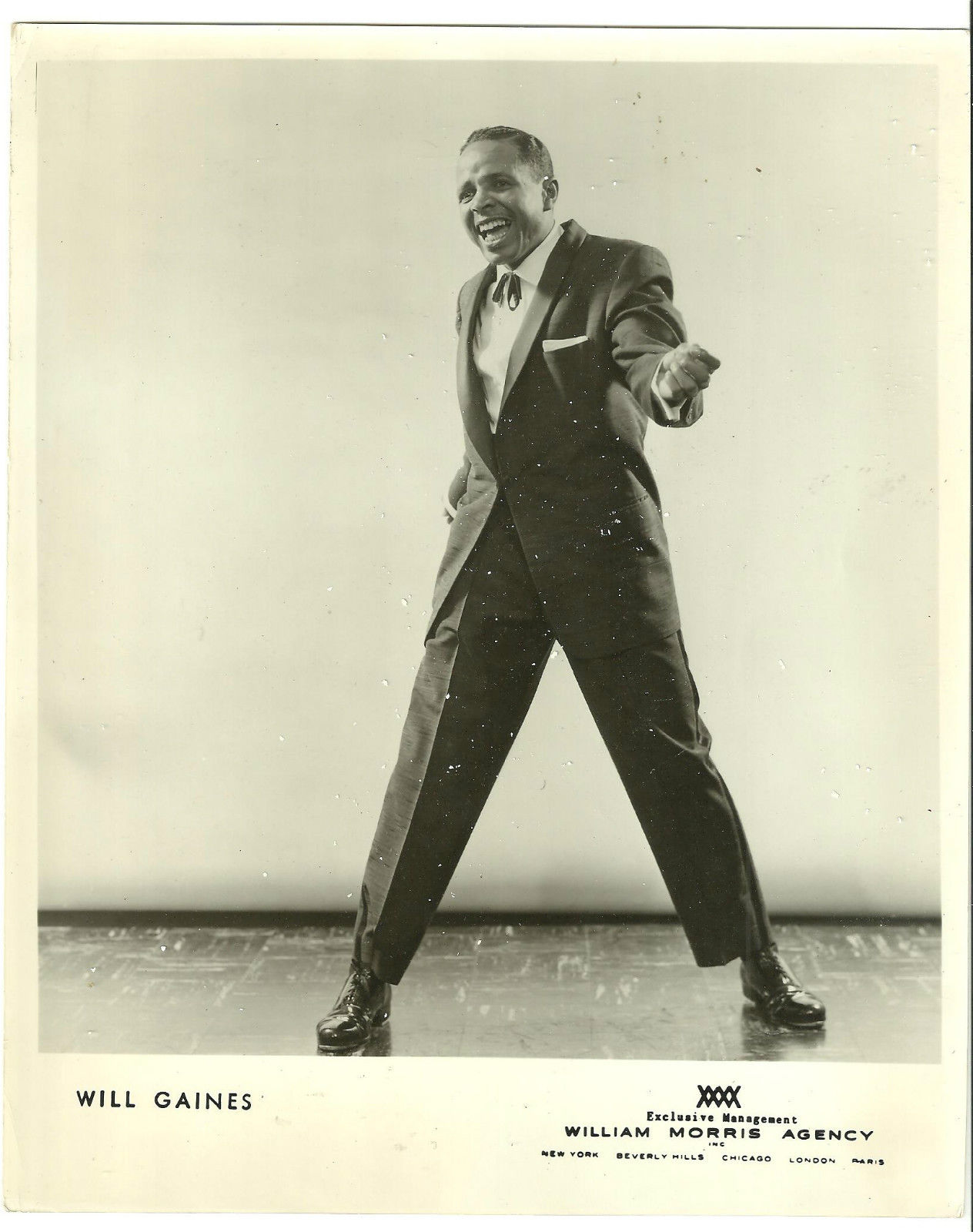 Will GAINES
The "motion in high gear", as announced on the 1957program, once danced for US President Eisenhower. He also worked with Nat King Cole.
Will Gaines (1928-2014) began his career as part of a roller-skating duo. He quickly made a name as a soloist jazz hoofer. He worked with the likes of Lucky Thompson, Kenny Burrell, Tommy Flanagan and Sonny Stitt at the New York Apollo before joining Cab Calloway's Cotton Club Show in 1957. Will Gaines moved to London in 1963 where he appeared at the Pigalle and Ronnie Scott's and the Palladium. Will Gaines lived in Leigh in Great Britain since 1980. Despite arthritis, Will continued to perform as late as possible.
Variety wrote about him during the Royal Nevada run in April 1957 : "Willie Gaines is an energetic terper who tosses comic overtones into his routines both with hoofing tricks and facial contortions." (Variety, April 24, 1957).
(Source: Paul Nizinskyj, Leigh-based jazz hoofer who played for US president bows out, Echo, May 12, 2014)
---

The ORIOLES
Successful R&B vocal group in the Forties and Fifties, The Orioles were famous for their "doo-wop" sound they kind of patterned. Born in Baltimore (like many other folks in this troup, such as Cab!), the Orioles were led by Sonny Til. In fact, the 1957 Orioles were not the original ones. Only TIL who picked up the Regals to reform a group. They release their third record "Didn't I Say" (which will become their last one) in April 1957. They appear the same month in the Cotton Club Revue for the Las Vegas performances at the Royla Nevada. As Marv Goldberg points: "This kept them busy for a while (they would tour with Calloway for a total of 24 weeks, in both Miami and Las Vegas), and no one noticed that "Didn't I Say" wasn't even reviewed by the trade papers."
(Source: Marv GOLDBERG's website)
---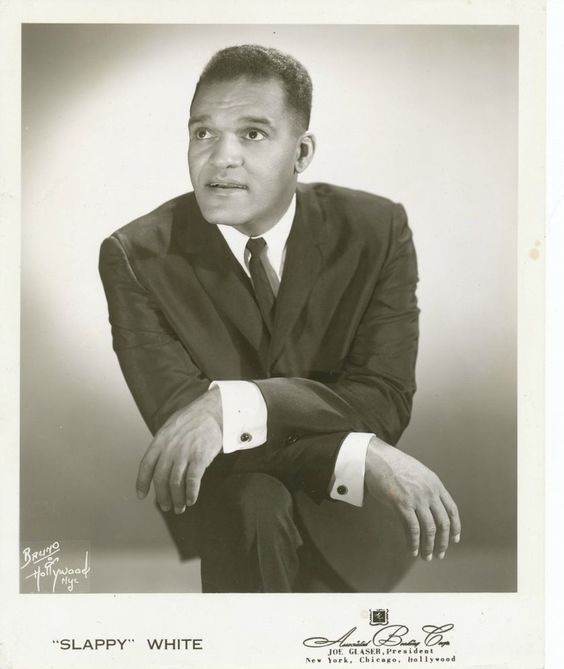 Slappy WHITE
Born in Baltimore, Slappy WHITE (1921-1995) danced in the streets at 10 for coins. Later, and before marrying Lavern Baker, Slappy White got married 6 years with Pearl Bailey and was later engaged to Betty Carter. He sure had a taste for singers. One of his great lines: "I don't know why people are always putting down the South. Why I was just down there and they treated me like a king. everywhere I went there were signs saying 'For White Only'!"
---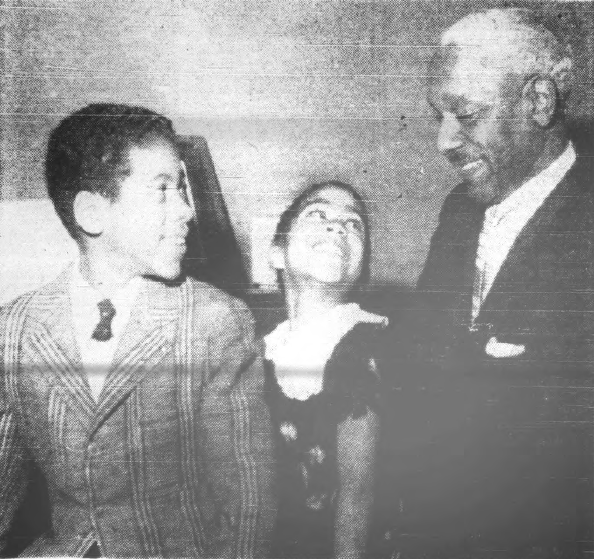 Michelle CLARK (center) with her brother Elia and Clarence ROBINSON
Michelle CLARK
The 9 year old singer is the youngest of the show, of course. Earlier that year, she recorded with her brother Elia a forgettable Columbia album of Calypso for kids. She was the youngest artist to play the coveted Place Theatre in New York. But she even started at 7 on Broadway in House of Flowers. In 1955, she was among the likes of Pearl Bailey, Alvin Ailey, Diahann Carroll, Carmen de Lavallade, Don Redman and Mary Louise (who will sing on stage with Cab in 1947 and who will play in Hello Dolly! in 1967)!
In the revue, Michelle sings at the end of the program her song "Evalina" and shares the stage with Cab Calloway.
---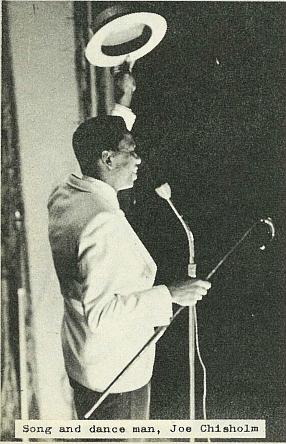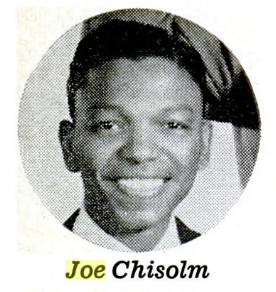 Joey CHISHOLM
(or Joe CHISOLM according to different documents)
"A gentleman, his hat and his cane" is how Joe is described in the 1957 program. Joe Chisholm, dancer and acrobat (April 25 1925-January 30 2001) began his career in Harlem during the Forties.
Fast cane moves, tap dance and jokes were his material, all used successively or simultaneously. For 4 years, during WWII,he was part of The Crackerjacks, famous flash act, whose acrobatic numbers lead to success and influenced Hip Hop. After the war, he turned solo and worked with some great bands of the time. He toured America, Europe and the Pacific Rim until he was casted in the Cotton Club Revue.
During the 60s he moved to England where he stayed until his death. There, among other shows, he appeared in Lady Be Good, Bubbling Brown Sugar and The Al Jolson Story.
Another revival of the Cotton Club Revue in the 80s enabled him to dance in front of large audiences again. Suffering of arthritis by the mid-eighties, he managed to continue performing, without twirling his canes.
(Source: Terry Monaghan, Joe Chisholm, Jazz dancer and acrobat who combined speed with elegance, The Guardian)
---
The ANJOEL Trio
Couldn't find any info about this Afro-Cuban group of dancers. Any clue?
---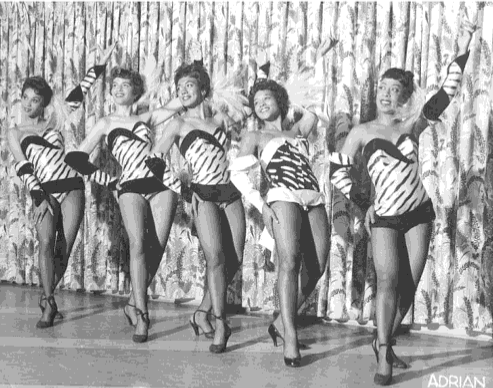 The SAVAR Dancers
is a group of 5 female dancers: Mary LANE, Bobbie Jean DAY, Roxy YOUNG, Tina (?) and Joan MYERS BROWN (3rd from the left). The latter is the founder and became a very famous dancer and choreographer from Philadelphia. The group was created in Montreal at the Café Montmartre when its owner Bill Savar (!) asked Joan Myers to be the dancer of the club with 3 local girls. They remained in Montreal going on tour and coming back home for 30 months or so. Then Joan Myers wanted to go back to USA.
That's when Cab Calloway hired the Savar Dancers for the 1957 Cotton Club Revue in Miami. They stayed with Cab for about a year. and then the group broke up because most of the group wanted to go back to Canada. Joan Myers wanted to stay so she auditioned for the new season show, the 1958 one. She was booked then as a dancer, without a proper act.

(Source and picture: Brenda Dixon Gottschild, Joan Myers Brown and the Audacious Hope of the Black Ballerina: A Biohistory of American Performance, Palgrave Macmillan, 2012)
---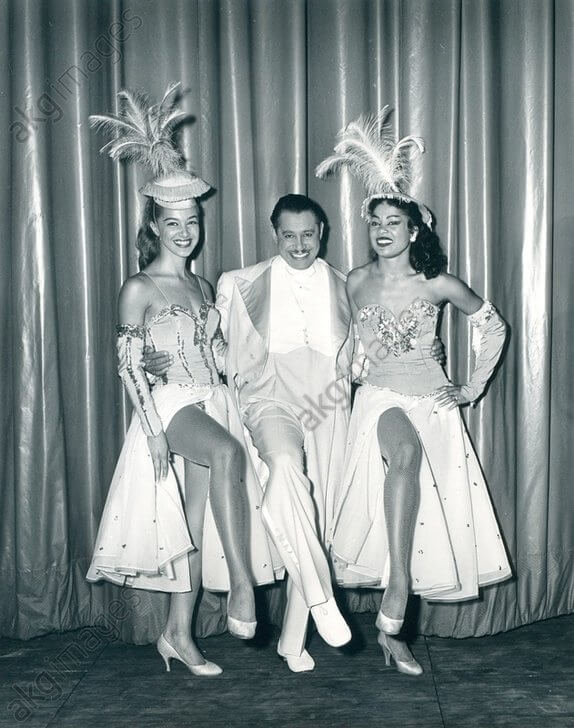 The COTTON CLUB GIRLS
Yvone BLANCHARD, Bobbie DAY, Theodora BOYD, Lea MEARS, Del BOYD, Dee Dee LYNN, Barbara THOMAS, Marti LANE, Dolores BOYD, Leona EPAE, Roxy YOUNG, Joan MYERS
Cab Calloway with Joan MYERS (left) and Dee Dee LYNN at the St John Hotel, in the segregated Miami (Jet, February 1957)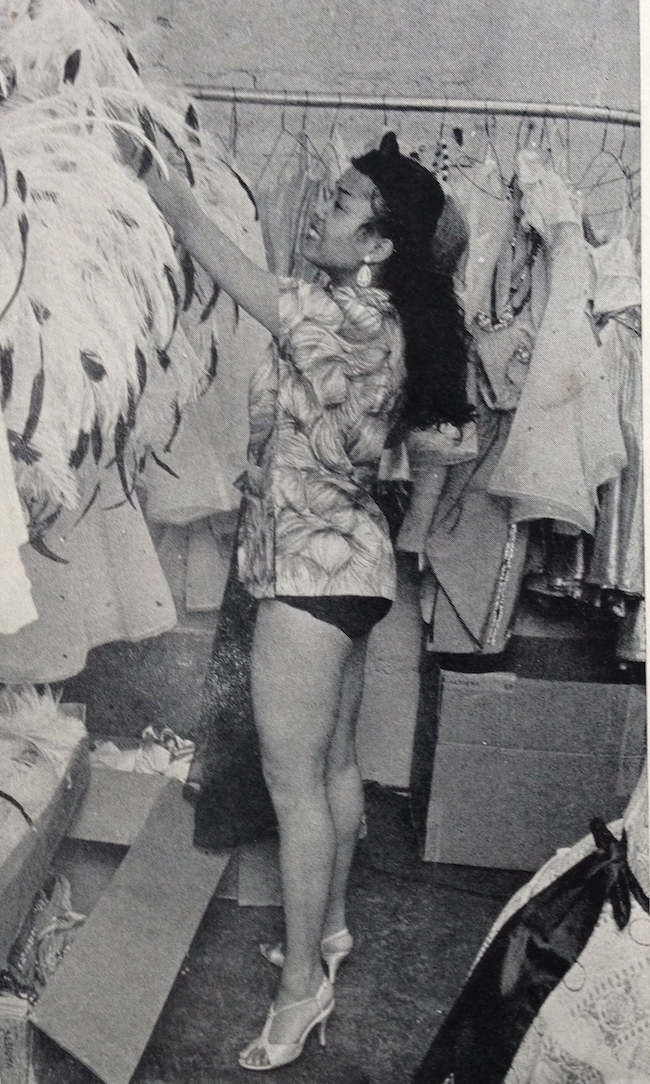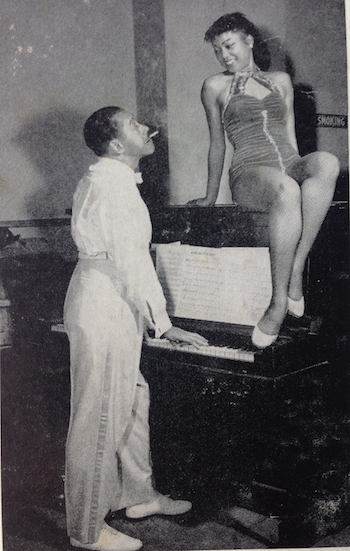 Leona EPAE doing her laundry then taking piano lesson with Cab Calloway...
---

MALE dancers
Billy RICKER, Charles YOUNG, Raymond SCOTT, Frank TODD, Gerard RODRECKUS, Albert RUSSELL, Billy ADDAMS, André PITT, Stoney MARTEENI, Sonny TIL, Joel NOBLE
---

FEMALE dancers
Terry VANN, Barbara LAUREE, Terrie HARRIS, Priscilla SPENDER, Audrey JUNE TAYLOR (who replaced Dee-Dee Lynn).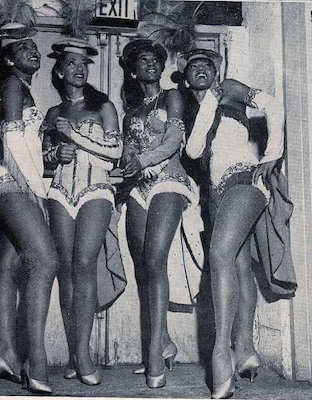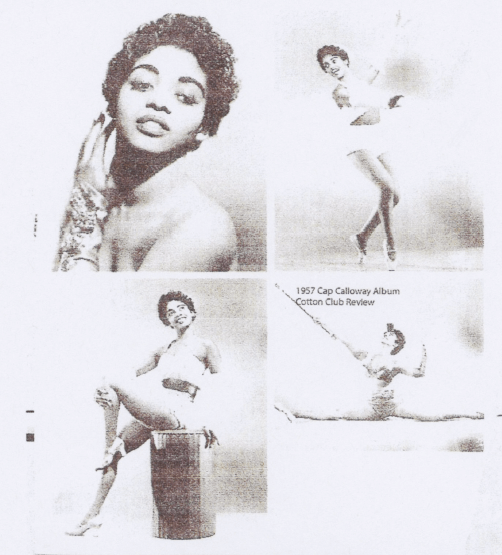 Audrey June Taylor who paired later with one of the male dancers, Stonney MARTIN.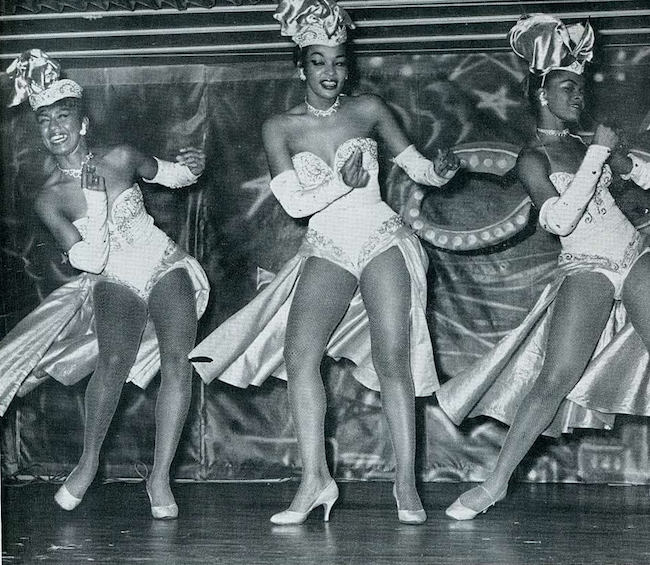 ---

Joel NOBLE trio
Since Clarence Robinson was the senior choreographer, Joe (or Joel) NOBLE actually choreographed the numbers. But he was also the first dancer in the revue and even played in the trio that performed between the shows.
---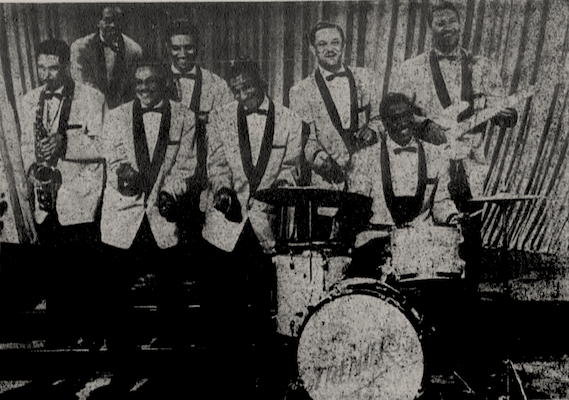 The TRENIERS
The TRENIERS were the R&B musical group who played in the lounge at the Royla Nevada Hotel in Las Vegas. Identical twins, Claude and Cliff TRENIERS became "a mainstay of the Vegas circuit. In fact, the Treniers were one of the first black acts to perform in Las Vegas (as early as 1948), overcoming the segregation policies of the 1940s and 1950s. They performed at nearly every lounge in town."
(Source: Black Cat Rockabilly)