Brill Building
Cab's choice for his office during the 1940's
Just across the corner from the Zanzibar Café, the Brill Building was the place where show business was made for decades. Every important artist, every successful producer had to be there.
Of course, Cab Calloway had his office here, so did Duke Ellington.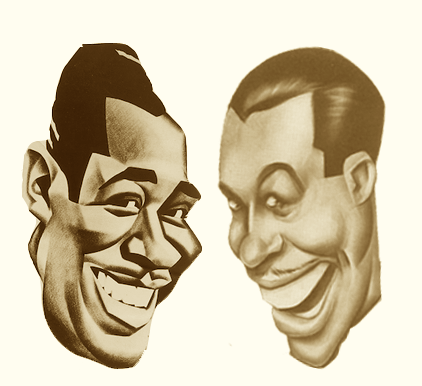 Duke Ellington and Cab Calloway caricatures as they may appeared in the Brill Building's lobby
Cecelia Calloway once told me that when she was a kid she saw big portraits of Cab and Duke in the lobby of the building.
Christopher explains that Cab's wife, Nuffie, had no interest in having offices there until she met Frank SINATRA in the elevator. Cab managed to get her an autograph from the crooner. She visited more often since then but was never able to meet old Blue Eyes again!
Christopher Calloway Brooks adds: "Cab thought that Irving MILLS (Cab's and Duke's agent) was essential to him. Even though Mills took a large percentage – which was standard at the time – he really made it work."
"Cab left the business side, contracts, copyrights, etc. to other people. He was a big believer in macro management. As a leader, he delegated to the right people."