COTTON CLUB PARADE (Première : le 23 octobre 1932)
Revue du Cotton Club de Harlem.
Paroles de Ted Koehler
Musiques d'Harold Arlen
Mise en scène de Dan Healy
Vedettes : Aida Ward, Cab Calloway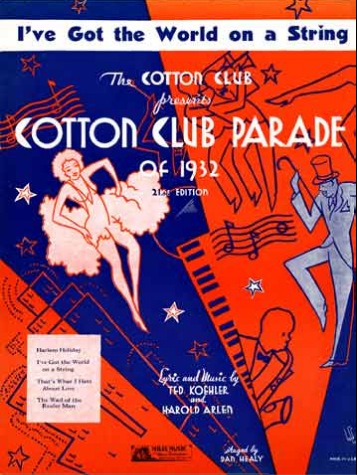 (Collection
Philippe Baudoin
)
Chansons publiées :
Harlem Holiday
I've Got a World On A String*
That's What I Hate About Love*
The Wail of The Reefer Man*
*Chantées par Cab
Nouveau succès que cette
"Cotton Club Parade"
, la 21e revue en date du Cotton Club.
Cab est sur scène en compagnie de la chanteuse
Aida Ward
.
Naturellement, il y a dans cette revue tous le répertoire du moment pour l'orchestre de Cab auxquels
Arlen et Koehler
ont ajouté ce qui allait devenir un standard :
« I've Got A World On A String »
. Cette chanson ne quittera guère Cab car il continuera de la chanter jusqu'à la fin de sa carrière.
Vous aurez également constaté que les auteurs de la revue ont ajouté des chansons « exotiques » pour parler de Harlem dans laquelle les Blancs viennent s'encanailler. Quant à
« The Wail of The Reefer Man »
, il fait évidemment référence aux vendeurs de marijuana qui sévissaient dans le quartier. Le personnage est « sympathique » et il faut dire que la plupart des musiciens y étaient abonnés. De toutes ces séries de chansons autour de la drogue, il faut bien se dire que le public blanc ne devait pas y comprendre grand-chose, mais, que voulez-vous, cela donnait du piquant à cette revue. On passait ainsi du stéréotype du Noir esclave dans son champ de coton au Noir voyou dans les rues de New York.
Informations tirées notamment de « Show Tunes, The Songs, The Shows and Careers of Broadway's Major composers » et du formidable site qui recense quelques-unes des revues du Cotton Club, Jass.com