************
WORK IN PROGRESS! Some images, some links, some translations are missing. But, hey! There's already so much to read and enjoy!
************
From the Cotton Club to the "Blues Brothers", from the roaring 20's until his death in 1994, Cab CALLOWAY has been a larger than life entertainer, first known for his song created in 1931 that drove him to fame: "Minnie The Moocher".
The Hi De Ho Blog aims to share with you everything I've been enjoying and learning about Cab Calloway since I discovered him 30 years ago seeing "Stormy Weather" for the first time.
His music and his musicians, his catchy songs, his dapper look with his unforgettable scene presence, the anecdotes and testimonies are a wonderful guide to understand in a more general way, the history of Jazz in the 20th century.
Keep that Hi De Ho in your soul!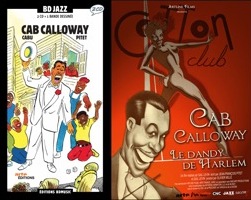 Jean-François PITET
- Creator and author of The Hi De Ho Blog since 2006
- Scenarist for the comic book illustrated Cabu, "Cab Calloway" (BD Music, 2010)
- Co-author of the TV documentary "Cab Calloway, le dandy de Harlem" - US title: "Cab Calloway: Sketches" – ARTE (2010)
---
We especially wish to thank:
• CABU, famous French caricaturist and 1st Calloway fan, who designed our new logo and who is the most supportive reader to our blog.
• Nicolas DUPUY - Dixens, who set up the new fantastic environment for this blog.
All friends and folks from the Jazz world who support us:
• Keller WHALEN, Cab Calloway collector and accomplice
• Cecelia 'Lael' CALLOWAY, Cab's daughter, & Mike MILLS
• Christopher Brooks CALLOWAY, Cab's grandson
• Alyn SHIPTON, author of "Hi de Ho, The Life Of Cab Calloway"
• Georges 'Pops' MATHYS & Yvan FOURNIER, Swiss friends and jazz fans
• Jean-François VILLETARD, Cab's French friend and jazz connoisseur
• Christian BONNET, Claude CARRIERE, Philippe BEAUDOIN & Isabelle MARQUIS, jazz specialists who help me in any crazy request
• Laure ALBERNHE, Marc DANVAL, Jan EVENSMO, Franz HOFFMANN, Gilles PETARD, Howard RYE, Steve VOCE, etc.