In 1948, while his popularity was rather low and his concerts became downright rare, Cab Calloway enjoyed the limelights of the release of a short comic about him published by Famous Funnies editions.
Entitled
"Cab Calloway, dean of American jive"
, the 3 pages are ​​part of the
Juke Box
series
published from March 1948 to January 1949. The whole series was about music. Many famous artists ​​appear:
Spike Jones, Duke Ellington, Count Basie, Peggie Lee, Tommy Dorsey, Mel Tormé, Xavier Cugat, Stan Kenton, Lena Horne, Bettie Hutton, Lionel Hampton, Johnny Mercer, Woody Herman, Al Jolson, Guy Lombardo, Buddy Rich, etc. and Cab Calloway of course!
How to show music in comics? Not really obvious, especially since there's no common idea for every script. So everything is based on anecdotes...
About Cab Calloway, history highlights the slang of jazz, the Jive, for which Cab was the Messiah (remember his Hepster's Dictionary with several million copies sold between 1938 and 1944 !).
The author of the three pages about Cab is
Jerry FASANO
who worked for Famous Funnies, Marvel comics and other studios.
The plot (sic) is simple: to show his appreciation to an university who honored him, Cab organizes a banquet in their honor (We are already in the middle of the story), but during his toast, he realizes that he forgot his wallet. In order to not arouse suspicion, he informs a friend of the situation by asking (aloud but in Jive slang, believing that nobody understands) to fetch his wallet at the hotel. But in fact, the professor has fully understood the problem, since he speaks fluent Jive too!
Now you know everything about this masterpiece that I let you discover it in its entirety below.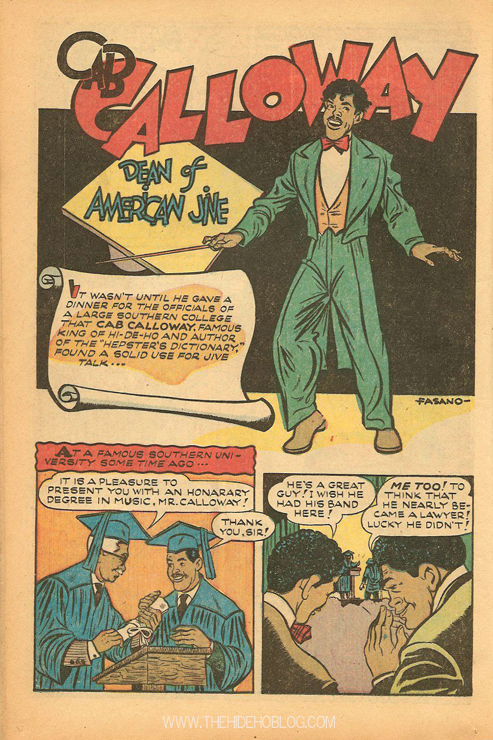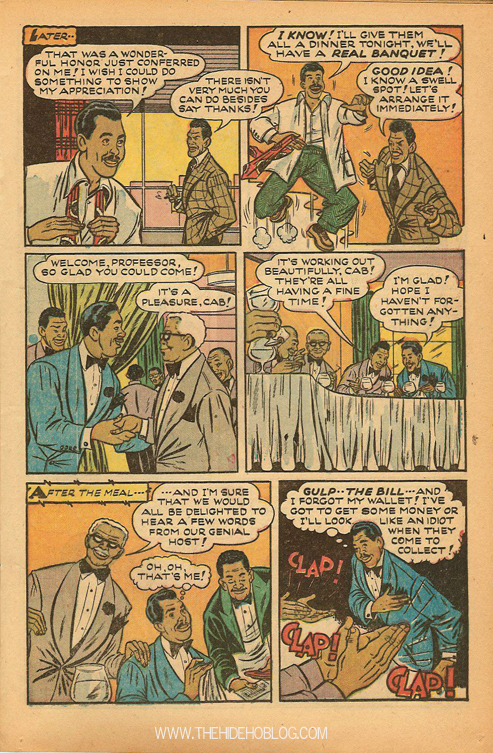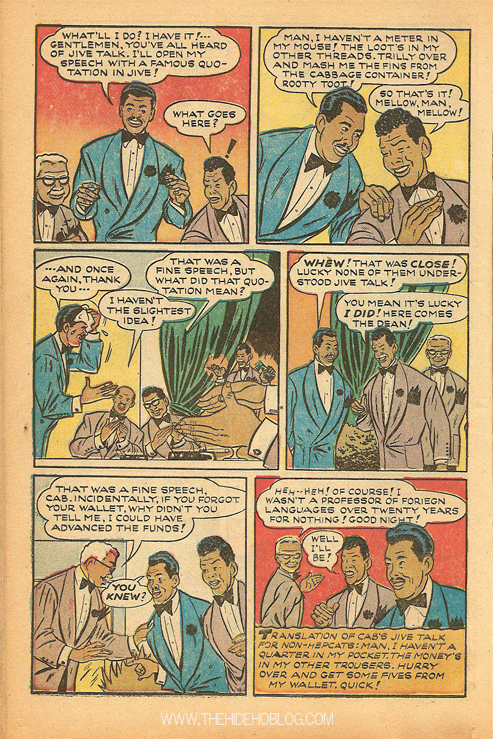 ---
For more information on Juke Box and in particular the number 1 dedicated to Spike Jones, go there.