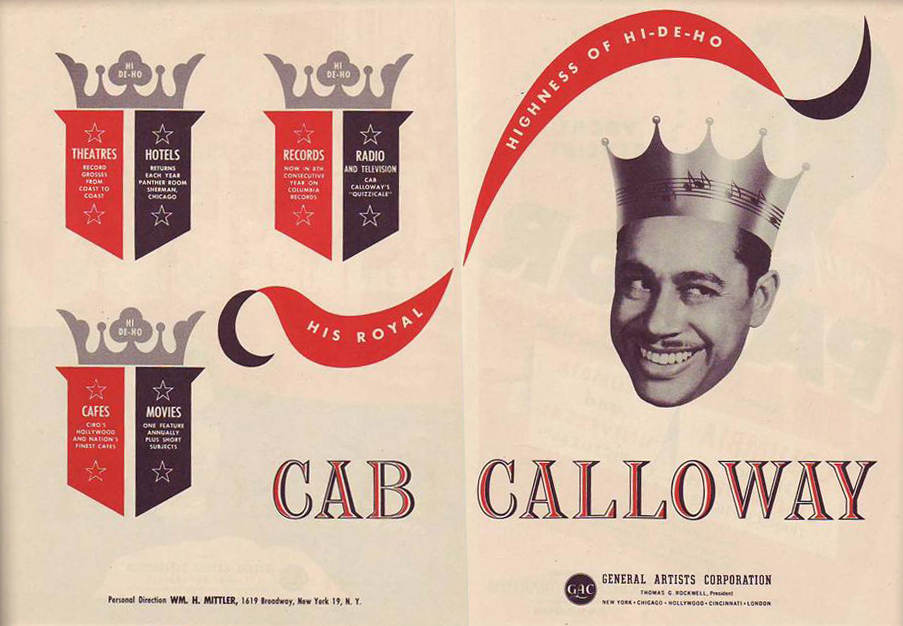 Sa Royale Majesté du Hi de Ho (Billboard, 1947)
On a parfois de belles surprises en lisant la presse de l'époque. En regardant avec attention les archives du quotidien noir
The Chicago Defender
, je suis tombé sur deux articles de juillet 1939 relatant l'envie de Cab Calloway d'arrêter de chanter du
Hi de Ho
, la formule qui avait fait son succès. Regardons cela de plus près pour comprendre ses motivations et constater... que ça n'a pas vraiment cessé !
"Je ne suis plus un chanteur de scat !"
C'est ce que déclare Cab Calloway, avant de partir en tournée avec la dernière revue du Cotton Club, celle dite de l'Exposition Universelle (
World Fair
). Au côté de Bill Robinson et pour les besoins de cette nouvelle création, Cab a en effet interprété des chansons d'un autre type que celui auquel nous étions tous habitué :
Don't Worry About Me, What Goes Up Must Come Down, Got No Time
, (qui permettait à Cab de danser "à la Fred Astaire" en compagnie de trois charmantes chorus girls et trois boys),
If I Were Sure of You
... Seule
The Ghost of Smoky Joe
était dans un registre similaire.
"J'en ai eu assez de tout ce Hi-de-ho et je suis certain que mon public doit ressentir la même chose. J'ai essayé sérieusement de développer un autre style vocal, plus chantant avec plus de ballades et chansons à mélodies. J'ai également essayé d'améliorer mon orchestre, en portant la section de saxophones à 6 pour une meilleure balance, d'augmenter la méldoei au sein de nos arrangements avec des instrumentistes stars tels que Chu Berry et Cozy Cole. On a même des valses dans notre répertoire !"
Quelques jours plus tard, un nouvel article du
Chicago Defender
(qui semble tout droit dicté par les relations presse de Cab !) enfonce le clou sur les qualités vocales du roi du
Hi-de-Ho
(ou EX-roi !) :
"Ne pensez pas un instant que Cab Calloway ne sait pas chanter. Franchement, peu de crooners rivalisent avec Cab lorsqu'il choisit de chanter 'normalement' (straight) une chanson. (...) Cab est devenu célèbre en tant qu'artiste hurleur et brailleur qui était unique en son genre et uqe les clients venaient voir pour qu'il leur serve ça. Ils n'étaient pas heureux tant que Cab n'avait pas chanté de cette manière. Et maintenant, on leur a fait entendre un autre Cab et ils l'aiment autant, si ce n'est plus !"
Au moment où paraît cet article, Cab va enregistrer le
Jumpin' Jive
qui reste tout de même un titre à fort pouvoir scat, mais
"Hi-de-ho proof"
! D'ailleurs, cela deviendra sa plus grosse vente de disques de toute sa carrière...
Source :
The Chicago Defender
, articles du 8 et 29 juillet 1939