Les orchestres de Cab Calloway et de Duke Ellington étaient parmi les plus populaires dans les années 1930/40. Ils étaient également ceux qui distribuaient les plus belles fiches de paie ! Naturellement, celui du Duke avait un prestige et une excellence incomparables.
Beaucoup des musiciens qui sont passés par les pupitres de Cab ont eu envie à un moment ou un autre de rejoindre ceux d'Ellington. Seule une poignée d'entre eux est parvenue à ses fins... et encore moins d'autres ont fait le chemin inverse !
The Hi de Ho Blog
les passe tous en revue pour vous. Et il y a dans la liste quelques noms inattendus !
Nous terminons aujourd'hui la série par...
LES ARRANGEURS

---
Ils ont contribué à la beauté des portées pour Calloway et Ellington :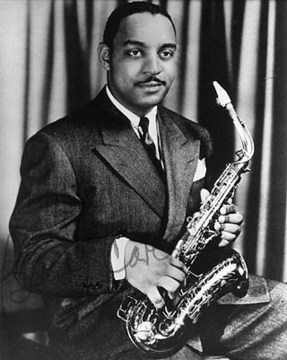 Benny CARTER
(1907-2003)
Pour Cab Calloway : Hot Toddy, les titres enregistrés pour le film "The Big Broadcast of 1932", Sweet Rhythm, Calling All Bars, The Lone Arranger, Who's Yehoodi, Lonesome Night
Pour Duke Ellington : Jazz Cocktail.
Mary Lou WILLIAMS
(1910-1981)
Pour Cab Calloway :

Ghost of Love

et

Toadie Toddle (aucun n'a été enregistré).

Pour Duke Ellington : Trumpets no end, Lonely Moments, composé et arrangé pour Ellington, sans oublier son New Musical Express composé en hommage à Ellington. On ajoutera : Stardust (Carnegie Hall, 1943), Sweet Georgia Brown, Chopsticks, Ogeechee River Lullaby (tout trois de 1943), Riff Staccato (1945) et sans doute "une dizaine d'autres quand elle suivait l'orchestre avec Harold Baker" (selon Claude Carrière).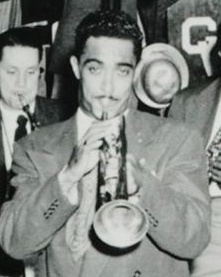 Gerald WILSON
(né en 1918)
Pour Cab Calloway : Cruisin With Cab, Frantic in the Atlantic. Lors d'un interview téléphonique avec lui en 2009, Gerald Wilson m'avait dit qu'il faisait répéter l'orchestre de Cab dans lequel il avait plusieurs amis, mais ne m'a confirmé avoir joué dans l'orchestre.
Pour Duke Ellington : les 1ers arrangments sont demandés en deux jours à Gerald Wilson tandis que Duke est à Los Angeles. Il s'agit de Antidisestablishmentarianismist (30/09/1947) et You Gotta Crawl Before You Walk (01/10/1947).
Viendront ensuite : Perdido et The Wailer dans l'album Piano in the Background pour Ellington, Smile de Charlie Chaplin, El Viti (joué à Newport), La Virgen de la Macarena.
Wilson a également co-composé Imagine My Frustration avec Ellington et Strayhorn, interprété en 1966 par Ella Fitzgerald dans le fameux live de Stockholm.
Wilson a par d'ailleurs joué dans l'orchestre d'Ellington à plusieurs reprises : pendant une tournée entre Los Angeles et San Francisco, le 26 avril et le 1er juin 1954, puis début juin 1959 et enfin le 30 juin 1960. Geral Wilson est également là pour l'enregistrement de la bande originale de Anatomy of a Murder en 1959.
Citons également Billy STRAYHORN dont le premier job chez Ellington fut d'écrire l'arrangement de The Jumpin' Jive pour son nouvel employeur (voir notre article)...
---
Parmi les nombreuses sources consultées, soulignons :
The New Desor, Luciano Massagli et Giovanni M Volonté
History of Jazz Tenor Saxophone, Jan Evensmo
The World of Swing, Stanley Dance
Someone To Watch Over Me, Buchmann-Moller
Benny Carter, A Life in American Music de M. et E. Berger et J. Patrick
---
Naturellement, si vous constatez une erreur, un oubli, n'hésitez pas à m'en faire part.
---
Un immense merci à
Claude CARRIERE, Christian BONNET
et
Yvan FOURNIER
pour leur savoir encyclopédique si généreusement partagé ainsi que leurs encouragements.
A l'occasion, rendez visite à
La Maison du Duke
dans laquelle ces deux grands ellingtomanes officient en compagnie de
Philippe BAUDOIN.
---