Qu'il est difficile d'adapter en français des textes de standards de jazz. Beaucoup s'y sont frottés et s'y sont piqués ! Mais quand il s'agit d'adapter en français le jive obscur et incohérent de Cab Calloway, cela relève du défi majeur de tout traducteur ! Apparemment, Lucien Lagarde* n'avait pas son Hepsters Dictionary en main lorsqu'il a commis cette adaptation très très libre de "The Jumpin' Jive"...
Tout d'abord les paroles anglaises reportées sur la partition (en italique) :
Les lyrics français (en romain) :
The Jim Jam Jump is the Jumpin' Jive
Ah ! Jim jam jump, c'est le jumpin' jive.

Makes you get your kicks on the mellow side
La sensation en est charmante et vive.

Hep ! Hep ! Hep ! Hep !
Hop ! Hop ! Hop ! Hop !

The jim jam jump is the solid jive
Ah ! Jim jam jump, mais c'est merveilleux

Makes you nine foot tall when you're four foot five
On croit qu'on va s'en aller vers les cieux.

Hep ! Hep ! Hep ! Hep !
Hop ! Hop ! Hop ! Hop !

Don't be that ickaroo
Vous n'avez qu'à sauter

Get hep and follow thru
C'est facile entre nous

And get your steady foo
Et vous serez grisé

Make the joint jump like the 'gators do
Ce n'est rien mais ça vous prend partout

The jim jam jum is the Jumpin' Jive
Si votre belle-maman danse cette chose-là

Makes you like your eggs on the Jersey side
Vous l'adorerez je n'vous dis qu'ça

Hep ! Hep ! Hep ! Hep !
Hop ! Hop ! Hop ! Hop !

Jim Jam Jumpin' Jive makes you Hep Heo on the mellow side
Eve avec Adam dansaient le Jumpin' c'est évident

Boy ! Oh ! Boy !
Boy ! Oh ! Boy !

Palomar, Shalomar Swanee shore
Ecoutez on entend la musique

Let me dig that Jive some more
C'est bizarre et sympathique

Boy ! Oh ! Boy !
Boy ! Oh ! Boy !
Bon, on se moque mais franchement l'exercice est plus que difficile et périlleux. Du coup, on comprend un peu Lucien Lagarde* qui s'est relativement éloigné du sujet original... Et vous, vous l'auriez traduite comment cette chanson ?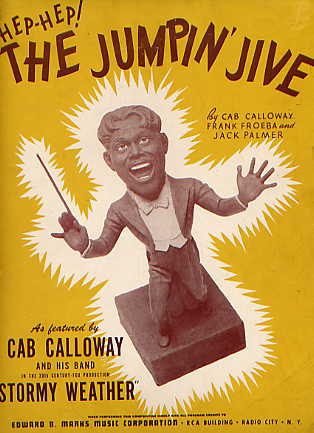 La partition US publiée en 1943 à l'occasion de la sortie du film "Stormy Weather"
A propos de "Stormy Weather", rappelons-nous que l'adaptation française de la chanson avait donné "Il fait noir"... Quant au titre du film, il était sorti en France, Belgique et Suisse avec la traduction libre "La symphonie magique"....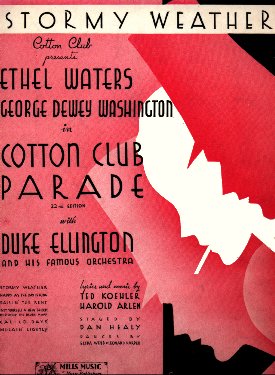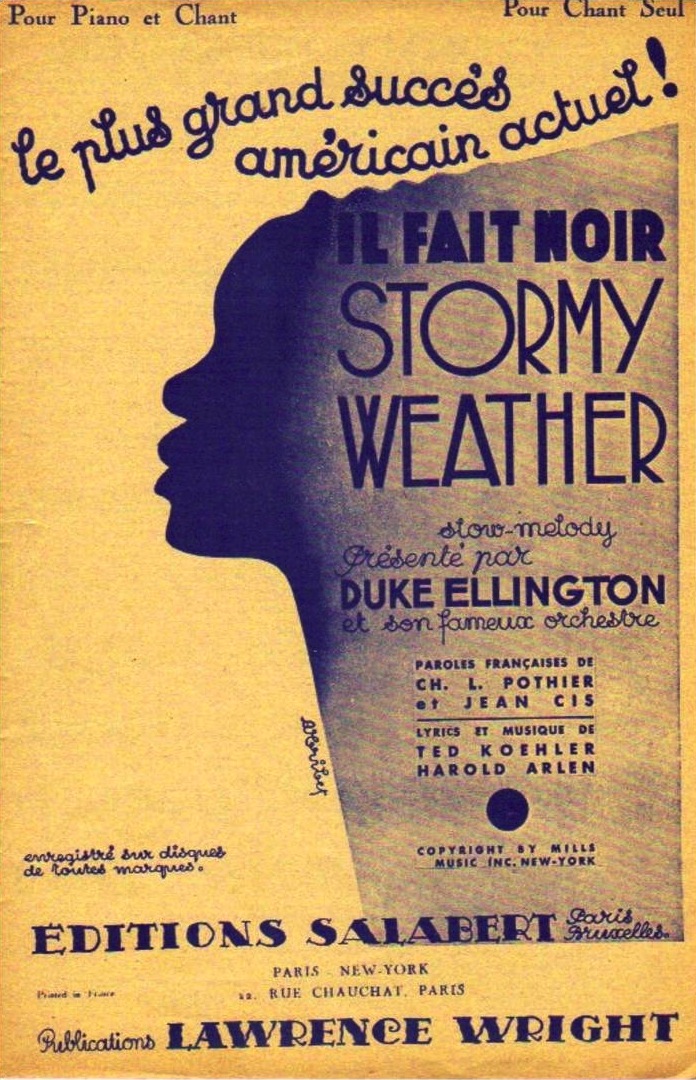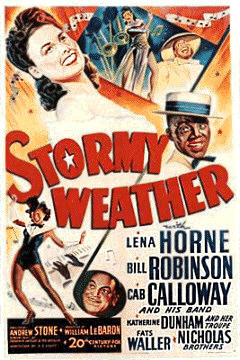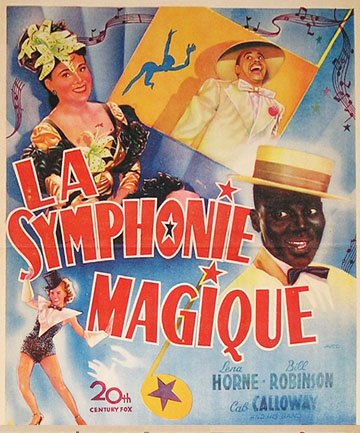 Pour finir, la version originale de 1939 avec un habile montage de photos des différents intervenants. A vous de faire votre karaoké !


---
* Lucien Lagarde est l'inoubliable parolier de chansons tout autant inoubliables :
• Brin d'amour • Joli perroquet • Chérie si tu partais • Y avait mon petit frère • Le petit béguin • Un air de séguedille • Mon cœur a besoin de rêves • Carrosse blanc • Dans mes rêves • Chambre d'Hôtel • Ton image est dans mon cœur • Mademoiselle Blanche • La petit valse • Feu de paille • La chanson du chevrier • Ay Ay Ay Christophus ! • Gosseline • Querer • Un garçon fredonnait • Marie-France • Tu m'oublieras • Ne m'écris pas (pour Piaf!) • Haut comme trois pommes •••
et aussi de quelques autres adaptations historiques :
• Poupée de papier (Paper Doll) • Tumba Rumba •••