Recorded on March 3, 1937, Peckin' is a novelty song intended to create new fashionable dance. In the lyrics, Cab Calloway refers to other dances launched by him at the Cotton Club, like the Suzy-Q and Truckin'. The Hi de Ho Blog tells you what he knows about this ancestor of the Duck Trot and, most famous in France, La danse des canards...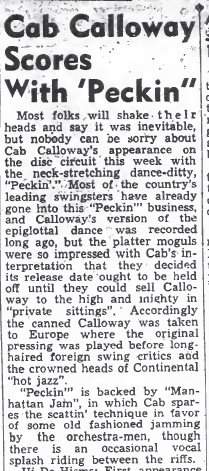 When Cab enters the studio in New York on March 3, 1937, he is not the first one to record a version of Peckin'... The song is co-written by Ben Pollack and trumpeter-futur leader Harry James. Pollack's orchestra had recorded the song on December 18,1936.
The vaudeville vocal group
The Chocolateers
(who were sometimes in Cab Calloway's troup) had a number in1934 entitled
"Peckin"
immortalized in
the final sequence of the movie "New Faces of 1937"
. The film itself was not a huge success but the Chocolateers's segment was greatly appreciated. And this is why
"From New Faces of 1937"
appears on the record label.
The song Peckin' was updated for the Cotton Club revue in the spring of 1937. The famous Nicholas Brothers sang it there to great applause (and The Chocolateers were scheduled to be in a forthcoming Cotton Club revue)! It makes sense therefore that Cab Calloway recorded it.
The California Eagle newpaper reports in its August 12, 1937 edition that Cab's cover is the new standard. It seems that the record was first released in Europe where it enjoyed great success... Note also that the B-side of the 78rpm is the excellent Manhattan Jam, mixing scat chorus and orchestra.
Jimmy Dorsey and Bing Crosby were in the studio the same day Cab inscribed it in wax! They were followed by:
• Ozzie Nelson and his orchestra, May 3,1937,
• Lou Raderman,May 10, 1937
• Johnny Hodges and his orchestra (with Ellington at the piano), on May 20, 1937,
• Benny Goodman on July 6 1937 (he was the most successful one wth this tune),
• Roy Eldridge plays it in broadcasted concert during the summer of 1937,
• Nat Gonella, always in search of covers, made his own on September 24, 1937.

The California Eagle July 9, 1937 states that one can see a rooster at this time, backstage in Indianapolis, Detroit or Kansas City where Cab tours. The King of Hi de Ho would observe the rooster in order to copycat its way of strutting to use it for his stage performance of Peckin'...
This story has also been reported by Cab Calloway's grandson Christopher Brooks, in the documentary "Cab Calloway: Sketches / le dandy de Harlem".

Peckin' : the song, the lyrics and the solography (quite pompous, isn't it?)
In order to let you appreciate this masterpiece at its proper value, here are the lyrics:
You talk about your truckin'
When your peckin' is new


Well, here's a dance that you all should do




You get 'way low down to the floor




And if you peck once, you'll peck twice, you'll peck it some more





You peck to the front, to the sides, to the back




Well, look at old Jim, he's pecking on his back




Peckin' to me is a lot of fun




Well, you peck one, and I'll peck one, well, we'll all peck one



It's the dance we all should do
In the place of the Suzy-Q


Well, come on folks, lend me your ears awhile




And I'll guarantee you, your little tootsie-wootsies will sure run wild





You peck to the east, and then you peck to the west




Then you peck, peck, peck 'til you've pecked your best




Well, then okay, well, a-hey, hey




We'll peck up, we'll peck up, we'll peck up the floor, yeah
Please note the successive solos by Garvin Bushell on clarinet, Irving "Mouse" Randolph on trumpet, Claude Jones on trombone, and Ben Webster on tenor sax (in one of his rare solos during his Cab's periods - 8 bars though). Unfortunately for the musician, Jan Evensmo who analyzed all the solos, writes that it's probably Irving RANDOLPH's best contribution among his recordings with Cab.
For scholastics, you can take a dance class with "Peckin'" by watching
the training video on this link
. Moreover, in May 1937, a journalist from Dallas reported that at every show, Cab organized a small dance competition as a prelude to the song! You are all set!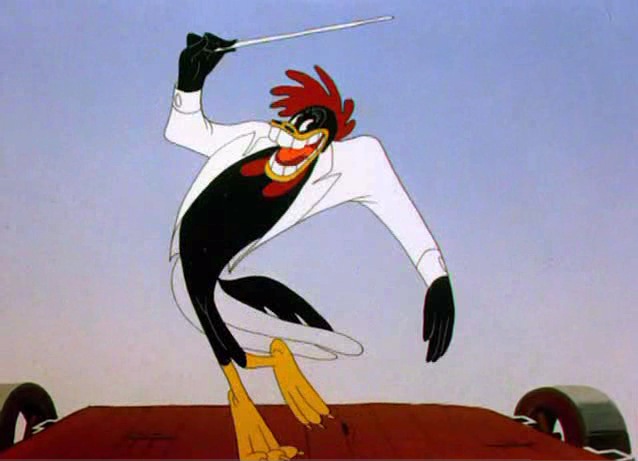 Do not forget that Cab Calloway also recorded Peck A Doodle-Doo, A Chicken Is not Nothing But A Bird and The Duck Trot... It seems Cab had a considerable taste Cab for poultry ... No wonder that he is caricatured as a rooster in the cartoon Swooner Crooner...
Soon, we will discuss other dance numbers by Cab Calloway, such as Truckin' and Doin' The Suzy-Q.
---
References: