Les orchestres de Cab Calloway et de Duke Ellington étaient parmi les plus populaires dans les années 1930/40. Ils étaient également ceux qui distribuaient les plus belles fiches de paie ! Naturellement, celui du Duke avait un prestige et une excellence incomparables.
Beaucoup des musiciens qui sont passés par les pupitres de Cab ont eu envie à un moment ou un autre de rejoindre ceux d'Ellington. Seule une poignée d'entre eux est parvenue à ses fins... et encore moins d'autres ont fait le chemin inverse !
The Hi de Ho Blog
les passe tous en revue pour vous. Et il y a dans la liste quelques noms inattendus !
Aujourd'hui, c'est la section rythmique qui passe le grand jury avec
une grande absente : la batterie
puisqu'en effet, aucun batteur ne passa d'un orchestre à un autre.
Aucun, enfin presque car l'on peut penser au malheureux batteur
Panama FRANCIS
qui fit ses premières années chez Cab Calloway de 1947 à 1951 et qui fut appelé au dernier moment par Duke Ellington pour remplacer
Louie BELLSON
pour deux engagements à la mi-décembre 1952... Malheureusement, il rata son avion et ce fut le jeune Jerry McKenzie qui aurait officié à sa place (anecdote relatée par Steven Harris dans
DEMS
).
CONTREBASSE

---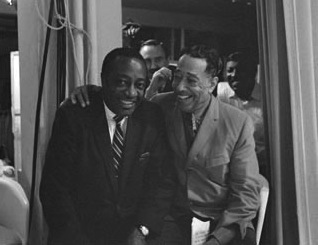 Milt HINTON
Chez Cab Calloway de mars 1937 à 1951
Chez Duke Ellington, de manière occasionnelle dans les années 60 et notamment en 1969
• L'anecdote à connaître : Mit Hinton fut un des "liens" entre l'orchestre de Cab et du Duke. Ben Webster avait pris sous son aile le jeune Hinton et avait gardé le contact avec lui par la suite. Ben révéla tout heureux à Milt qu'il avait créé un chorus que Duke allait arranger. Il l'avait appelé "Shucking and Stiffing". Sous les doigts de Duke, cela deviendra Cotton Tail. Comme dans l'orchestre de Cab, Ben Webster se lia d'amitié avec le bassiste. Il s'agissait alors de Jimmy Blanton.
• Le titre à écouter chez Cab : Pluckin' the Bass (30 août 1939)

• Le titre à écouter chez Duke : Caravan (1969, album All Star White House Tribute)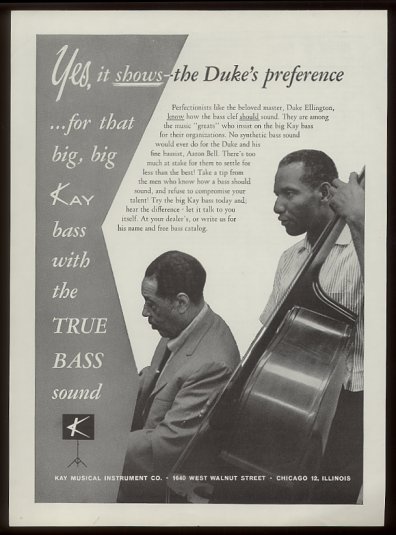 Aaron BELL
• Chez Cab Calloway pendant 3-6 mois environ en 1951/1952.
• Chez Duke Ellington d'avril 1960 à 1962 et 1967.
• L'anecdote à connaître : Aussi étonnant que cela puisse paraître, Aaron Bell a bel et bien joué dans l'orchestre de Cab. Il avait quitté la formation de Lester Young, se voyant offrir un meilleur salaire chez Cab. Il joua notamment au Canada et à Las Vegas. Le contrat tomba à l'eau lorsque Cab se vit offrir le rôle de Sportin' Life dans la nouvelle version de Porgy & Bess.
• Le titre à écouter chez Cab : pas d'enregistrement connu.
• Le titre à écouter chez Duke : Suite Thursday (1960) et en bonus vidéo Satin Doll (1960)

PIANO

---
Hank JONES
• Chez Cab Calloway : 1958 et 1977, 1989
• Chez Duke Ellington : 1969 (concert à la Maison Blanche)
• L'anecdote à connaître : Hank Jones avait croisé la route de Cab Calloway dans les années 50/60, notamment lors des passages de Cab à la télévision où il était pianiste CBS au Ed Sullivan Show. Lorsqu'il accompagne le roi du Hi de Ho dans sa première tournée de retour en Europe en 1977, Hank Jones a enregistré l'année précédente un album solo en hommage à Duke Ellington. On appréciera d'ailleurs dans les deux enregistrements sélectionnés la délicatesse d'Hank Jones et sa mnière bien personnelle d'interpréter des standards au style bien différent.
• Le titre à écouter chez Duke : Don't Get Around Much Anymore (1969, All-Star White House Tribute)

• Le titre à écouter chez Cab : Minnie The Moocher (captation à la Grande Parade du Jazz, 1977)
---
Parmi les nombreuses sources consultées, soulignons :
The New Desor, Luciano Massagli et Giovanni M Volonté
The World of Swing, Stanley Dance
---
Naturellement, si vous constatez une erreur, un oubli, n'hésitez pas à m'en faire part.
---
Un immense merci à
Claude CARRIERE, Christian BONNET
et
Yvan FOURNIER
pour leur savoir encyclopédique si généreusement partagé ainsi que leurs encouragements.
A l'occasion, rendez visite à
La Maison du Duke
dans laquelle ces deux grands ellingtomanes officient en compagnie de
Philippe BAUDOIN.
MERCI à
Georges Pops Mathys
pour la piste d'Hank Jones captée par ses soins le 10 juillet 1977 à 22h00 à Nice.
---