The Cab Calloway and Duke Ellington orchestras were among the most popular of the 1930's and 1940's. They were also responsible for disbursing the highest payroll! Of course, the Duke had the prestige and incomparable excellence. Many of the musicians who passed through Cab's bandstand were eager at one time or another to join Ellington. Only a handful of them succeeded in that objective ... and fewer still traveled the other direction.
The Hi De Ho Blog reviews them all for you. And there are a few unexpected names on the list!
We continue the series with….

The TRUMPETS

---
Dizzy GILLESPIE
• With Cab Calloway from September 1939 to September 14, 1941
• With Duke Ellington orchestra a member from October 14 to November 9, 1943 and then as invited guest in 1952, 1957, 1959 and 1970.
• The story you should know: from the beginnings of bop, tested on the roof of the Cotton Club, and the schoolboy pranks that led to him being fired from Cab's band because of a spitball, there is no shortage of stories about Dizzy with Cab Calloway. For the title that we suggested below, note that this is the first arrangement and important solo recorded by Dizzy with Cab. Forget the solo (there will be better ones later) and enjoy the complex introduction to the piece, foreshadowing A Night in Tunisia . With Duke, as our example, there's the session for the album Jazz Party (1959). When Gillespie was recording in the same studio as the Ellington orchestra that day, Duke proposed that Dizzy record a number with them. A few months later, Gillespie wrote to Ellington to point out that he had not been paid for the session. To this day, he is still waiting for his check...

• The title to hear with Cab: Pickin' The Cabbage (1940)

• The title to hear with Duke : U.M.M.G. (Jazz Party, 1959)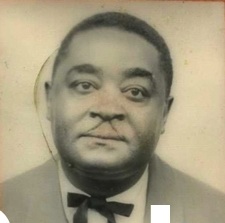 Eddie MULLENS
• With Cab Calloway 1945-1946 (ca)
• Wtih Duke Ellington, 3 days in 1956 and then from 1959 to 1962
• The story you should know: Mullens is hired by Cab the day after VJ Day. But unfortunately we can't discern his particular sound next to Cat Anderson and Willie Cook or even Ray Nance... there's more to hear with Duke Ellington, naturally.
• The title to hear with Cab: no characteristic title
• The title to hear with Duke: Jam with Sam (1960)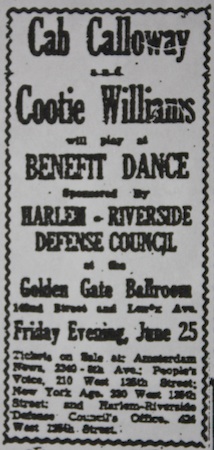 Cootie WILLIAMS
• With Cab Calloway: NEVER
• With Duke Ellington from February 1929 until November 2, 1940, from September 1962 to June 1973 and March 1974.
• The story you should know: There is no evidence that Williams played for Cab. It would appear, however, that their paths crossed more than once, especially during the period when Cootie Williams had his own band. They shared the stage at least twice, at charity events, 25 June 1942 and 25 June 1943 (both were announced as being featured) at the Golden Gate Ballroom in Harlem. And recognizable to our ears in the title Echoes Of Harlem, Ellington includes a quote from Minnie The Moocher performed by... Cootie Williams!


• The title to hear with Cab: no known recording

• The title to hear with Duke: Echoes of Harlem (1938)
---
Among the many sources consulted, note:
The New Desor, Luciano Massagli & Giovanni M Volonté
History of Jazz Tenor Saxophone, Jan Evensmo
The World of Swing, Stanley Dance
Someone To Watch Over Me, Buchmann-Moller
Benny Carter, A Life in American Music, M. & E. Berger and J. Patrick
---
Of course, if you find an error or omission, please let me know.
---
A huge thank you to Claude CARRIERE, Christian BONNET and Yvan FOURNIER for their encyclopedic knowledge so generously shared along with their encouragement.

Be sure to take the opportunity to visit La Maison du Duke in which these two great ellingtomanes officiate with Philippe BAUDOIN.
Another big thank you note to Keller WHALEN for the translation.