"Quel marbre à la postérité fera paraître votre gloire ?"
s'interrogeait Malherbe (qui s'y connaissait plus en poésie qu'en jazz).
Il était donc logique qu'en plein gloire, soutenu par son agent actif Irving Mills, Cab passât à la postérité, sculpté dans le marbre, modelé dans l'argile ou encore figé dans la gouache.
Au cours de mes diverses recherches, j'ai pu recenser différentes œuvres représentant le roi du Hi de Ho et j'en ai dénombré 5. Pour le moment.
Les voici dans leur ordre chronologique d'apparition.
Début des années 40 : Il faut figer le Calloway !
Parue en 1940 dans le magazine
"Music and Rhythm"
, la photo en tête de notre article dévoile un Cab posant dans l'atelier du sculpteur
Max KALISH
. Le sculpteur d'origine lituanienne avait choisi Cab pour figurer dans une exposition itinérante représentant les différents leaders dans tous les domaines artistiques. L'exposition devait commencer en 1941 à New York... mais la guerre arriva et apparemment Kalish changea d'angle, comme le prouve
sa grande exposition à Washington en 1944
. Avec ironie, la légende de
Music and Rhythm
indique :
"Swing may not be art, some say, but there's one leader who thinks enough of his achievements to want them immortalized in stone. It's Cab Calloway, of course, the Rochester, New York boy who "scatted" his way to the big time. (...) His hair, stone-still above, is usually tossled as Cab goes through one of his routines."
Une deuxième photo parue dans un magazine adventiste - nettement plus réactionnaire, moins porté sur la musique et encore moins sur le jazz - montre Cab toujours en train de poser pour Kalish. Cette fois-ci, la légende évoque Sodome et Gomorrhe...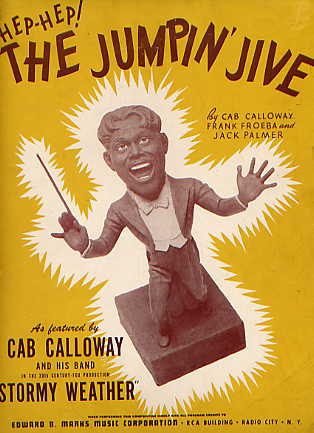 Est-ce la même oeuvre ou une déclinaison de la précédente ? Toujours est-il que notre Cab Calloway est en bien belle posture. L'argile lui va si bien ! Cette statue figure sur la partition de
The Jumpin' Jive
publiée en 1943 à l'occasion de la sortie du film
Stormy Weather
.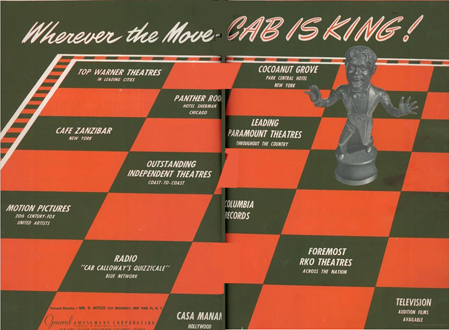 Cette splendide statue (dont on perd la tracce dans la famille Calloway apparemment...) est également reproduite dans cette non moins splendide publicité parue dans le
Billboard Music Year Book
de 1944. De "fou chantant", Cab devient le roi sur l'échiquier !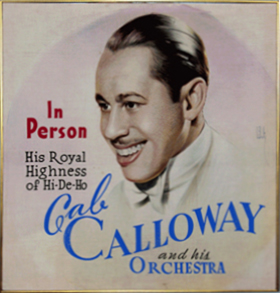 Sensiblement de la même époque, voici une toile publicitaire utilisée pour les concerts. Même si ça n'est pas un exactement un tableau, c'est tout de même remarquable !
1945 : Calloway parmi les "Great American Heroes"
Il existe également un tableau de Cab Calloway peint en 1945 par
Eric MAUNSBACH
(c'est ainsi que le rapporte le magazine Down Beat du 1er novembre1945). Le tableau est censé appartenir à la série "Great American Heroes"... Néanmoins,
"Cab Calloway is the most difficult of all. He just can't sit still a minute"
affirmait l'artiste...
Ne parvenant pas à retrouver avec certitude sa trace, je vous en présente une éventuelle "apparition" dans une photo parue en 1983 dans EBONY. Cab est devant la cheminée de sa maison de White Plains. Le tableau est derrière lui, au fond (le visuel rappelle justement des photos publicitaires de Cab de 1945, comme celle placée en-dessous).
Lorsque je me suis rendu chez lui en 2008, le tableau n'était évidemment plus là...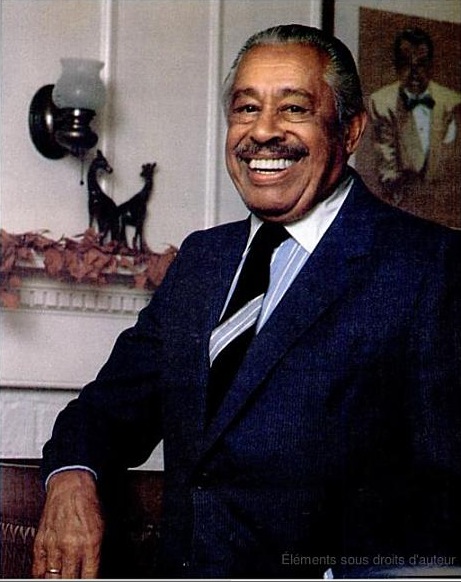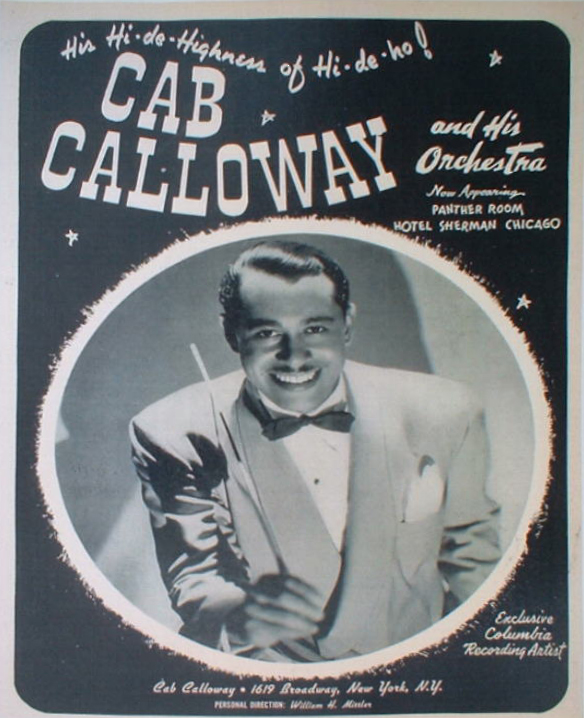 1959 : Domenico Facci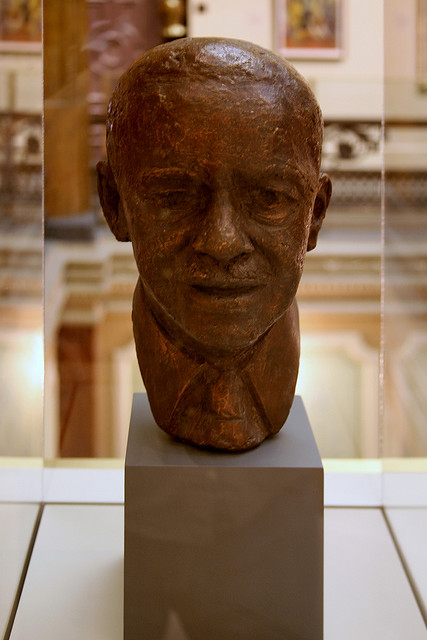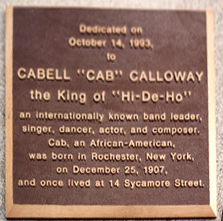 Sinon, sans un Cab figé dans la matière, il reste encore une stèle à Rochester, dans l'état de New York, devant l'emplacement de la maison où Cab est né le 25 décembre 1907.